Is This the First Step to Banning Texting While Walking?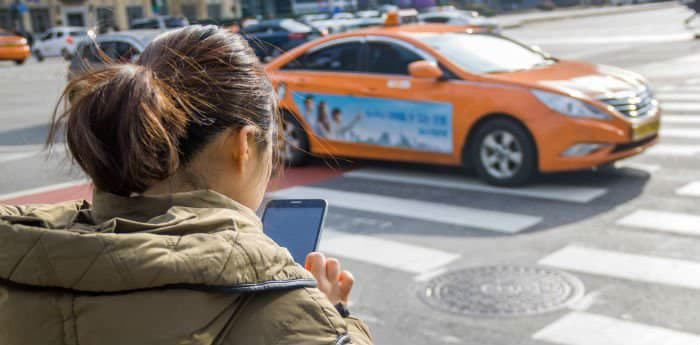 Imagine that you are walking home after a busy day at the office. You feel your phone buzz in your pocket and see an important text message. You shoot off a quick response and look up in time to see a police officer getting ready to write you a ticket. Could that actually happen? In some U.S. jurisdictions, the answer to that question is now 'yes'. Though texting while walking is something that almost every adult with a smart phone has done at some point, we are now seeing lawmakers in some states take steps to discourage the activity to prevent distracted pedestrians.
When the University of Kentucky students returned to class in December 2016, they saw more than 50 signs around the Lexington campus that warned students of the dangers of texting while walking. The signs are attached to the sidewalks where the students typically have their eyes directed when staring at cell phones. While most people have some awareness about the dangers of distracted driving, fewer know that distracted walking also can be risky. That being said, public safety officials have certainly noticed, and many are beginning to take action.
The issue is not just limited to college campuses. In July 2017, Honolulu, Hawaii became the first major U.S. city to ban texting while crossing the street. Honolulu has a serious problem with pedestrian accidents. A few other smaller towns and cities, including Fort Lee, New Jersey have already enacted similar bans. Under Honolulu's local regulations, you can be fined up to $35 for a first 'texting while crossing' conviction, and up to $99 for third offense along with any subsequent offenses.
Ban Texting While Walking? Some Policymakers are Proposing Extreme Solutions
Honolulu's anti-texting law took effect in October, and several other large American cities are considering similar measures. For example, on November 8th, a Chicago city alderman 'introduced a proposed distracted walking law, Fox 32 Chicago reported. Under the proposed ordinance, texting while crossing a Chicago street would be subject to a $90 fine for a first offense, and a potential $500 fine for subsequent convictions of distracted walking 'a financial penalty that is far steeper than the one put in place in Honolulu.
A texting while crossing the street ban seems a little bit extreme to some people, especially those who feel that this could be the first step to a general ban on texting while walking in any public space. There is concern that the penalties could too harsh. For example, in 2016 a New Jersey assemblywoman named Pamela Lampitt introduced a now infamous bill that would have subjected pedestrians to possible jail time for texting while crossing the street. While that bill failed to gain the support needed to go forward, it does indicate how seriously the issue of distracted walking is being taken by some policymakers.
Distracted Walking is Dangerous
Regardless of your feelings about distracted walking laws, there can be no doubt that distracted walking is a dangerous activity. You should always remain alert when crossing a street or walking down the sidewalk. When it comes to your safety, it is always better to be safe than sorry.
According to the National Safety Council (NSC), more than 2,200 people were injured in distracted walking accidents in the year 2011. Even this distressing number comes with the caveat that the actual number of distracted walking accidents is probably far higher. This is because distracted walking accidents are widely considered to be underreported.
Worse yet, there is evidence to suggest that this problem is still growing. A study by the Governor?s Highway Safety Association (GHSA) indicates that nearly 6,000 pedestrian fatalities occurred in' 2016. That is an 11 percent increase compared to the 2015 data.
While GHSA researchers believe that there are many factors that are contributing to an increase in pedestrian accidents, the authors of the report explicitly noted that they believe that cell phones, both inside and outside of vehicles, are responsible for a significant portion of the increase in pedestrian deaths.
Avoiding Distractions: Pedestrian Safety Tips
At Becker Law Office, our personal injury team is committed to promoting increased pedestrian safety in Kentucky. We want to make sure that pedestrians have the tools to protect themselves and their families when walking on our roads. Whether you live in an urban area or a rural area you need to be safe.
Please remember to keep the following six important pedestrian safety tips in mind:
Whenever it is possible, always take walking routes that have sidewalks.
Be sure to cross the street at marked crosswalks or at intersections.
When crossing, be sure to look twice in all directions for oncoming traffic.
Do not assume that a driver sees you if you are on foot. It is safer to assume that a driver does not see you and proceed accordingly.
Remember to keep your head up at all times. Avoid texting, using social media, scrolling on the internet and answering emails.
Avoid using headphones that prevent you from hearing surrounding traffic such as approaching vehicles.
Contact Our Kentucky Personal Injury Law Firm Today
At Becker Law Office, our Kentucky personal injury lawyers are dedicated to protecting the legal rights and financial interests of victims and their families. If you were injured in an accident, whether as a motorist or as a pedestrian, we are ready to assist you with your legal needs.
To set up your free, fully confidential case evaluation, please contact our law firm today. We have offices in Louisville, Lexington and Florence and we are proud to serve communities throughout the Commonwealth of Kentucky.