Recovering Compensation for Damages
The compensation available in an injury lawsuit will depend on the facts surrounding the injury. Common types of recoverable damages for personal injury claim include: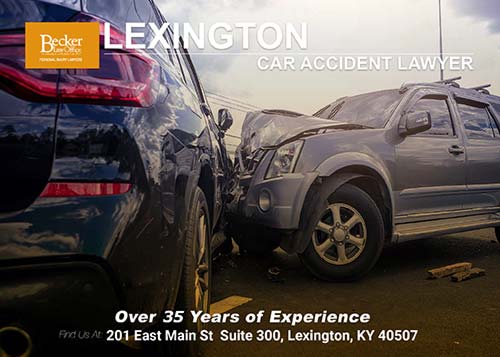 If you were injured in an automobile accident that was not your fault, you and your family should not have to bear the financial burden. You may be entitled to a settlement from the at-fault driver's insurance company to compensate you for your lost time at work, cost of medical treatment, pain and suffering, and more. The skilled Lexington car accident lawyers at Becker Law Office have over 30 years of experience helping families rebuild their lives after serious accidents.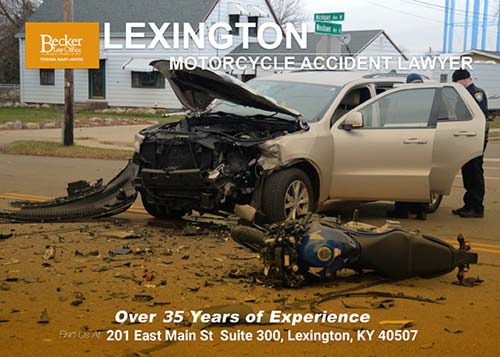 Motorcycle accidents are more likely than automobile accidents to be deadly or cause catastrophic injuries. Because of the complex nature of motorcycle cases, it is essential that you hire a motorcycle accident lawyer who has experience negotiating with insurance companies. The Lexington motorcycle accident attorneys at Becker Law Office have been negotiating high settlements for over 30 years and know what tactics the insurance companies use to lower your compensation.
Approximately 800,000 victims seek medical treatment for dog bites in the United States each year. Dog owners can be held responsible for injuries caused by their pets. If you suffered a dog bite injury, you might be eligible to receive compensation from the owner. Contact us today to talk to an experienced Lexington dog bite attorney to find out more about what kind of compensation you may be entitled to.
If you were a victim of misdiagnosis, medical malpractice, or otherwise suffered an injury due to a medical provider's mistake, you could be eligible to receive compensation. Medical malpractice claims can be complicated because it can be hard to prove that your doctor's mistake caused your injuries. If you believe that you or a loved one may have been the victim of medical malpractice, you should contact an experienced Lexington medical malpractice attorney as soon as possible.
The FDA estimates that Americans receive as many as 3 billion prescriptions each year. Although prescription drugs help heal the sick and alleviate pain, these benefits do not come risk-free. The FDA further estimates that more than 4 million people visit an emergency room, doctor's office, or other medical centers each year seeking treatment for adverse reactions to prescription drugs. The experienced dangerous drug lawyers at Becker Law Office can help you receive a cash settlement to compensate you for injuries and losses you suffered after taking a hazardous prescription medication.
When property owners do not take reasonable steps to keep their property safe, and a dangerous condition causes an injury, the property owner can be held liable. If you were injured on someone else's property, you might be eligible to receive a settlement from the property owner's insurance company. Contact our skilled Lexington slip and fall lawyers today for a free consultation.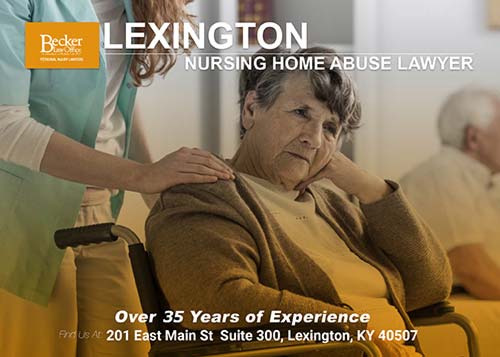 Families trust nursing homes to treat their aging loved ones with compassion and respect. Unfortunately, injuries, malnutrition, dehydration, bedsores, and medication errors in nursing homes are common. Federal and state laws protect nursing home residents from these forms of mistreatment, and nursing homes can be held liable for injuries they cause to their residents. Our dedicated nursing home abuse lawyers are ready to take your call and help put an end to the mistreatment of your loved one.
Other types of cases we handle for our Lexington clients include:
WHY HIRE US?
The dedicated personal injury lawyers at Becker Law Office have more than 30 years of experience fighting for just compensation for our Lexington clients. If you suffered an injury due to another person's negligence, you should not have to suffer financially as well. You deserve compensation for your medical bills, lost wages, property damage, pain and suffering, and other losses that you may have suffered due to someone else's mistake. The skilled personal injury lawyers at Becker Law Office will do everything they can to get the justice you deserve. Call (859) 308-1377 or contact us online to schedule a free consultation.
Negotiating with Insurance Companies
Many personal injury claims are settled with insurance companies without filing a lawsuit. In some instances, filing a lawsuit and proceeding toward a jury trial may be necessary. Settlement agreements with insurance carriers can be reached at any time before or after a lawsuit is filed. Dealing with an aggressive insurance company can be complicated and frustrating for claimants, but not for a Lexington personal injury attorney who is experienced negotiating with big insurance companies and dealing with adjusters.
Insurance adjusters are eager to settle claims early in the process, before the full extent of injuries are known, for far less than what the claim is worth. You should carefully consider having a personal injury attorney review any settlement offer before you respond.
Why Hire a Lexington Personal Injury Lawyer
There are many reasons to hire a Lexington personal injury lawyer. For instance, the insurance companies are motivated to pay you less money as they are in the business of making money. There are many things our talented team can do for you. We will cover all the bases needed by getting all of your medical records, checking applicable insurance policies, monitoring all medical treatment and negotiating the best settlement possible for you. Serving Fayette County, all of Kentucky, and surrounding states. The Becker Law Office will bring justice to your case.
Is a Lexington, Ky Personal Injury Lawyer Affordable
After being involved in a serious Kentucky personal injury incident, you may be wondering how you could afford to hire an elite lawyer while dealing with other financial obligations. The good news is that the lawyers at The Becker Law Office Injury Lawyers handle these cases on a contingent fee basis. The only cost or fee comes when settlement is reached or the case is won! Personal injury cases can bring forth stress, with this arrangement you can receive legal representation without the worries of paying any out-of-pocket costs.
Driving Directions to The Becker Law Office Injury Lawyers
Click here to get Directions
Should I File a Personal Injury Lawsuit in Lexington?
Individuals who file personal injury lawsuits are often going through a difficult ordeal as a result of a serious injury caused by someone else. You may be unable to work and accumulating lots of medical expenses with no way to pay for them. You may have other related losses and feel overwhelmed. A settlement or jury award from a personal injury lawsuit may offer the best hope of climbing out of the hole you find yourself in as a result of something else's carelessness or disregard for safety.
Our attorneys can review the details of how your injury occurred and discuss the best strategy for moving forward.
Lawsuits seeking compensation for serious personal injuries in Lexington and throughout Fayette County are filed in the civil division of Fayette County Circuit Court. In Kentucky, the Circuit Court is the court of general jurisdiction. Circuit Court judges hear personal injury and medical malpractice complaints involving damages in dispute of more than $5,000.
The Lexington metro area includes Bourbon, Clark, Jessamine, Scott and Woodford counties. Lawsuits involving accidents with serious injuries that occur in the Lexington metro area are generally filed in the county where the accident occurred.
Our attorneys recognize that most clients would prefer to resolve a legal matter without a lawsuit and trial. Even when filing a lawsuit is necessary, we are skilled negotiators and are successful in settling most personal injury lawsuits without going through a trial. That allows you to receive compensation more quickly and avoid the uncertainty of a trial outcome.
Lexington Office Location
Driving Directions to the Becker Law Office Injury Lawyers
Becker Law Office Injury Lawyers
1344 S Broadway Suite A
Lexington
KY
40504
Lexington Disability Lawyers
If you have been diagnosed with a disabling condition and have been denied Social Security Disability benefits, our knowledgeable Lexington SSD attorneys can help you file an appeal and seek benefits. If you have already received an initial notice of denial, you should not lose hope. Many people in Kentucky who are in similar situations do obtain benefits by hiring a disability benefits attorney to pursue an appeal. Our Lexington disability lawyers can file a request for a reconsideration of your denied claim and ask for a hearing before an administrative law judge.
Many disabled Kentuckians who deserve disability benefits get rejection letters initially from the Social Security Administration. An SSD claim may be denied because the application is incomplete or lacks information about work history, work limitations due to the disability or a proper medical diagnosis. Unfortunately, some people simply give up rather than turning to an experienced SSD appeals attorney for help. You should not give up if you have a medically diagnosed disability that will prevent you from working for at least a year. Many disabled Kentuckians do eventually receive monthly disability benefits by challenging the initial denial.
Appealing a denied SSD claim involves a complicated bureaucratic process with multiple levels of appeals and numerous filing deadlines that must be met. Fourteen administrative law judges conduct SSD hearings at the Office of Disability Adjudication and Review in Lexington. Our experienced Lexington SSD benefits attorneys at Becker Law Office Injury Lawyers understand federal disability law and the types of medical evidence that claims reviewers in Kentucky are looking for in order to approve a disability application. Let us explain how we can help you.
The Lexington disability attorneys at Becker Law Office will make sure that your application fully documents your disability and the ways it limits your ability to work. Our goal is to help you obtain the full disability benefits for which you are eligible as quickly as possible. We know that coping with a disability is hard enough without the stress and uncertainty of dealing with a bureaucracy. Our attorneys are ready to assist you regardless of the status of your SSD benefits application.
Helpful Lexington Resources
Call a Lexington Personal Injury Attorney Today
When another person injures you, it's important to hold them accountable for their actions.
Let Our Legal Team at The Becker Law Office Injury Lawyers Help Your Case!
We are ready to evaluate your case. To learn more about the process, contact a personal injury attorney in our Lexington office right away.