Kentucky Civil Courts
In Kentucky, the Civil Circuit Division is the court of general jurisdiction for complaints involving a request for damages of $5,000 or more, including personal injury, medical malpractice, property damage in addition to foreclosures, and more.
The Civil District/Small Claims Department handles the intake and processing of civil cases, including civil complaints for damages up to $5,000.
Civil Circuit Division Office of Circuit Court Clerk Jefferson County Judicial Center Room 309
700 W. Jefferson Street
Louisville, KY 40202
Civil District Department Office of Circuit Court Clerk Louis D. Brandeis Hall of Justice Room 3012
600 W. Jefferson Street
Louisville, KY 40202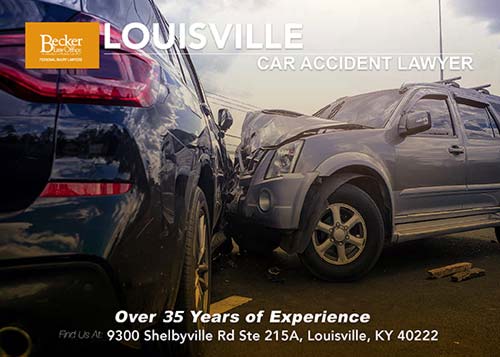 Our Louisville personal injury attorneys are here to help you get all the compensation you deserve as quickly as possible. We know this can be a difficult time and we strive to get the insurance company to pay you top dollar for your car accident claim. Utilizing knowledge and experience to seek what you deserve. The Becker Law Office has been serving Jefferson County residents and fighting for incredible settlements for more than 30 years. Talk to an experienced Louisville car accident lawyer to get what you deserve.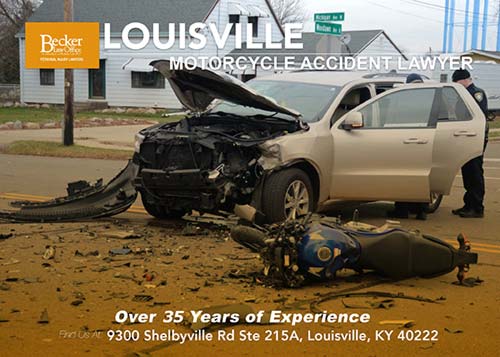 If you were injured in a Louisville motorcycle accident and you feel the other driver was either totally or partially at fault, then you really need an experienced Louisville personal injury lawyer, who has experience in these complex cases. The Becker Law Office knows insurance companies will often try to deny these claims and underestimate your injuries. We fight to seek justice for or clients in Kentucky and surrounding states.
Our firm has helped many Louisville residents over the past 30 years get all the compensation they are entitled to receive. Depending on the severity of your injury, you also may be able to gain a lump-sum settlement for people who are not able to return to their prior job. We work with accomplished Louisville personal injury lawyers, who charge no fees unless and until you win your case. Call The Becker Law Office, anytime.
The Louisville, Becker Law Office has obtained some of the largest settlements for victims of dog bites. Often, in Kentucky dog owners carry liability insurance to pay victims for their medical costs, scarring, mental anguish and pain and suffering. We know dog bite incidents can be extremely difficult situations and it's imperative that you follow the right steps and meet the right deadlines. Hiring an experienced Louisville injury lawyer will do so to help ensure you get top dollar.
A Kentucky property owner has a legal duty to keep their property safe at all times. When they do not keep their property safe and an injury results from this, the law in Kentucky considers the property owner to be negligent. Their insurance company will often give the victim a settlement for medical expenses, lost income and pain and suffering after a Kentucky slip and fall accident.
Social Security Disability Claims in Louisville
In order to qualify for Social Security Disability benefits, you must be unable to do any type of work for at least 12 months (1 year). If an injury or medical condition has prevented you from working then you may be able to receive compensation. Call the experienced and successful lawyers at the Louisville Becker Law Office.
Louisville, Kentucky, Law Enforcement Agencies
The Louisville Metro Police Department works to prevent crime and enhance the overall quality of life for citizens and visitors to Louisville, Kentucky. The Jefferson County Sheriff's Office coordinates with Louisville police and other law enforcement agencies within Jefferson County, KY, to preserve the public peace, protect the rights of persons and property, prevent crime, and generally provide assistance to citizens in emergency situations. The mission of the Sheriff's Office is collection of county taxes, security of the courts, and the service of legal process and orders of the court.
In Louisville, the Emergency Services Department's MetroSafe 911 program takes emergency calls and connects callers to the police, fire department, emergency medical help and other first responders.
Louisville Metro Police Department
633 West Jefferson Street
Louisville, KY 40202
Dial 911 for emergencies
Jefferson County Sheriff's Office
531 Court Place
6th Floor
Louisville, KY 40202
Dial 911 for emergencies
Emergency Services
410 S. 5th Street
Louisville, KY 40202
Dial 911 for emergencies