Pedestrian Safety: Tips for Avoiding Accidents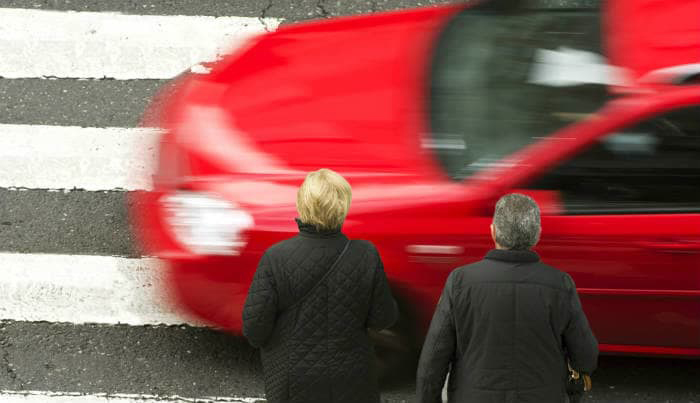 A person crossing an intersection on foot or walking beside the road is vulnerable to severe injuries in any collision with a car or truck. Pedestrians account for almost 16 percent of all annual traffic deaths, according to a study from the National Highway Traffic Safety Administration (NHTSA). That amounts to more than 4,500 pedestrian fatalities every year.
Contrary to popular belief, pedestrian accidents are not a phenomenon limited to big cities. Kentucky's pedestrian fatality rate, which is 1.29 per 100,000 residents, is comparable with the national average. Pedestrians are easy to overlook, particularly when they are walking or standing in locations where motorists do not expect to see them. Drivers in Kentucky must do a better job of remaining alert for pedestrians. If you or a loved one has been injured in a pedestrian accident, please contact an experienced Kentucky car accident attorney for immediate legal assistance.
The Leading Causes of Pedestrian Accidents
Pedestrian accidents take place for a wide variety of reasons. However, there is a common thread between these accidents: The majority occurs because of a driver's negligence. Some typical examples of driver negligence that puts pedestrians at high risk include:
Speeding through residential areas;
Distracted driving;
Inattention around intersections;
Drunk driving; and
Driving while under the influence of drugs.
Pedestrian accidents also have some other common factors in addition to driver error. An NHTSA analysis of fatal pedestrian accidents found that:
73 percent of these crashes occurred in urban settings; and
70 percent happened after sunset when pedestrians are harder to see.
While it is always important for pedestrians to stay vigilant, it is especially critical to do so in high-risk situations that involve walking at night and walking in cities such as Louisville, Lexington, Bowling Green, Owensboro, or Cincinnati, OH.
Kentucky Pedestrian Accident Statistics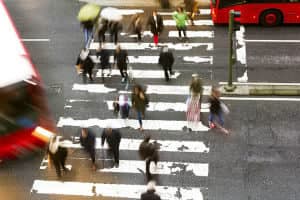 According to the Kentucky Collision Facts Report, 161,393 motor vehicles accidents took place in the state in 2015, the most recent year for which data are available. Nearly 24,000 non-fatal injuries were reported along with more than 700 fatalities. Of the fatalities, 71 were pedestrians. Another 158 pedestrians suffered incapacitating injuries, while 800 more pedestrians sustained mild or moderate injuries. The Kentucky Transportation Cabinet defines an incapacitating injury as one that requires an emergency trip to a medical facility. 

Pedestrian Safety Tips You Need to Know
Six Tips for Pedestrians
Whenever there is one available, you should always use the sidewalk.
When there is no sidewalk, you should walk facing oncoming traffic.
You should use a crosswalk, even if it requires you to go out of your way.
When crossing the street, try to be predictable.
You should take steps to make yourself visible to motorists such as wearing reflective clothing and carrying a light at night.
Stay aware, and avoid using headphones or using your cell phone, which can prevent you from hearing approaching traffic.
Four Tips for Drivers
Always look out for pedestrians. As the driver, it is your responsibility to protect pedestrians' safety.
Slow down, especially when approaching crosswalks, intersections, school zones or any area where pedestrians might be present.
Be careful when backing out of a parking spot.
Yield to pedestrians. While Kentucky law does mandate that pedestrians obey traffic signals, drivers should always give the person on foot the benefit of the doubt. When in doubt, you should yield.
How to Handle a Pedestrian Accident Claim
In the event that you have been struck by a vehicle, you should seek immediate medical attention. You should have a medical examination even if you believe that your injuries are relatively minor. Many car accident injuries are worse than they initially seem. You may be more stiff and sore a day or two after being struck by a car than immediately afterward. Beyond protecting your physical safety, you also need to visit a doctor to document your injuries related to the collision. The at-fault driver may be held responsible for the full extent of your damages. However, you will have difficulty pursuing an injury claim without medical evidence that documents your injuries.
Compensation for Injured Pedestrians
In Kentucky, injured victims can hold the at-fault party liable for the full extent of their damages. This means that if you are a pedestrian and are injured as a result of a driver's error, you may be entitled to financial relief for:
Ambulance costs and emergency room fees;
All other medical bills;
Rehabilitation expenses;
Lost income, including diminished earning capacity;
Long-term disability;
Disfigurement;
Pain and suffering;
Loss of life enjoyment; and
Punitive damages.
Dealing with the Insurance Company
Most of the time, injured pedestrians will seek compensation from an insurance company. Victims should be aware that insurance companies will not be on their side. Insurance companies have a financial incentive to minimize any claim payment or settlement. It is important that you are cautious when dealing with insurance adjusters. Please keep the following in mind:
During conversations, stick to the facts: Do not discuss who was at fault or say that you were at fault. You may not be aware of all the contributing factors in a pedestrian accident. The best way to protect yourself is by saying as little as possible.
Do not sign anything: Never sign any document presented by an insurer related to a pedestrian injury claim without having a Kentucky injury lawyer review it. This includes anything from a settlement agreement to a release for your medical records.
Work through your lawyer: It is best to let your lawyer deal with the insurance company. The insurance company is staffed by well-trained professionals, and you need an experienced professional advocating on your behalf.
Contact Our Office Today
At the Becker Law Office, our compassionate personal injury attorneys have helped many people recover full and fair accident compensation after serious accidents. If you were injured in a pedestrian accident, please contact us today to set up a confidential case evaluation. From our offices in Louisville, Florence, and Lexington, we represent victims throughout the Commonwealth of Kentucky.