Back-to-School Bus Safety is easy as 1-2-3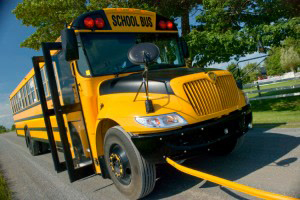 The beginning of a new school year is a very exciting time and brings many changes with new teachers, new supplies, new friends, new clothes and shoes, and new experiences. It also marks a significant challenge for drivers with the increase in road traffic from the iconic yellow school buses everywhere we look.
Transportation safety is literally a two-way street. Whether you are a bus or bicycle rider, motorcycle rider, car rider or driver, or a walker, you are responsible for your own safety and are required to follow the rules of the road. Back-to-school time is also a great time for adults to review the rules of road and for parents to talk to their children about school transportation safety.
A School Bus Is The Safest Place For Children
According to the National Highway Transportation Safety Administration (NHTSA) riding a school bus is the safest form of daily transportation for students. An NHTSA report evaluating school transportation fatalities from 2001-2008 found that only 1% of students traveling by school bus were involved in fatal accidents compared with a 58% fatality rate when traveling with a teen driver, and a 23% fatality rate when riding with an adult driver.
Boarding and exiting a bus are the most vulnerable times for students and most injury accidents occur when student are outside of the bus. Help your children understand school bus transportation safety by practicing it yourself' never ride too closely to a school bus, always stop when a school bus is loading or unloading passengers and don't express frustration with having to stop and wait. Many accidents occur because drivers are impatient and attempt to go around a school bus that is stopped to load or unload passengers.
Kentucky School Bus Safety Laws
In Kentucky, drivers must always stop when traveling in the same direction as a school bus when a school or church bus stops to load and unload passengers. On all roads with only 2 or 3 lanes, you must stop your vehicle regardless of which direction you are travelling when the bus stops to pick up or deposit passengers. Drivers are not required to stop if travelling in the opposite direction on a road that has four or more lanes, even if the bus is loading or unloading passengers.
In Indiana, drivers must stop if the red flashing lights and stop arm of the bus are activated and you are travelling in the same direction as the bus. If you are driving on the opposite side of the road that has more than 2 lanes and is separated by a median, you are not required to stop.
As a driver, practice school bus transportation safety while driving:
Obey the stop-arm and red flashing lights and don't try to zoom around a bus while children are boarding or exiting.
Never try to pass a bus on the right side.
Drive slowly and be vigilant in school zones and neighborhoods. Children are very unpredictable pedestrians, are frequently distracted and may walk into the road without warning if something catches their attention.
Follow the signals of school crossing guards. Their entire purpose is to help our children get to and from school safely and their authority should be respected.
Review these school bus safety rules with your children:
When walking to the bus stop, walk on the sidewalk or if walking on a street with no sidewalk, walk facing traffic.
While waiting for your school bus, stay away from traffic and don't engage in horseplay.
Wear reflective clothing or have some type of reflective safety tape on backpacks so drivers can see you when it is still dark in the early morning hours.
Stand at least 6 feet (or 6 giant steps) away from the bus as it approaches and wait for the bus to stop completely before trying to board it.
Always use the handrail when entering and exiting the bus.
Find your seat, sit down and stay seated.
If your school bus is equipped with seat belts, use them.
Stay seated at all times while the bus is moving.
When it is time to exit the bus, wait for the bus to come to a complete stop before getting up from your seat.
Keep backpacks, purses, band instruments, sports equipment and any other personal items on your seat, in your lap or on the floor in front of you. Personal belongings in the aisle can create a trip hazard, and very hazardous if an emergency situation arises.
Always keep arms, hands and heads inside the bus at all times.
Teach your children these safety tips when exiting the bus:
If you must walk in front of the bus, first walk ahead at least 10 feet (10 giant steps) on the sidewalk or side of the road before trying to cross in front of a bus.
Before crossing, always be sure the bus driver can see you, and you can see the bus driver at all times.
Be watchful of other vehicles before crossing the street.
Before stepping out into the street, always look left-right-left.
Always use a crosswalk if one is provided.
Never dart from behind a parked car or other visual obstacle.
Stay away from the wheels of a bus at all times.
Never walk behind a bus.
Teach your children to tell the bus driver if they drop something near the bus so they do not try to quickly retrieve it before the bus starts moving'the bus driver may not see a child and may not be able to stop the bus in time.
Many of these general principles we all learned in kindergarten such as following rules and directions, waiting your turn, and respecting authority. Teaching and practicing school bus safety, and knowing the rules of road, helps keep everyone safe to ensure a productive and successful school year.
Tag: Back-to-School Bus Safety is easy as 1-2-3
Tag: Back-to-School Bus Safety is easy as 1-2-3