Motorcycle wrecks are more likely to be deadly than accidents involving only passenger cars. Motorcycles offer riders little protection from the impact of a collision. Motorcycle riders routinely are thrown from their bikes during the violent impact of a crash. Regardless of whether another motorist causes the collision, the exposed motorcyclist usually sustains the brunt of serious or fatal injuries.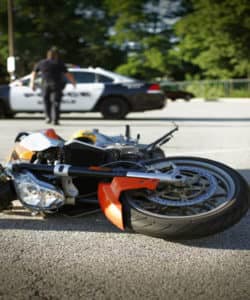 If you or a loved one has been injured in a motorcycle crash in Indiana, Kentucky, Ohio or Tennessee, you may be able to take legal action against the driver who caused your injuries. A Kentucky motorcycle accident lawyer at Becker Law Office will review the details of your accident and explain your legal options. Our legal team has been fighting for injured people for more than 30 years. We may be able to pursue compensation from the at-fault driver to help you recover from your motorcycle wreck injuries.
Schedule a free legal consultation with Becker Law Office today. Learn about your options for filing a claim and recovering the compensation you deserve.
The Benefits of an Attorney
When a motorcycle crash occurs, the driver who caused the accident can be held legally liable for the injuries that result. This is true regardless of whether the motorcyclist was wearing a motorcycle helmet at the time of the accident.
The at-fault driver who caused your injuries may be legally liable for:
Medical costs now and in the future if you need ongoing treatment or care
Lost income, including losses due to diminished earning power
Costs of repairing or replacing your motorcycle
Pain and suffering, including emotional distress
Funeral and burial expenses in the wrongful death of a loved one in a motorcycle accident.
You can demand compensation from the at-fault driver by filing a personal injury claim. The claim will be resolved through an out-of-court settlement agreement or decided in a civil court.
The Dangers of Motorbike Crashes
The National Highway Traffic Safety Administration (NHTSA) reports that 5,286 motorcyclists died in crashes in 2016—the largest number of motorcycle rider deaths since 2008.
In addition, the NHTSA reports:
Among motorcyclists killed in crashes, 94 percent were riders and 6 percent were passengers.
54 percent of all fatal these accidents involved at least one motor vehicle in addition to the motorcycle.
In 41 percent of fatal crashes involving a motorcycle and another vehicle, the other vehicle was turning left while the motorcycle was going straight or passing.
In 22 percent of the fatal crashes involving a motorcycle and another vehicle, both vehicles were traveling straight ahead.
The average age of motorcyclists killed in accidents was 42.
Sharing the Road with a Motorcycle Requires:
The statistics indicate that motorcyclists and motorcycle passengers face a very serious risk of life-altering or fatal injuries when a collision happens. In fact, the NHTSA says motorcycle riders are nearly 27 times more likely to die in a motorcycle crash than occupants of passenger cars.
Checking blind spots and rearview / side-view mirrors for motorcycles before turning, or entering or exiting a lane.
Never riding beside a motorcycle in the same lane or passing a motorcycle in the same lane. Motorists should always allow a motorcycle to occupy the entire width of their lane alone.
Not following a motorcycle too closely. Motorcycles stop much more quickly than cars. Drivers should allow three or four seconds' worth of space between a motorcycle and a car.
Reasons for Wrecks
Motorcycle crashes can happen anywhere, and they can happen for many different reasons. However, the Insurance Institute for Highway Safety (IIHS) says most motorcycle crash deaths – 62 percent – occur on major roads that are not classified as interstates. An estimated 12 percent of motorcyclist fatalities happen on interstates and freeways, and the remaining portion of accidents occur on smaller local roads.
Accidents on any road may be caused by road defects, by problems with the motorcycle, or by decisions made by the motorcycle rider or drivers of passenger cars. Some of the top causes include:
Distracted drivers may not see motorcycle riders. Cell phones and texting are leading causes of driver distraction. But such activities as eating, playing music, grooming and interacting with passengers or pets also commonly distract drivers from traffic around them.
Drivers failing to yield. The Gold Wing Touring Association reports that two-thirds of all multiple-vehicle motorcycle crashes occurred when the driver of a passenger car violated the right-of-way of the motorcyclist and/or turned into the lane of a motorcycle rider.
The Gold Wing Touring Association estimates that 2 percent of motorcycle accidents occurred due to a problem with the road. Because motorcycles are lighter, they are more easily affected than cars and trucks by potholes, ruts or crumpling roadways.
The
Look Twice, Save a Life
Program has been publicizing the risks of drivers who change lanes or who pull out without looking.
In many cases, the negligence or recklessness of a driver is directly responsible for causing a motorbike accident. Many drivers simply do not detect motorcycle riders in traffic or do not pay adequate attention to sharing the road. This can have devastating consequences when a driver's carelessness results in a crash. However, a skilled Kentucky lawyer could help to hold a motorist accountable for a motorcycle crash.
Common Injuries from Motorcycle Crashes
A motorcyclist often suffers multiple injuries in a car accident. A motorcycle rider hit by a car could be hurt by the initial impact of the crash, by being thrown from his or her bike, or by being dragged by the motor vehicle. It is not unusual for a motorcycle to wind up on top of an injured motorcyclist after an accident.
Some of the most common injuries that a motorcycle rider may suffer in an accident include:
A motorcyclist thrown from his or her bike is likely to sustain some amount of cuts, bruises, and abrasions. Sometimes a motorcycle rider is dragged along the pavement, which can lead to "degloving" injuries in which large patches of skin are torn from the underlying tissue. Heavy bleeding that is not promptly stopped can cause the injured person to go into shock, which may be fatal.
Serious musculoskeletal injuries (torn muscles, ligaments or tendons) can require surgery followed by physical rehabilitation to enable the victim to recover use of injured limbs, feet or hands. Serious sprains, strains, and tears may require recuperation that causes loss of work and income.
A motorcycle rider's extremities (arms, legs, hands, feet) are at risk of fractures, lacerations or being crushed in a crash. A crushing injury and/or deep lacerations may cause nerve damage or amputation of a body part during the accident. If a foot, hand or limb is damaged beyond repair, surgical amputation may be required.
A blow to the head can cause a traumatic brain injury (TBI), skull fractures or brain hemorrhages. A motorcyclist can easily suffer a brain injury by hitting his or her head during an accident, even if the rider is wearing a helmet. A TBI can cause permanent and debilitating loss of physical and cognitive abilities.
A blow to a vertebra or severe wrenching of the spinal column that tears the spinal cord can leave a motorcycle accident victim with a loss of function below the point of the injury. Spinal cord injuries can cause some degree of paraplegia (lower body affected) or tetraplegia (all four limbs affected), which will require a lifetime of care.
A motorcyclist who takes a blow to the chest in an accident may suffer broken ribs, a fractured sternum, and/or injury to vital organs like the heart, lungs or diaphragm. With broken ribs and sternum, there is a risk of splintered bones tearing into the heart or lungs and causing cardiac or respiratory failure, which can easily be fatal.
A severe blow to the abdomen can cause injury to the bowels, stomach, liver and/or other organs, which may lead to multisystem trauma. Significant abdominal injuries can cause massive internal bleeding, which may lead to shock and sometimes be fatal if not promptly treated.
Injuries from motorbike wrecks can cause significant pain and suffering, and require extensive medical care followed by weeks or months of rehabilitation. Unfortunately, some injuries never heal, and the victim has to live with impairments, as well as a loss of earning power and income.
A proper claim will take into consideration all present and future medical expenses and losses caused by the accident. The Kentucky motorcycle crash attorneys at Becker Law Office will pursue maximum compensation for you if you have been seriously injured by someone else's negligence or recklessness.
Motorcycle Accident Catastrophic Injuries We Are Going After
Ejected From Motorcycle After Accident
Surgery After a Motorcycle Accident
Death After a Motorcycle Accident
Helmet Laws in Kentucky
In its most recent annual report about motorcycle accidents, the NHTSA estimates that helmets saved 1,772 motorcyclists' lives over the course of the year and that 740 more lives could have been saved if all motorcyclists had worn helmets.
Reported helmet use rates for fatally injured motorcyclists were 61 percent for riders and 48 percent for passengers, the NHTSA says. Meanwhile, a DOT-compliant motorcycle helmet is estimated to be 37 percent effective in preventing fatal injuries to motorcycle riders and 41 percent effective for motorcycle passengers.
Currently, according to the IIHS, 19 states and the District of Columbia have universal helmet laws requiring all motorcyclists to wear a helmet. Laws requiring only some motorcyclists to wear a helmet are in place in 28 states. There is no motorcycle helmet use law in three states (Illinois, Iowa, and New Hampshire).
Kentucky requires motorcycle riders younger than 20 years old to wear a helmet.
Indiana requires motorcycle riders younger than 18 years old to wear a helmet.
Ohio requires motorcycle riders younger than 18 years old to wear a helmet.
Tennessee requires all motorcycle riders to wear a helmet.
While we at Becker Law Office encourage all motorcyclists to wear a DOT-compliant helmet when riding, we also want you to understand that whether or not you were wearing a helmet has no effect on a claim.
Call a Kentucky Motorcycle Accident Attorney for Help
If you have a claim for motorcycle accident injuries, you need an experienced motorcycle injury attorney representing you—whether to negotiate a settlement or present your case to a jury.
Our attorneys at Becker Law Office will:
investigate your accident
preserve accident scene evidence before it is lost
identify the potentially at-fault parties
determine the insurance policies available to pay compensation
send a notice of claim letter to the insurers
seek to negotiate a settlement.
To pursue the most favorable settlement, you'll want an experienced and skilled negotiator who knows insurance company tactics representing you. If your case goes to court, you'll want a seasoned trial lawyer who excels at litigation to advocate on your behalf.
When you are represented by Becker Law Office, you will be represented by skilled negotiators and nationally recognized trial lawyers. You get two firms in one with Becker Law Office. You'll have the right attorney to handle your case, wherever it leads.
The Kentucky motorcycle accident lawyers at Becker Law Office are seasoned negotiators. We will fight to achieve a just settlement for you without a trial. If your case goes to court, you will be represented by the attorneys who have been named among the top 100 Trial Lawyers in Kentucky. You have both legal teams in your corner.
To learn more about how Becker Law Office can help you, give us a call or contact us online today. We handle motorcycle injury claims from our offices in Louisville, Lexington, Florence and Cincinnati.