The Phases of Kentucky's Healthy At Work Reopening Plan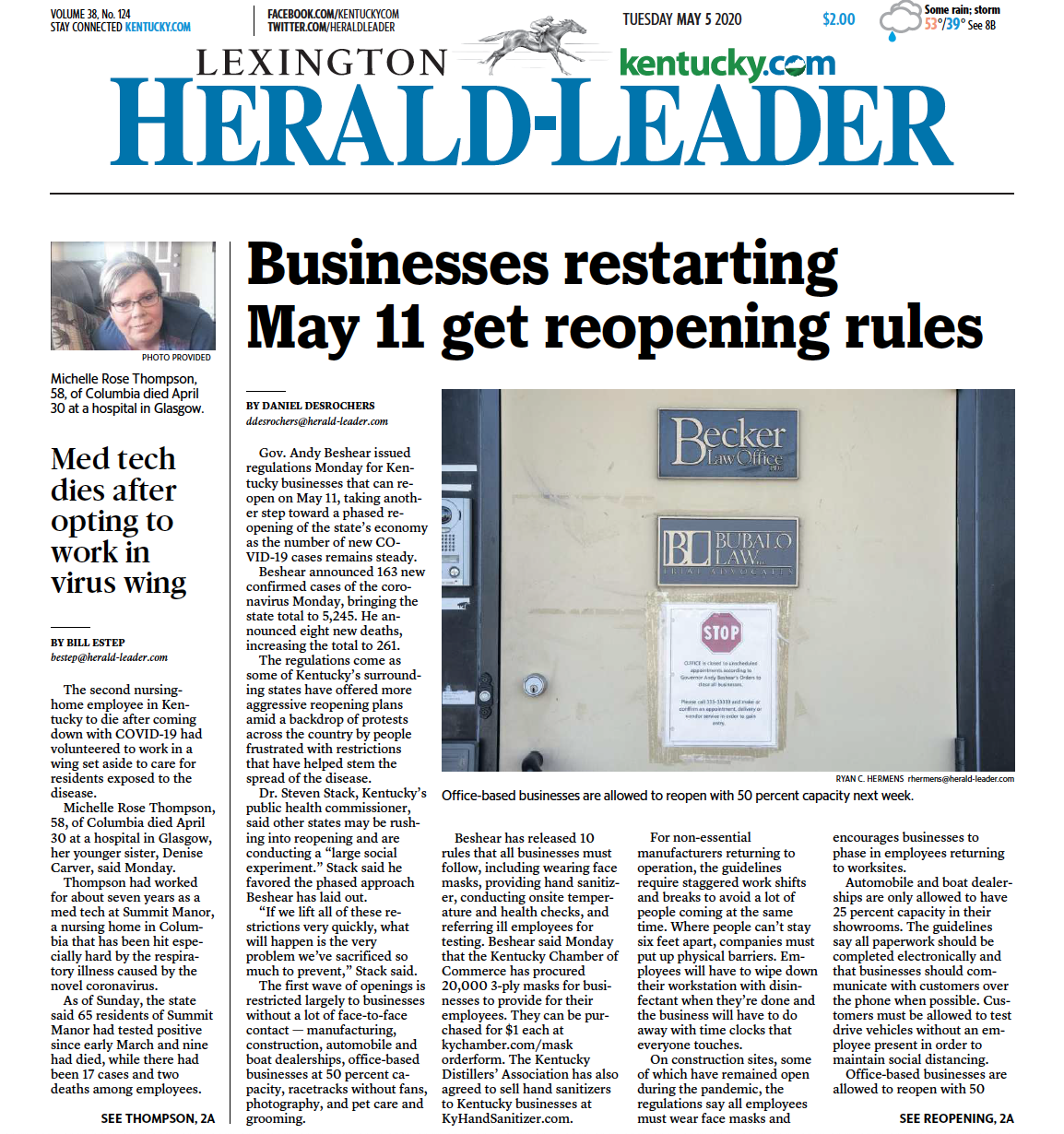 Healthy At Work Plan for Kentucky
One of Lexington's top local newspapers, The Lexington Herald-Leader, recently featured a photograph of Becker Law Office's front door in an article outlining Governor Andy Beshear's plans to reopen businesses and churches during the ongoing COVID-19 crisis. The article is very well-written, and Becker Law Office is honored to be included on the front page. 
It is important to our staff and the communities we serve that information about our multiple locations is 100% correct. While the article provided accurate details concerning the multiple phases of reopening Kentucky businesses set to begin May 11, the use of the Becker Law Office sign was misleading, at best. For instance, Becker Law Office is never specifically mentioned. The photo used featured a red stop sign printed on a standard notebook-size piece of paper taped to the front of our Lexington office. Several additional details on the sign help to provide clarity about Becker Law Office's procedures during the pandemic. 
The Lexington Herald-Leader primarily concerns businesses that have been closed for weeks and are now allowed to reopen. However, our offices have remained open throughout the pandemic, with stringent guidelines in place to ensure the safety of our clients while closely adhering to all guidelines set forth by Governor Beshear. The following provides context about our office policies, plans, and schedules both during the past several weeks of the pandemic and during the reopening. 
Becker Law Office is Open
Becker Law Office is currently open and serving clients across Kentucky and in surrounding areas. As it may be difficult to read the small print on the sign in the photo used by the Lexington Herald-Leader, it is important to clarify that our offices located in Louisville, Lexington, and Florence have remained open throughout the COVID-19 pandemic. Some adjustments to schedules, meeting arrangements, and services occurred at times. This was due to the many challenges facing all businesses during a difficult time full of uncertainty. Most importantly, despite some changes at times, the decision to remain open was made with careful consideration of Kentucky Government policies and recommendations. 
The services provided by Becker Law Office are considered 'essential' by both the government and the individuals we serve. As a business falling within the 'essential' category, we have always been allowed to stay operational and serve the community. In addition to simply being permitted to continue functioning during this time, our Managing Partner, Greg Bubalo, carefully coordinated arrangements with Becker Law Office Management Committee and staff to ensure everyone could maintain a safe working environment. Fortunately, these steps were started months and even years in advance when Greg Bubalo began moving the law office toward a modern era where most, or in some cases all, work could be performed at home and online.  
As concerns about COVID-19 increased, so did Becker Law Office's efforts to move toward providing online amenities for all staff and our valued clients. These fast-acting and progressive decisions resulted in our ability to continue providing services during a time when many businesses were unable to safely continue. The Becker Law Office did not stop serving our community or close its doors for a single business day during the COVID-19 crisis.  
Serving Clients During the Coronavirus
The Becker Law Office has implemented several new procedures in place allowing us to continue serving the needs of our clients. As outlined in the picture featured on the front page of the Lexington Herald-Leader, we have taken steps to ensure services can be provided over the phone or the internet whenever possible. For example, modern technology in-use by our staff permits clients to conduct meetings and even sign documents online. 
Whitney Stepp, a lawyer and representative at Becker Law Office in Lexington, Kentucky described a couple of examples of the technology being used currently.
"Despite the current circumstances, we at Becker Law Office are doing our best to make sure that our clients are still being served and that their cases are moving forward. We are holding mediations and discovery hearings via Zoom and client preparations meetings on Facetime. Now that we are headed towards Phase 1 of the reopening, we are looking forward to welcoming clients back into the office for in-person operations, while of course continuing to respect the safety of all Kentuckians, pursuant to our Governor's orders."
In March 2020, Greg Bubalo appeared on WAVE 3 News Listens Live to discuss Becker Law Office's response to the evolving COVID-19 threat. The interview and additional details about the steps Becker Law Office is taking to conduct legal services during this pandemic can be viewed by clicking this link.  
However, our policies and even some of our procedures were altered to adapt to the changing circumstances over the past few weeks. Therefore, if anything in the video does not currently fall in line with the Kentucky Governor's recommendations, it should not be taken out of context from the time of the interview. 
Most importantly, the interview and article referenced above make it clear Becker Law Office is open every day and we are currently serving new and existing clients. Signs similar to the one featured prominently in the Lexington Herald-Leader are in place on all office doors to keep unscheduled appointments and traffic from entering our businesses. While we want our clients to be safe, our staff needs to be safe, as well. Our staff work very hard to continuously clean and maintain work environments that are as virus-free as humanly possible. In addition to requiring our staff to take extra steps to clean our offices germ-free, professional cleaning services have been brought into the offices for deep cleaning, as well. 
Reopening Phases During COVID-19
As the reopening phases put in place by Kentucky Governor Andy Beshear get underway on May 11, all locations of Becker Law Office intend to remain open while protecting the health and safety of staff, clients, and the communities we serve. Keeping the residents of Lexington, Louisville, Florence, and the rest of Kentucky healthy is extremely important to our mission. We encourage everyone to become familiar with the guidelines outlined by each phase of Kentucky's reopening plan. Click here for more specific details and information about the Healthy At Work plan, as outlined by Kentucky's official government website. 
During this time, you may encounter a sharp uptick in traffic on the roadways. Apple Maps recently permitted the public to view data regarding Mobility Trends across the United States Click here to see more about this data tool and our suggestions for staying safe on the roadways during the pandemic. The data made it abundantly clear traffic patterns fell quickly during the COVID-19 pandemic. However, traffic is expected to rise quickly as the reopening phases continue through the Summer. Becker Law Office highly encourages drivers to remain vigilant while behind the wheel. It is all too easy to become overly comfortable and less attentive while driving on unusually open roads with less traffic. Unfortunately, the increase of vehicles on the roadways may also lead to a rise in auto accidents. 
If an accident does occur, please remain calm and follow these guidelines. Remember, our offices are always open and ready to serve communities everywhere in Kentucky.