Johnson & Johnson Spray Sunscreens Cause Cancer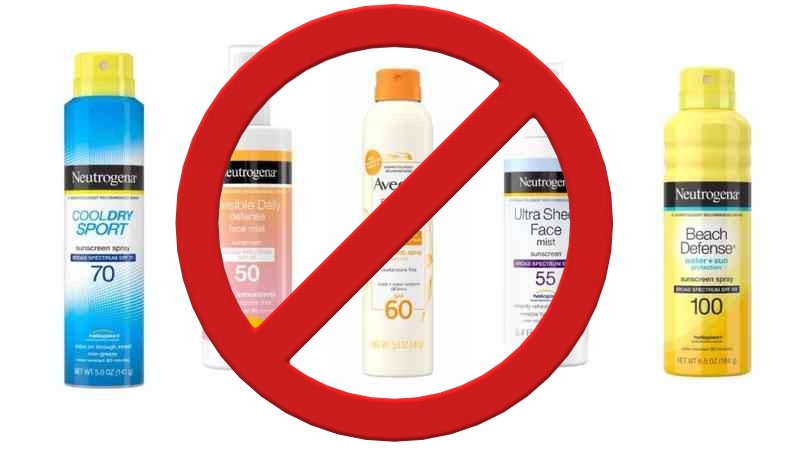 Johnson & Johnson Recalls Spray On Sunscreen
There have been concerns raised about the potential link between the active ingredient in spray sunscreens, specifically those made by Johnson & Johnson, and cancer. The active ingredient in question is a chemical called methylene bis-benzotriazolyl tetramethylbutylphenol (MBBT), or Bisoctrizole. Some studies have suggested that MBBT can be toxic to cells when inhaled and may be a carcinogen.
In an announcement posted on the FDA (Food and Drug Administration) website as well as the Johnson & Johnson website, JJCI has issued a voluntary recall for its five varieties of aerosol sunscreen. Internal quality assurance testing of their products revealed that their aerosol products had some traces of benzene, a cancer-causing chemical.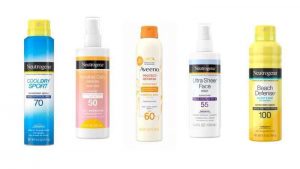 List of Cancer-Causing Sunscreens
Here are the affected product lines:
NEUTROGENA® Beach Defense® aerosol sunscreen
NEUTROGENA® Cool Dry Sport aerosol sunscreen
NEUTROGENA® Invisible Daily™ defense aerosol sunscreen
NEUTROGENA® Ultra Sheer® aerosol sunscreen
AVEENO® Protect + Refresh aerosol sunscreen
Do Spray Sunscreens Cause Cancer?
Benzene is labeled as a cancer-causing chemical that exists in many places both in the natural environment and it is also widely used in the manufacturing processes. According to the CDC, we are exposed to low amounts of benzene every day.  It is when higher amounts exist or direct exposure that Benzene presents a greater threat.  Any presence of the chemical in a product that is meant for direct contact with human skin is alarming, to say the least. So as a precautionary measure, JJCI issued an immediate recall and Stop-Use for its aerosol sunscreen products.
The majority of the studies that have been conducted so far on MBBT have been done on lab animals, and the results of these studies may not necessarily apply to humans. Moreover, the FDA has already reviewed the safety of spray sunscreens, including the products made by Johnson & Johnson, and concluded that they are safe and effective when used as directed. Johnson & Johnson did not sell Spray Sunscreen with MBBT as an active ingredient.
What do I do if I have used these sunscreen products?
JJCI states that consumers should immediately stop the use of these products.  Adverse reactions or side effects are not expected from previous use. Consumers may call Johnson & Johnson's customer care center to ask questions and/or request a refund of the products. Any issues that do arise can and should be reported to the FDA's MedWatch program. The MedWatch Adverse Event Reporting program is a reporting tool offered by the FDA for easier reporting of issues with FDA-regulated products.
As a precautionary measure, it's important to always read the label and follow the manufacturer's instructions when using any type of sunscreen, whether it's a spray, lotion, or cream. Additionally, it's important to avoid inhaling the spray and avoid spraying directly onto the face. Consult with your dermatologist if you have any concerns.
It's important to note that the best practice for skin cancer prevention is to protect your skin from sun exposure, not just by using sunscreen alone. Stay in the shade, wear protective clothing, and avoid sun exposure during peak hours when UV radiation is strongest.
Other Johnson & Johnson Cancer Product Recalls
While the recall of the potentially harmful sunscreen is reassuring that J&J has its consumers' health at the top of its priority list, you probably remember hearing something about another one of their products in recent history. That product was the widely used J&J Talcum powder, which was found to contain a different cancer-causing substance.