Winter Weather Safety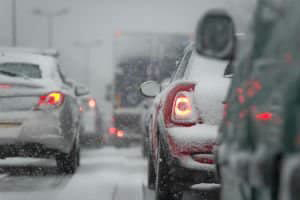 For those of us living in Kentucky, winter storms can range from light snow and freezing rain to significant accumulations with strong winds. It is important to be familiar with the different types of winter weather advisories issued by authorities during the winter season so that you can keep yourself and your loved ones safe.
The three main winter weather advisories that you should be familiar with are:
Winter Storm Watch ' If the forecast shows the potential for snow or ice, the National Weather Service will typically try to notify the public approximately 24-36 hours in advance of the anticipated inclement weather.
Winter Storm Warning ' The National Weather Service will issue a winter storm warning when an approaching winter weather system with significant amounts of snow or ice is about to happen. Ice storming warnings are typically issued for ice accumulations of ' inch or more.
Blizzard Warning ' If snow is falling and visibility is reduced to a quarter of a mile or less, or If the winter storm has sustained winds of 35 miles per hour for three hours or longer, the National Weather Service may issue a blizzard warning. Blizzard warnings means that blizzard conditions are anticipated in the next 12 to 18 hours.
Preparing for Winter Storms
While familiarizing yourself with the various winter storm alerts is important, it is essential to prepare for winter weather ahead of time. Safety starts in the home, so be sure to stock up on the vital items you need before a winter storm hits. The essential items to have ready in case of inclement winter weather include:
A NOAA Weather Alert Radio
A three-day (minimum) supply of food and water for yourself and each member of your household
A generator (with gasoline). Make sure you know how to properly operate it if the time comes to use it
An emergency kit that includes flash lights, batteries, matches, candles, first aid supplies, and medicine
Extra blankets, coats, and warm gear in the event of extreme cold
Keeping an emergency kit in your car also is a good idea in the event you become stranded in your vehicle while on the highway. In your vehicle, you should keep:
A gallon of water
A first aid kit
A flashlight
Warm blankets
An ice scraper
A portable cell-phone charger
Sand (for traction)
By maintaining emergency supplies both at home and in your family vehicles, you can rest assured that you will have the right items on hand if a winter storm hits. Planning ahead will help you avoid being caught off-guard and unprepared during a winter storm or blizzard.
How to Avoid a Serious Injury this Winter
Winter storms should be taken seriously by every person in Kentucky. While many people enjoy seeing snow during the holiday season, winter weather can be extremely dangerous. It can cause serious injury accidents including collisions on icy roads and slip-and-fall accidents on slippery sidewalks and parking lots. To protect your loved ones and yourself during the winter, consider the following safety tips:
Tip #1: Use rock-salt to melt ice on your walkways, stairs, and driveway to prevent slip-and-fall accidents. If you are out in public, make sure to watch out for ice in heavy-traffic areas, and always wear the appropriate footwear. All footwear should be relatively new and still have excellent tread to provide the traction you need to stay upright. Take shorter steps.
Tip #2: Be extra cautious when driving. It is a good idea to limit your driving, especially if it is raining, snowing, or sleeting. If you must travel, make sure to do so during the day, when the temperatures are warmer and visibility is better. Always let your family know where you are headed and what route you intend to take, in case you become stranded in a storm.
Tip #3: Drive at a speed that is safe for weather conditions. Avoid slamming on your brakes when driving on snow covered roads. Brake slowly and as early as possible to avoid skidding. It is a good idea to drive slowly and make sure to signal any turns or lane changes well in advance to let others know what actions you are going to take. Finally, make sure to keep at least a half-tank of gas in your vehicle at all times.
Tip #4: Be alert for signs of frostbite or hypothermia when spending time outdoors in winter. Exposure to extreme cold can be deadly, so it is important to know the signs of hypothermia and frostbite. Hypothermia can be diagnosed if the individual is disoriented or incoherent, is shivering uncontrollably, is drowsy or evidently exhausted. Make sure to get the individual medical attention immediately. Symptoms of frostbite include the loss of feeling in the extremities including the tip of the nose, ears, fingers, and toes. You may also notice a pale white appearance of the affected areas. Make sure to seek medical attention as soon as possible if you suspect frostbite.
Contact Us
This winter season, the team at Becker Law Office hope that all of you stay safe in your homes and on the roads. We understand that accidents happen, no matter how well prepared you may be for inclement weather. Unfortunately, accidents also occur when others do not adequately prepare for winter weather, or if they act irresponsibly.
If you are hurt in a slip and fall accident on someone's property, or if you are seriously injured in an accident on the road, you do not have to suffer alone. For more than 30 years, the attorneys at Becker Law Office have worked tirelessly to help injured people all across Kentucky rebuild their lives after a serious accident. Contact us at (888) 753-7162 to discuss your legal options with a member of our legal team. We are here to help you.