WATCH OUT: Top 10 Most Dangerous Toys for 2017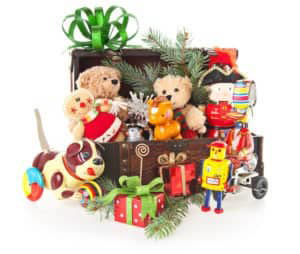 This year's holiday shopping season is already in full swing. When choosing toys for the children on your holiday gift list, make sure safety tops your list to ensure your holiday memories don't include a trip to the nearest emergency room. The consumer safety group W.A.T.C.H. Inc. (World Against Toys Causing Harm) has just released its annual list of the top 10 most dangerous toys to avoid buying this season. W.A.T.C.H. is a Massachusetts-based non-profit whose goal is to educate the public about the potential dangers presented by children's toys, furniture, and recreational equipment, and to help avoid preventable injuries and death from children's items.
This year's WATCH OUT list includes:
Hallmark 'Itty Bittys' Baby Stacking Toy ' This colorful stacking toy with Disney characters has no age recommendations nor warning labels despite fabric bows and hats that may detach and cause choking hazards for younger children. Although this toy was recalled by the CPSC (Consumer Product Safety Commission) in August 2017, it can still be purchased online.
Pull Along Polly ' This pull toy recommended for children aged 12 months and older comes with no safety warnings despite a 19-inch pull cord that presents a strangulation hazard to younger children, and exceeds the normal industry standard of a 12-inch pull cord.
Wonder Woman Battle Action Sword ' This toy encourages children ages 6 and older to act like their favorite super hero battling the forces of evil. The label does warn consumers about battery safety hazards but fails to warn of possible blunt force injuries to eyes, face and body from the hard, plastic blade.
Hand Fidgetz Spinners ' These popular items, which have no age recommendations, are sold as 'novelty items' rather than toys, but children and adults of all ages play with these spinners whose small parts present swallowing hazards for younger children. Recent reports also warn of high levels of lead, and others may overheat when charging.
Spider-Man Spider-Drone Official Movie Edition ' The numerous rotating rotor blades which propel this drone into the air have the potential to cause multiple impact injuries to face, eyes, and body.
Nerf Zombie Strike Deadbolt Crossbow ' This toy launches 'arrows' from a pressurized crossbow. Despite safety labels warning against shooting the arrows at the eyes or faces of people and animals, it's easy to image children aged 8 and up, for whom the toy is marketed, ignoring this warning. It made the WATCH list because of potential eye and facial injuries.
Slackers Slackline Classic Series Kit ' This tightrope is recommended for 'all ages' and pictures someone on the packaging walking on the tightrope between two trees. The manufacturer acknowledges on its packaging that it presents a strangulation hazard for children, and the possibility of severe injury or death with use.
Oval Xylophone ' Potential choking and ingestion hazards for small children to whom this toy is marketed is the problem with this toy due to the 9.5-inch drumstick handle accompanying the xylophone. The toy is approved for children 12 months and older yet contains no warnings about these potential hazards.
Jetts Heel Wheels ' This toy, intended for children aged 8 and up, transforms children's shoes to rear-wheel roller skates with 'real sparking action.' Warnings are abundant on this toy including blunt-force and fire-related burn injuries, and the potential for death.
Brianna Babydoll ' This plush babydoll is marketed to children aged 18 months and older yet contains no warnings on its packaging but present both ingestion and choking hazards for young children from the removable clothing and pink ponytail holders.
'Check this year's WATCH OUT list against any toy purchases you're considering to do all you can to help keep the season merry and bright!