VW Pleads Guilty in Scandal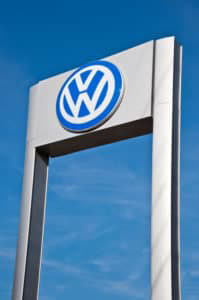 German automaker Volkswagen (VW) pleaded guilty Friday to three criminal charges in the diesel emissions scandal first revealed in September 2015. The guilty pleas were part of a $4.3 Billion settlement VW reached with the U. S. Justice Department for criminal conduct related to its purposeful manipulation of diesel emissions output readings in cars imported to the United States.
VW General Counsel Manfred Doess entered guilty pleas in U. S. District Court on March 10, 2017, to fraud, obstruction of justice, and falsifying statements, admitting VW purposefully misrepresented VW diesel vehicles' emissions output to get around U. S. emissions standards.
Mr. Doess admitted VW "willfully and knowingly" designed and used software in approximately 580,000 diesel vehicles it imported to the U. S. to deceive government regulators and consumers, and to cheat U. S. emissions standards. Software was designed to detect when diesel emissions were being tested, and to reduce emissions output during testing, but return to regular emissions output when not in testing mode, thereby allowing up to 40 times the legal limit of polluting emissions.
U. S. District Court Judge Sean Cox accepted the guilty pleas, and scheduled a sentencing hearing for April 21, 2017. A group of approximately 3,600 VW diesel owners has objected to the settlement arguing the U. S. subsidiary of VW should not be given immunity in the emissions scandal.
VW settlements for the diesel emissions scandal total nearly $15 Billion and are the largest in U. S. automotive history, eclipsing GM's settlements related to its deadly ignition switch defects, Takata's exploding air bags, and Toyota's unintended acceleration problems. VW agreed to spend $10 Billion to buy back polluting diesel vehicles, and to pay owners of the manipulated vehicles at least $5,100 each in additional compensation. VW dealers in the U. S. will also receive compensation to complete necessary repairs to affected vehicles whose owners choose to keep their vehicles. $4.3 Billion will be paid to settle civil and criminal fines, including environmental penalties. VW also agreed to independent oversight of its business operations for a period of 3 years, and agreed to make changes in how it does business in the United States.
We applaud the Justice Department for its diligence in exposing VW's criminal conduct in willfully cheating U. S. regulators and consumers. Negatively impacting an automakers' "bottom line" is the most effective way to combat the corporate "profits over people" mentality. Becker Law Office works on behalf of people injured by this mentality, and are here to answer your questions.