Volkswagen Settles Near $15 Billion in Emissions Scandal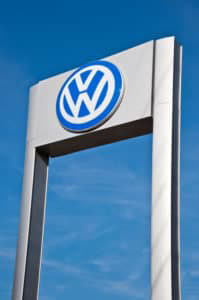 In the largest automotive scandal settlement in U.S. history, German-based Volkswagen announced June 28, 2016 it has agreed to pay almost $15 billion to U.S. owners of affected Volkswagens, the U.S. EPA (Environmental Protection Agency) and the U. S. Department of Justice over a pollution emissions cheating scandal. Volkswagen owners will have a choice between a vehicle buy back, or vehicle repair, plus an additional cash settlement between $5,100 and $10,000.
The scandal was uncovered last year after investigators found some VW model vehicles with 2.0-liter diesel engines also had secret sophisticated software that turned on emissions controls during government pollution emissions testing, turning off emissions controls when the vehicle was driving regularly. Vehicles equipped with the manipulative software spewed more than 40 times the legal limit of harmful nitrous oxide into the environment, creating health hazards to humans, and in violation of federal and state clean air standards. Volkswagen admitted equipping almost 500,000 of its diesel-burning vehicles with sophisticated software capable of tricking government emissions testing equipment. Since the cheating scandal was revealed, affected VW vehicles have lost value, and still do not comply with clean air standards.
The settlement includes the following vehicles with 2.0-liter diesel engines: VW Beetles from 2013-2015; VW Golfs from 2010-2015; VW Jettas from 2009-2015; VW Passats from 2012-2015; and Audi A3s from 2010-2013 and 2015, but does not include vehicles with 3.0-liter diesel engines. VW will either buy back the vehicle at the trade-in value of the car before the cheating scandal broke September 18, 2015, or repair the vehicle, plus an additional cash payment of $5,100 to $10,000 to all affected owners. Previous owners and those who leased affected vehicles are also entitled to compensation but for a lesser amount.
The buy back program will not begin until at least October 2016, and all buy back and repairs must be substantially completed (up to 85%) by December 1, 2018, or VW faces additional penalties. Details of the settlement can be found at VWcourtsettlement.com.
VW still does not know exactly how it will repair vehicles to meet state emissions standards it previously manipulated, but vehicle performance and gas mileage will be negatively effected after repairs.
VW set aside $10.03 billion to either buy back or repair all 475,000 affected vehicles, with an additional $2.2 billion for environmental cleanup through an EPA Clean Up Trust Fund, with the remaining $2 billion set aside for research to help develop new clean energy technology. A separate agreement between VW and 40 U.S. states attorneys to settle violation of pollution emissions standards is expected soon. VW also faces possible criminal charges, and a civil fine under the U.S. Clean Air Act.
U.S. District Court Judge Charles Breyer of the Northern District of California must still approve terms of the settlement agreement before the settlement goes into effect.