Uber Suspends Self-Driving Car Testing in Arizona After a Fatal Crash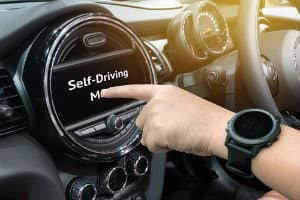 The death of an Arizona woman who was hit by a self-driving Uber vehicle on March 18 raises questions about who is legally responsible for a car accident when a self-driving car injures or kills someone.
Elaine Herzberg, a 49-year old pedestrian, was walking her bike across a four-lane road in Tempe at night when she was struck and killed by a Volvo XC90 SUV powered by auto-pilot technology used by Uber. The car was operating in self-driving mode and clocked at 40 mph in a 45 mile an hour zone. An Uber backup driver was behind the wheel, but he appeared distracted just before the accident, according to camera footage. The vehicle was not carrying any passengers at the time.
Tempe Police Chief Sylvia Moir reviewed the video of the crash and commented, "It would have been difficult to avoid this collision in any kind of mode based on how she came from the shadows right into the roadway."
The accident remains under investigation by the National Transportation Safety Board and the National Highway Traffic Safety Administration.
Issues with Self-Driving Technology
Uber is one of a number of companies working to develop cars that operate without drivers. Many tech companies like Google, Tesla, Lyft and Uber, in collaboration with automobile makers like Toyota and GM, have spent billions of dollars developing technology for autonomous transportation.
Arizona had invited Uber to test the autonomous vehicles in the state. After the crash, Uber indefinitely suspended its testing of autonomous cars in Arizona and other states. Nvidia, a computer chip maker that has partnered with Uber, Tesla and Volvo to provide chips and artificial intelligence technology for self-driving vehicles, also announced plans to temporarily suspend the testing of self-driving cars on public roads to learn more about the cause of the Uber accident. Nvidia said the fatal accident was a reminder of the difficulty of developing self-driving technology.
The robotic vehicle project, developed by Uber, had issues months before the Uber self-driving car struck a pedestrian. These cars had a variety of problems, including when driving next to big rigs and maneuvering through construction zones. Uber employees had expressed their concerns regarding safety to managers.
The human drivers often had to take control away from the computer to keep the vehicles out of harm's way.  As a result, Uber was not able to meet its target goal of 13 miles per human intervention.
Self-Driving Cars and Legal Questions
Despite the fatal Uber accident, many people consider self-driving cars to be the future of the automotive industry. In recent years, a number of states have enacted legislation to have transportation agencies start planning for the presence of self-driving automobiles on public roads.
Car accident personal injury litigation typically relies on whether a driver is at fault and caused another's injuries. But what if a vehicle is operating on auto-pilot?  Autonomous vehicles will present new questions of responsibility and legal liability when crashes occur. These questions include:
Who has ultimate control, the self-driven vehicle or the backup safety driver?
Could the backup driver have prevented the accident?
Is the developer of the computerized auto-pilot technology responsible if the technology fails to detect a bicyclist, pedestrian or other vehicle?
Did the vehicle have a design flaw that the manufacturer should have identified?
Are state or local government regulatory agencies liable for permitting autonomous vehicles that are still experimental on public roads?
Another concern about current litigation is whether corporations like Uber that provide this type of self-driving technology have signed indemnification agreements (a contract that has another company assume the liability costs) with other companies. Most of these agreements are confidential, and it is difficult to discern who is liable under these types of contracts.
Up until this case, most litigation over accidents that did not result in fatalities were settled on a confidential basis. Paul Rafferty, a lawyer based in California that represents car manufacturers, says that any indemnification agreements will still be handled behind closed doors.
A confidential settlement between Uber Technology and Herzberg's family announced shortly after the March 18 fatal accident may have forestalled for the present time litigation over these types of questions at present. But these types of questions will continue to resonate as autonomous vehicles are developed.
The liability in a self-driving car accident will always depend on how the accident occurred and whether others contributed to the accident.
Safety Tips for Pedestrians
While it is not possible to completely prevent accidents, there are steps that pedestrians can take to protect themselves. Some safety tips for pedestrians that may help prevent an accident include:
Always use crosswalks and cross the street in a well-lit area.
Wear reflective and bright clothing when walking at night.
Be aware of obstacles that block drivers' vision such as hedges, trees, or other vehicles.
Always walk on the sidewalk. If there is not a sidewalk available, walk beside the road facing traffic so you can see oncoming vehicles.
Make eye contact with drivers before crossing a street or an intersection.
Obey traffic signals.
Observe all road lanes and visually clear each lane before proceeding to cross. Do not assume that all drivers can see you and will stop.
Do not wear headphones or talk on your cell phone while crossing the street. Pay attention to traffic.
Hurt in an accident? Contact Us
The attorneys at Becker Law Office know that the laws will change as self-driving vehicles become more prevalent. Our experienced attorneys have the knowledge and resources to investigate complex car accidents and protect the rights of people who have been injured due to the negligence of others. Contact our team of experienced injury attorneys for help at (888) 517-2321 for help today.