Top 10 Most Dangerous Toys to Avoid This Holiday Season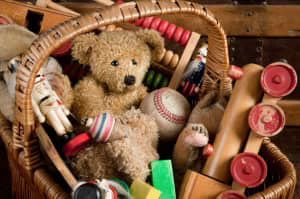 There is nothing more precious than the excitement on a child's face when opening a holiday gift containing a new toy, so when you're looking for that special gift, please keep safety at the top of your list so the most wonderful time of the year does not turn into your biggest nightmare.
With that in mind, here is the 2015 top 10 list of the most dangerous toys that create the greatest risk of harm or death to a child according to W.A.T.C.H. (World Against Toys Causing Harm, Inc.):
"BUD" Wheely Cute Pull Along
This cute, cuddly pull-toy on wheels is marketed for infants but presents a choking hazard from blue hubcaps placed on the red wheels that can break or come off the wheel.
Foam Dart Gun
We've all stories in the news about people injured or killed by law enforcement officers or others who mistakenly believe toy weapons are real, so choosing a gift other than a toy weapon should be a no-brainer. As W.A.T.C.H. explains, "In today's world, there is no excuse for outfitting children with realistic toy weapons designed to produce potentially dangerous and unnecessary thrills. Existing regulations addressing the hazards associated with such "toys" are inadequate. Detailed replicas have resulted in a number of deaths through the years and should never be sold as toys."
Stats 30 Quick Folding Trampoline
This individual-use trampoline is marketed for children as young as 6 years old and is typically sold in the toy aisle. Although the trampoline contains warnings about potential head and neck injuries, possibly resulting in paralysis or death, and further advises that it should only be used in the presence of an adult, the risk is too great for great harm to a child and W.A.T.C.H. recommends bouncing this gift idea in favor of a less risky toy.
Poo-Dough
Overlooking the tasteless advertisement to "make your own poo", this toy also present the potential for allergic reactions to those with a gluten allergy because the "poo" dough is made with wheat. It may be best to steer clear of this novelty item.
Smack Shot
Another toy that can act as a weapon, Smack Shot resembles a slingshot and can shoot its ammunition up to 100 feet. Although the packaging warns users not to play with the smack shot close to others, the obvious potential for eye injuries for the shooter and bystanders alike should be enough to dissuade one from purchasing this toy.
Kick Flipper
This hard plastic board is marketed to younger children as a skateboard without wheels so they can practice flips and tricks. The manufacturer does not mention and the children pictured on the packaging are not wearing helmets or safety gear. Due to the potential for head and impact injuries, this toy made the 2015 W.A.T.C.H. list.
Leonardo's Electronic Stealth Sword
The potential for blunt-force trauma and facial injuries from this rigid plastic sword earns this toy a place on the W.A.T.C.H. list. This toy sword is marketed to younger children to battle like a ninja similar to their favorite Teenage Mutant Ninja character.
Kid Connection Doctor Play Set
This doctor play set marketed for children aged 2+ includes several plastic toy medical devices. The concern over potential choking and ingestion injuries comes from a plastic tongue depressor that children are encouraged to place in their mouths when playing "doctor".
Pull Along Zebra
Marketed for children ages 12 to 36 months, this toy made the list because of its strangulation and entanglement potential. Industry standards require a cord of no more than 12 inches, but this toy contains a cord measuring 21 inches. Best to leave this zebra on the shelf.
Jurassic World Velociraptor Claws
These hard plastic toy claws are marketed for children aged 4+ and present the possibility for eye and facial injuries when children wear the claws and "fight" like a raptor.
Be smart this holiday season and keep child safety at the top of your list.
Best wishes for a safe and happy holiday this season from your friends at the Becker Law Office!