Tips for New Year's Safety and Avoiding Accidents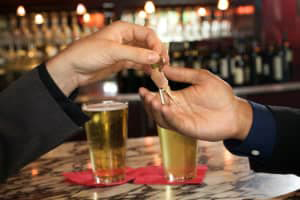 The start of 2015 is quickly approaching, and many people are already making New Year's plans. The New Year's holiday is known for being of the most dangerous times of the year, particularly for accidents involving drunk drivers.
According to the 2014 edition of Injury Facts®, issued by the National Safety Council (NSC), "the three-day period around New Year's Day was the holiday period with the highest percentage of alcohol-impaired driving deaths." To avoid being injured in a car accident during this time of the year, partygoers who plan to attend New Year's celebrations should make safety precautions a part of their holiday planning to improve their chances of avoiding a holiday accident.
Dangers Drivers Face on New Year's
There are numerous hazards that drivers and passengers face when traveling on the New Year's holiday. Some of the most common dangers include:
Increased traffic: Falling gasoline prices mean more people may be travelling during the holidays. With more vehicles on the roads, comes more risk for holiday travelers. Drivers tend to get more easily frustrated when traffic conditions are bad. It can also lead to drivers violating posted traffic signs or ignoring common sense when it comes to the safety of themselves and their passengers.
Poor weather conditions: Rain, snow, and ice can make New Year's travel extremely hazardous. Even the most skilled drivers may lose control of a vehicle when road conditions deteriorate due to adverse weather.
Drivers who are intoxicated: Many holiday parties offer alcohol to guests. While some people are able to limit their alcohol consumption to one or two drinks, others view a New Year's party as an excuse to get intoxicated. If these partygoers then get behind the wheel, they pose a serious danger to themselves and others.
Safety Tips to Help You Avoid a New Year's Accident
Whether you are hosting a New Year's party or attending one yourself, here are some safety tips to help you avoid a serious or fatal New Year's accident:
Know your limit. Every person metabolizes alcohol at a different rate. While one person may need to consume four or five drinks to have a blood alcohol concentration (BAC) over the legal limit, another person may only have to consume one.
Designate a driver. It is easy to lose track of how many drinks you have had, especially when you are celebrating on New Year's Eve. A designated driver can alleviate the tension and uncertainty of whether you are able to drive. If you cannot find anyone willing to be the designated driver, take a cab, call AAA, use public transportation or ask a sober family member or friend to come pick you up.
Report suspected drunk drivers. If you see another vehicle that is weaving across lanes, traveling too slow or too fast, or being operated in an erratic manner, it is very likely that the driver is either drowsy or intoxicated. If you believe another driver to be under the influence of alcohol or drugs, call 911. Your action could prevent a serious accident.
Stay at your party destination. Party hosts are safe, as they don't have the need to travel once the New Year's celebrations have come to an end. If you are planning to attend a New Year's party at a hotel, friend's house or other destination, arrange to stay there or stay at a hotel or motel that is within walking distance.
Consider celebrating without alcohol. Not all New Year's celebrations need to have alcohol. There are many ways to ring in the New Year without alcohol. Get creative. Your party guests may appreciate the change, and will enjoy not dealing with a hangover the next day.
Stay alert for potential premises liability risks. As a party host, you need to remain alert to potential premises liability risks your guests could face. A torn rug, damaged railing, loose steps or slippery floor could lead to significant injury. As a guest, you should be alert for any hazards that could cause a slip and fall accident or other serious accident. Inform your host if you notice this type of danger and warn other guests to stay away from the hazardous area. Doing so might prevent someone from sustaining an injury.
Contact Becker Law Office if you have sustained a significant injury or a loved one has been injured as a result of a New Year's accident caused by someone else. We offer a free case evaluation. We can discuss your options and inform you of your right to compensation. Connect with an experienced Louisville personal injury attorney before making a final decision on how you wish to proceed.