Takata Settles Criminal Charges Over Exploding Air Bags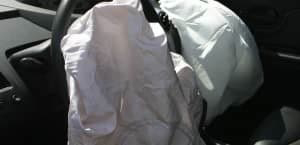 In what's been called "the largest and most complex auto safety recall in U. S. history," Japanese air bag manufacturer Takata has settled criminal charges brought against it by the U. S. Department of Justice over a fatal defect in its air bags. Takata, whose exploding air bags have caused at least 16 deaths and hundreds of injuries worldwide, will pay $1 billion to settle criminal charges related to the fatal air bag defect and subsequent cover-up of that defect.
The defective air bags in question all contain an inflator that holds ammonium nitrate, the chemical that makes the air bag inflate in a crash. The ammonium nitrate can degrade over time and after prolonged heat exposure, may cause the inflator to suddenly explode without warning hurling shrapnel throughout a vehicle. Justice Department officials alleged Takata knew about this defect for 15 years yet continued selling millions of air bags to automakers.
Under the terms of the agreement, Takata will plead guilty and pay $1 Billion. Additionally, 3 Takata executives were charged with wire fraud and conspiracy. These executives allegedly knew about the deadly defect, yet manipulated safety test data to hide problems with the inflators.
The Justice Department hopes the size of the fine, and criminal charges against the individuals who manipulated safety data, sends a message to automakers who may try to deceive the public: "Automotive suppliers who sell products that are supposed to protect consumers from injury or death must put safety ahead of profits. If they choose instead to engage in fraud, we will hold accountable the individuals and business entities who are responsible."
Of the $1 Billion settlement, a $25 million fine will be paid to the U. S. government with $125 million reserved to compensate those injured and killed by the exploding air bags. The remaining $850 million will go to automakers defrauded by Takata, and to cover their costs to recall and replace over 70 million defective air bag inflators in over 42 million vehicles.
The recall started in 2008 and is expected to run through 2018. Although automakers can legally still sell vehicles containing the defective air bags, the National Highway Traffic Safety Administration (NHTSA) has ordered all defective air bags to be recalled by the end of 2018.
The older the vehicle, the greater the risk for potentially exploding air bags. NHSTA is warning owners of the following vehicles affected by the recall their air bags inflators have the highest risk of spontaneous eruption:
2001-2002 Honda Civic
2001-2002 Honda Accord
2002-2003 Acura TL
2002 Honda CR-V
2002 Honda Odyssey
2003 Acura CL
2003 Honda Pilot
To find out if one of your vehicles is included in this massive recall, go to www.SaferCar.gov to learn more.
And if you or a loved one was injured by an exploding air bag, our experienced attorneys can provide answers to your questions. They've recovered millions of dollars for people injured by defective products, and are here to help.