VA Paid $845M in Medical Malpractice Claims Over 10 Years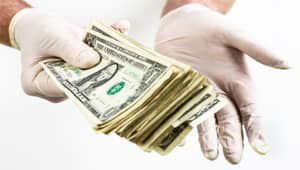 Medical malpractice happens every day in major hospitals, regional hospitals and small clinics. It also happens at Veterans Affairs (VA) medical hospitals – and more frequently than most people might think. In fact, a recent analysis of treasury records shows that there has been $845 million paid out in VA medical malpractice claims over the past ten years. That amount does not include the malpractice payments made by at-fault civilian doctors. Civilian doctors, hospitals and other health care providers made more than 11,400 medical malpractice payments in 2011, according to the National Practitioner Data Bank.
4,400 Claims for Med Mal Claims
According to the Dayton Daily News, reporters from the Cox Media Group analyzed federal treasury data from 2003 to 2012 and found that the VA paid out $845 million relating to 4,426 medical malpractice claims over that 10-year period. The types of VA malpractice claims varied by severity and hospital, but some claims were simply unbelievable.
Routine Tooth Extraction Results In Paralysis. Of all the cases over the past 10 years, the largest VA medical malpractice involved a $17.5 million payout. It was awarded just last year to a Marine Corps veteran who was left permanently paralyzed after a routine tooth extraction.
According to records, the Marine vet had to have several teeth removed. VA doctors noticed that his blood pressure was dangerously low, but decided to move forward with the extractions. The patient had a stroke on his drive home and crashed his car only two-tenths of mile from the VA center he had just left. He is now brain damaged, struggles to walk, can't communicate and requires around-the-clock care.
Continual Misdiagnosis Leads To Death. Another VA medical malpractice case resulted in the death of an Army veteran and an $875,000 medical malpractice award. VA doctors failed to diagnose a one-centimeter lesion on the patient's left lung in 2006. A year later, they missed it again. By 2008, the lesion had grown to 8 centimeters. This time, doctors saw it and referred him to a radiologist for further investigation. However, those studies were never ordered. By 2009, a final X-ray showed that the lesion had grown to nearly 10 centimeters and metastasized to both lungs. He died in 2009.
Paralysis From Botched Care. This VA medical malpractice case resulted in a $5.7 million payout last year to a Vietnam Veteran. The veteran was rushed to a VA emergency room in 2006 complaining of abdominal pain. However, doctors simply sent him home without a proper diagnosis of his condition. A neighbor stopped by to check on him later and found him unresponsive. He was rushed back to the hospital, but ended up in a coma and is now paralyzed.
So many medical malpractice cases could have been avoided had doctors or other healthcare professionals followed the proper standard of care. This is especially saddening to see for the thousands of veterans who fought, or continue to fight, for our country. One injured veteran summed up his frustration in a way that other veterans would likely agree with, "We've seen battle. We've seen combat. [W]hy do we have to come back home and fight just to get proper medical care?"
Helping Veterans Get The Compensation They Deserve
If you're a veteran who has been the victim of medical malpractice at a VA facility, contact an experienced veterans' disability lawyer who understands how the Veterans Affairs process works – as it is very different than the traditional litigation process – and can analyze your situation to determine what types of compensation you might be entitled to, such as for lost wages, other VA benefits, physical pain and suffering, emotional distress, loss of consortium, loss of enjoyment of life and many others.