Slips, Trips & Falls: A Quick Look at Facts and Prevention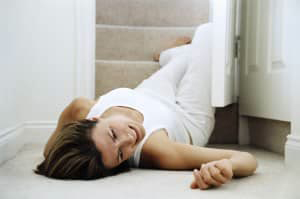 Did you know that nearly nine million people end up in emergency rooms every year due to falling? Add in the millions more who don't seek emergency attention and those whose injuries involve slips and trips and you've got a problem much bigger than most people would realize. Here's a quick look at the facts – and some tips on prevention – for slip, trip and fall injuries.
National Safety Council Data
According to a National Safety Council (NSC) report entitled Slips, Trips & Falls, falls are one of the leading causes of unintentional injuries in the United States, accounting for approximately 8.9 million visits to the emergency room.  While falls can occur anywhere and everywhere, the most common locations include:
Doorways
Ramps
Cluttered hallways
Areas with heavy traffic
Uneven surfaces
Areas prone to wetness or spills
Unguarded heights
Unstable work surfaces
Ladders
Stairs
While anyone can experience a fall, the simple fact is that the elderly are more prone to falls that result in severe injuries such as hip fractures and head traumas, including traumatic brain injuries (TBIs), and spinal cord injuries, broken bones and more. In fact, fall-related injuries are the leading cause of injury-related death among those age 65 and older and account for approximately four times the number of other deaths for those in other age groups.
Slips, Trips & Falls: Prevention Tips
Here are recommended tips to prevent conditions that lead to slip and fall accidents:
Adjust gutter downspouts to drive water away from pathways
Arrange furniture to provide open walking pathways
Clean up all spills immediately
Ensure adequate lighting both indoors and outdoors
Install handrails on all staircases on both sides
Remove tripping hazards from stairs and walkways
Keep drawers and cabinet doors closed at all times
Keep frequently used items in easily reachable areas
Never stand on a chair, table or other surface on wheels
Periodically check the condition of walkways and steps, and repair damages immediately
Remove debris from exterior walkways
Remove small throw rugs or use non-skid mats to keep them from slipping
Secure electrical and phone cords away from traffic areas
Wear shoes with good support and slip resistant soles
Ladders are a particular safety concern, according to the NSC, and it's important to use them wisely. It provides numerous ladder safety tips in its report, but some key points include always keeping at least three points of contact with the ladder (two feet and one hand, etc.), placing the base of the ladder on a firm, solid surface and avoiding leaning or over reaching instead of moving the ladder closer to where it should be.
What to Do If Someone Else Is Responsible For Your Slip & Fall Injury
If you've experienced a personal injury due to someone else's negligence, you may be entitled to compensation in the form of lost income, medical bills, rehabilitation, physical pain and suffering, emotional distress and more.