Shifting Seats Prompts Massive Self-Imposed Honda Odyssey Recall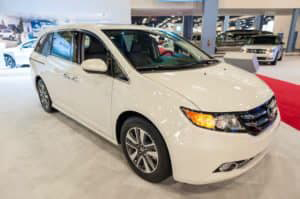 Honda is voluntarily recalling over 640,000 of its popular Odyssey mini-vans because of a defect in the system that secures second-row seats. The defect allows second-row seats to shift and move unexpectedly, and increases the risk of injury in a crash because of the moving seats.
The National Highway Traffic Safety Administration (NHTSA) announced December 27, 2016 that Honda issued two separate recalls voluntarily recalling Odyssey mini-vans covering model years 2011 through 2016 affecting over 640,000 vehicles.
The first recall involves only 2016 model mini-vans, and affects only 7,549 vehicles. A horizontal adjuster bar in the second row of seats may stay in the "unlocked" position rather than the "locked" position, permitting the seat to slide around, in violation of the Federal Motor Vehicle Safety Standard # 207 under "Seat Systems."
The second recall includes mini-vans from model years 2011 through 2016, and includes 633,753 vehicles. The affected mini-vans have a release lever on the second row of seats allowing easier access to the third row of seats. The release lever may remain in the "unlocked" position, allowing second-row seats to shift and move while the vehicle is in motion, or during a crash.
Moving seats increase the risk of injury to passengers in the affected seats, and other occupants in the vehicle.
Both recalls are set to begin January 23, 2017. Honda will notify owners of the affected vehicles, and dealers will complete repairs free-of-charge. For the recall involving 2016 models only, dealers will inspect the horizontal adjuster bar, and, if necessary, replace it to secure the second row of seats. For the second recall, dealers will install a bracket and spring to secure second-row seating.
Honda states it is not aware of any crashes involving the defective release levers or horizontal adjuster bars, but the NHTSA has received at least 4 separate consumer complaints from vehicle owners reporting injuries including passengers hitting their legs on the seats in front of them, passengers choking from seat belts when seats move forward, a seat with a child passenger in it flipping when the brakes were applied, and another child suffering facial injuries after being thrown into the back of the driver's seat. Thankfully, there have been no fatalities.
Affected vehicle owners may call Honda's Customer Service line at 1-888-234-2138. Honda's recall number affecting only the 2016 model horizontal bar adjuster is KD4. The recall number for models from 2011 through 2016 involving the defective release lever is KD5.
Consumers may also contact the NHTSA Vehicle Safety Hotline at 1-888-327-4236, or visit www.safercar.gov for more information.