Safety Tips for Kentucky Highway Work Zones Driving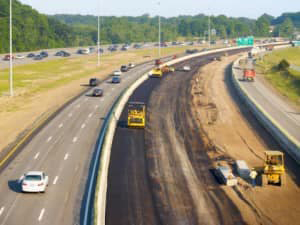 Spring is finally here after what many would call one the longest winters in history, and with it will come road resurfacing and construction projects that had to be put on hold during the cold weather. More construction projects mean more highway work zones and the possibility of more accidents and injuries.
Statistics show that highway construction zones are hazardous both for motorists who drive through the complex array of signs, barrels and lane changes and for workers who build, repair, and maintain highways, streets and bridges. Knowing how to safely navigate construction zones can reduce the number of car accidents that result in serious injuries and deaths.
609 Highway Work Zone Deaths In 2012
According to the National Institute for Occupational Safety & Health (NIOSH), there were 609 fatalities in construction and maintenance work zone sites nationwide in 2012. Of those,130 fatalities involved construction workers employed as laborers, highway maintenance workers, tractor-trailer truck drivers, construction first-line supervisors, extraction workers and construction equipment operators.  The rest were motorists who simply ended up in the wrong place at the wrong time.
According to a Kentucky Transportation Cabinet (KTC) 2012 Crash Report, while there were only two fatalities specifically due to construction and maintenance work zones in Kentucky during 2012, there were 530 car crashes on Kentucky interstates, including I-24, I-64, I-65, I-71, I-75, I-264, I-265 and I-471, which likely resulted in serious injuries and costly medical bills.
There is also an enormous amount of construction in downtown Louisville with the new bridge construction that has caused frequent changes in lane patterns.
The bottom line is that drivers who know how to react when they come across a construction and maintenance work zone can help reduce the number of car accidents that can result in death and serious injury.
#1 Safety Tip When Driving Through Work Zones: Slow Down!
According to the KTC's Work Zone Safety Tips, the most important thing you can do when driving through a construction zone is – slow down!  Too many drivers simply fail to reduce their speed in work zones and put themselves, and others, in danger of an accident that can result in serious injury or death. Conviction of speeding in a work zone carries higher fines.
In addition to slowing down, the following driving tips can keep you and your family safer while navigating your way through Kentucky highway work zones:
Don't tailgate. Most work zone crashes are rear-end collisions that occur because drivers don't allow enough space between themselves and the car in front of them.
Eliminate distractions. Put down the cell phone, don't text and concentrate on driving.
Expect the unexpected. Work zones change constantly.
Keep your ears open. Never wear earphones while driving.
Merge early. You can be ticketed (and can cause a crash) by waiting to the last chance to merge lanes.
Turn your lights on. Turn your lights on before you enter the zone to become more visible to workers and other motorists.
Watch for flaggers. Follow their signals, and don't change lanes within the work zone unless instructed.
You can also take a pledge not let yourself be distracted when your eyes need to be on the road. Make your care a text free zone by taking the pledge here.
If you've been the victim of a car accident injury that occurred in a highway work zone, you may be entitled to compensation in the form of medical bills, lost income, rehabilitation, physical and emotional pain and suffering and more. Highway work zone accidents can be especially complex, as other drivers and/or construction crews could be liable for your injuries.
An experienced Kentucky car accident lawyer can review your situation and determine your legal options so that you and your family can make an informed decision about what's right for you.