Proposed New Rules For Senior Drivers: Are They Necessary?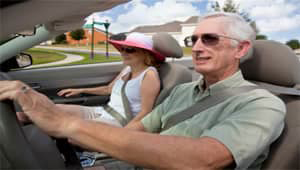 There's always talk about how younger drivers are more prone to accidents. Aside from a general lack of experience, this is especially true in today's world where cell phones and text messaging are often used on a continual basis by the younger generation.
While it's doubtful that your grandma is texting all of her friends while driving, the issue of senior driving is gaining increased scrutiny and may eventually lead to new restrictions for the older drivers. The question is, are the proposed new rules for senior drivers necessary?
NHTSA Cracking Down On Elderly Drivers
The National Highway Traffic Safety Administration (NHTSA) has proposed a five-year strategic plan to improve safety for elderly drivers and their passengers. This is in response to demographic statistics that show that the number of "baby-boomer age" elderly drivers is increasing – as well as the number of serious injuries and deaths related to car accidents linked to their driving.
According to the NHTSA, the number of licensed elderly drivers in the U.S. (those age 65 or older) increased by 21% to 35 million in 2012. Unfortunately, the numbers of serious injuries and deaths have increased as well. Last year, the NHTSA reported that 5,560 elderly people died and 214,000 were injured in car crashes. Those numbers represent a three percent increase in fatalities and a 16% increase in injuries compared with 2011.
The new guidelines, which focus on vehicle safety, data collection and driver behavior, are meant to encourage state highway safety offices to work closely with driver license officials, state departments of transportation, medical providers and aging services providers.
Comparing Younger & Older Drivers
According to statistics from the NHTSA, the elderly will represent one in four drivers on the road in the U.S. by the year 2030. That's about the same as the portion of younger drivers on the road now. The NHTSA compiled data on both elderly drivers and young drivers, as the two groups are often compared in the media regarding crashes, distracted driving and the ability to stay focused while on the road. Here are five of the other NHTSA findings:
Older drivers generally underestimate the degree to which cognitive and physical decline can affect their driving, while young drivers generally underestimate the degree to which distractions can affect their driving.
Failure-to-yield was the root crash cause 3.9 times more often with older drivers than with younger drivers.
An improper turn was likely to be the cause of the crash 2.5 times as often for older drivers as for younger drivers.
Failure to look for oncoming traffic during a left turn was likely to be the root cause 2.3 times as often for older drivers compared to younger drivers.
Drivers 75 to 79 were 3.5 times more likely to be killed in an automobile crash than drivers 30 to 65 years old. This ratio jumped to 9.5 after age 80.
One of the NHTSA's key findings was that older drivers were more likely to be killed in an automobile accident when compared to younger age groups.
Providing Seniors with the Tools Needed To Drive Safely
There are many tools that seniors can take advantage of to help them drive more safely. According to the American Occupational Therapy Association (AOTA), examples of adaptive equipment include:
Back-up camera. Although some vehicles come with this feature, they can be installed to reduce the possibility of an accident.
Low-effort steering. Modifying a vehicle's power steering system reduces the effort required to steer, which can be a great help for those with limited flexibility.
Swing-out seat. Replacing the traditional driver car seat with one on a swivel base that extends the seat beyond the car's threshold eliminates maneuvering around the steering column.
These are only three of the numerous types of adaptive equipment available, but many people simply don't know they exist.
Age Is Only One Factor When It Comes To Accidents
While age can certainly be a factor in any car accident, it is never the sole reason. According to Greg Bubalo, Managing Partner of the Becker Law Office:
While age may be one factor in a car accident, it is rarely the only factor. In fact, the most common types of behavior that lead to car accidents include speeding, distracted driving, drowsy driving, drunk driving or aggressive driving. In other situations, accidents can be caused by faulty road design, road maintenance defects or vehicle malfunctions.
If you've been in a car accident, contact an experienced car accident attorney to discuss the facts and circumstances surrounding your situation and determine whether you might be entitled to compensation for medical bills, lost income, rehabilitation, physical pain and suffering, emotional distress and more.
Tag: Proposed New Rules For Senior Drivers: Are They Necessary?