Nursing Homes Have Overstated Staffing Levels for Years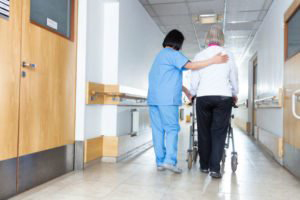 A new study of Medicare records shows that, for years, most nursing homes across the U.S. have been staffed by fewer nurses and other caretakers than they reported to the federal government. As many families who have loved ones in nursing homes understand, understaffing can lead to nursing home neglect, if not outright abuse of elderly residents by stressed staff members.
The study by Kaiser Health News (KHN) is an analysis of daily payroll records from more than 14,000 nursing homes, which Medicare has recently begun gathering and publishing under the Affordable Care Act of 2010.
The records 'reveal frequent and significant fluctuations in day-to-day staffing, with particularly large shortfalls on weekends,' KHN says in a report about the study also published by The New York Times. 'On the worst-staffed days at an average facility ' on-duty personnel cared for nearly twice as many residents as they did when the staffing roster was fullest.'
Medicare's payroll records for nursing homes showed that there were, on average, 11 percent fewer nurses providing direct care on weekends and 8 percent fewer aides.
'It's almost like a ghost town' on weekends, Jay Vandemark, a stroke patient and nursing home resident in Ithaca New York, told a KHN reporter.
'When nursing homes are short of staff, nurses and aides scramble to deliver meals, ferry bedbound residents to the bathroom and answer calls for pain medication,' the report says. 'Essential medical tasks, such as repositioning a patient to avert bedsores, can be overlooked when workers are overburdened, sometimes leading to'avoidable hospitalizations.'
Other signs of nursing home neglect include:
Dehydration
Malnutrition
Medication Errors
Poor body hygiene and grooming.
Numerous studies have found that homes with lower staffing also tend to have more health code violations ' another crucial measure of quality, the report says.
Flawed Nursing Home Ratings
Over the past decade, the government's five-star rating system for nursing homes often exaggerated staffing levels and rarely identified frequent periods of thin staffing, the authors of the study said.
The Centers for Medicare & Medicaid Services (CMS) is the federal agency that oversees nursing home inspections.
Nearly 1.4 million people are cared for in about 15,600 skilled nursing facilities in the United States.'Kentucky has about 285 nursing homes offering about 26,000 beds, and 67 percent of all nursing home residents in Kentucky are covered by Medicaid as of 2017.
CMS does not require a minimum resident-to-staff ratio for nursing homes, but it does require a registered nurse (RN) to be onsite for eight hours a day and a licensed nurse to be present at all times.
An interactive tool on the KHN site allows individuals to look up nursing homes by state, city or name to see their RN staffing levels and overall staffing ratings.
Payroll records show that even facilities that Medicare rated positively for staffing levels on its'Nursing Home Compare website were short-staffed by nurses and aides some days.
During the last three months of 2017 ' the most recent period for which data were available ' a quarter of facilities nationwide reported no registered nurses at work on at least one day. Since 2014, health inspectors have cited 1 in 8 nursing homes for having too few nurses, federal records show.
In April, the government started using daily payroll reports to calculate average staffing ratings. Previously, Medicare had homes report staffing for the two weeks before an inspection.'This allowed nursing homes to increase staffing in anticipation of an inspection.
'Medicare has rebuffed requests to set specific staffing minimums, declaring in 2016 that it preferred that facilities make thoughtful, informed staffing plans based on the needs of residents, the report says.
But the report explains further that there are additional flaws that remain a part of Medicare's five-star rating system for nursing homes, and that stars are assigned by comparing facilities to each other ' 'essentially grading on a curve.'
Nursing Aides 'Burned Out'
Part of the staffing problems in nursing homes is the low pay for nursing aides, the report states. Extended care facilities compete with hospitals and even retailers for employees. In a vicious circle, the inability to hire nursing aides leads to understaffing, which causes employees to become overworked and leave, which further reduces staffing levels.
'They get burned out and they quit,' said the son of a nursing home resident who died earlier this year. 'It's been constant turmoil, and it never ends.'
Another study, published in January 2018 and titled 'Nursing Home Employee and Resident Satisfaction and Resident Care Outcomes,' concluded that job satisfaction of nursing home employees is associated with lower rates of resident injuries.
These researchers said facility staffing levels have been linked to multiple resident health outcomes, including pressure ulcers (bedsores), falls, hospitalization, pain and death.
Study results supported the hypothesis that the more nursing home employees were satisfied with their jobs, the lower residents' risk of adverse outcomes. 'We also found positive associations between employees' overall satisfaction with their work environment and nursing home residents' overall satisfaction with their nursing home experience,' study authors said.
Contact a Nursing Home Neglect Lawyer
The attorneys at Becker Law Office, with offices in Louisville and Lexington, are committed to protecting nursing home residents who have been subjected to abuse or neglect in Kentucky, Indiana, Ohio or Tennessee. If you are concerned that your elderly loved one is being harmed by the treatment he or she is receiving at a nursing home or long-term care facility, contact our law office for a free case review and discussion of your legal options. To schedule a free consultation about a suspected nursing home abuse case, call the Becker Law Office or use our online contact form.
Tag: Nursing Homes Have Overstated Staffing Levels for Years