Nursing Home or Assisted Living – Which Is Right For You?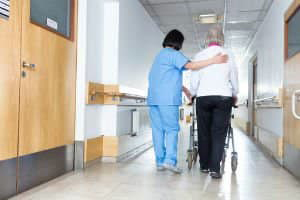 No one likes to think about their loved ones growing older and needing to move out of their homes. However, the reality is that many elderly adults will need some type of care and assistance in their later years.
Fortunately, there are a variety of living arrangements for seniors depending on their health, level of independence and other needs including:
Independent living— For seniors who are still active and healthy, but no longer want to maintain a house or yard, an independent living community may be an appropriate transition step. These communities offer private apartments in a range of sizes. A meal plan also may be available.
Assisted living—Seniors who need some regular assistance with meals, bathing, housekeeping and taking medicine may be well suited to an assisted living facility. Assisted living allows residents some degree of independence while offering help with essential routine tasks such as taking daily medications.
Nursing home care—Nursing homes provide skilled 24-hour-a-day care to residents who can no longer care for themselves and require close attention and ongoing care.
There are pros and cons to each option, so it is important to educate yourself about your loved one's needs before making such an important decision.
Access and Convenience
Nursing homes are often a more convenient choice for relatives who require immediate access to medical-grade nursing care. These facilities offer continuous care, which is often not possible for in-home, assisted living services.
There are a number of communities that provide senior residents assistance with daily activities, including medication administration, meal preparation, and even physical therapy, while also allowing them to live in a senior community. Access is often limited due to a shortage of available rooms. There may be a waiting list for admission.
To determine which option is more appropriate for your loved one, it is important to consider the types of care that will be required.
Familiarity
One of the primary reasons that many families choose to use assisted living care is to keep a loved one in familiar surroundings. A house can become difficult for seniors to maintain as they grow more frail. While removing rugs and unwieldy furniture can help keep elderly relatives from tripping and falling, the chores of cleaning, cooking, and home maintenance can still quickly become unmanageable. In some cases, family members are even able to fulfill these duties. Unfortunately, as seniors develop a need for more care, the desire for familiarity is often outstripped by the necessity of medical needs.
Nursing home facilities are equipped with grab bars, railings, specialized showers and beds, and intercom systems that allow residents to call for help. Many nursing homes allow residents to bring some possessions, which can help make the resident's room more homey and familiar.
Cost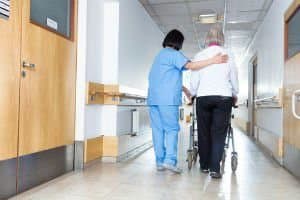 The more care that a senior requires, the more it will cost to provide that care. For example, in-home care may be the best option for an elderly relative who remains independent, but who needs help with minor household chores and other duties. A study conducted by Genworth Financial, Inc. found that these types of services cost around $3,350 a month in Kentucky. According to the U.S. Department of Health and Human Services, permanent nursing home facilities, on the other hand, can cost as much as $6,500 per month. Unfortunately, paying higher costs is often unavoidable for those whose relatives require advanced medical care.
Insurance Coverage
Many seniors can at least partially cover the cost of assisted living care or a nursing home through a long-term care insurance policy. However, some policies only cover certain types of care, so it is important to understand what your policy or your loved one's policy covers. If possible, seniors should try to obtain comprehensive coverage, which helps avoid the problem of being restricted to certain types of care.
Policyholders and their adult children should be familiar with their daily benefit amounts, as this will largely dictate what type of care will be covered by the policy. Seniors may want to consider purchasing a hybrid policy, which is a life insurance policy that contains a home care/long-term care element. Policyholders can then access their life insurance policies for the purpose of obtaining funding for nursing home care or assisted living care if needed.
Services & Payment Comparisons
The types of services offered by an assisted living facility depend on whether the resident is paying for home health care or nursing home care. Home health care services include:
Therapy;
Skilled nursing services;
Administration of medication;
General monitoring of health status;
Medical tests; and
Wound care.
Home health care is used most often following a hospitalization and is intended to help seniors regain their independence. Because it is considered medical care, home health care is covered by insurance, including both Medicare, when it is prescribed by a doctor, and Medicaid, for qualified individuals. Home care is provided by caregivers who help seniors with the activities of daily living, which often includes:
Meal preparation;
House cleaning;
Dressing;
Bathing;
Bill paying; and
Transportation.
Nursing home care combines the two, as it allows residents to obtain both help with custodial care, such as bathing and eating, and skilled nursing care and medical monitoring. Nursing homes also provide:
Room and board;
Medication monitoring;
Personal care;
24-hour emergency care; and
Recreational activities.
Medicare covers short-term stays of up to 90 days in nursing homes, but doesn't usually cover long-term nursing homes care. Nursing home residents typically pay for these services out of pocket and with long-term care insurance policies until they exhaust those resources and become eligible for Medicaid.
Contact an Experienced Nursing Home Abuse Attorney Today
If you are concerned about the welfare of an aging relative, please contact the Becker Law Office to speak with an experienced attorney who can help explain your options. Our Kentucky attorneys are eager to assist you with your case.