Number of Louisville and Kentucky Automobile Crashes Rise in 2015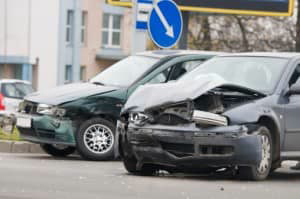 In 2015, Louisville Metro Police Department (LMPD) Traffic Division recorded one of the highest numbers of recorded accidents in the last 10 years, with the second-highest number of traffic-related fatalities:
30,000 accidents
7,583 injuries
80 deaths
23% alcohol or drug related
1,650 from distracted driving
This mirrors the uptick in automobile crashes throughout the nation, with over 146,000 crashes in Kentucky in 2015, the highest number since 2005.
Experts think more crashes are happening because there more cars are on the road due to lower gas prices, and also blame more distracted driving and cell phone use behind the wheel for increased number of crashes.
Although driving always presents a risk, there are things you can do to put the odds in your favor of a successful return trip.
Never Drive Impaired
Never drive if you are intoxicated or impaired. This includes "buzzed" or drunk driving, drowsy driving, or impairment due to drugs, even if you are taking a legal drug prescribed by your doctor. We all know the dangers of drinking and driving, but drowsy driving can be equally dangerous, and many prescription drugs and common nighttime sleep aids have warnings against driving a vehicle or operating heavy machinery while taking the medication.
No Distracted Driving
The Center for Disease Control estimates at least 9 people are killed and 1153 injured each day in the US because of distracted driving and 20-30% of all crashes nationwide are now attributed to distracted driving. Distracted driving is anything that takes your attention from the road, even if only for a few seconds at a time, including using a cellphone either talking, texting, or posting; putting on makeup; eating a meal; and even reading a book or working on a computer. Be sure when you get behind the wheel, you focus your entire attention on driving the vehicle. Eliminate distractions and concentrate only on driving safely.
Always buckle up
No matter how far you are going, always wear your seat belt. 75% of crashes occur within 25 miles of your home and statistics show wearing a seat belt reduces your chances of suffering a serious injury or dying in a crash in half. If children are riding with you in your vehicle, make sure they are properly secured in an appropriate-sized infant, booster or car seat, or wearing a seat belt if they are old enough and tall enough, and riding in the appropriate area of the car.
Don't Speed
The Insurance Institute of Highway Safety (IIHS) reports that speed is a factor in 29% of motor vehicle accident deaths. Speeding decreases reaction time and increases your risk of being in a crash, and also increases the likelihood of serious injury because the impact is greater at a higher speed.
Maintain Your Vehicle
Regularly maintain your vehicle so that it is safe to drive, and dependable in bad weather, paying special attention to your tires. Remember: the small surface area of the four tires on your vehicle is the only thing that touches the road so you should check your tires regularly for wear and tear, and proper inflation.
See additional tire safety tips at https://beckerlaw.com/2014/05/16/never-tire-safety-rubber-meets-road/.
Slow Down in parking lots
Drivers race through parking lots but this is a place you should never speed. Other cars are travelling from all directions, distracted pedestrians are looking for their cars, and children suddenly dart between vehicles out in front of your car. There is no need to speed so slow down while driving in parking lots!
Be Aware of Your Surroundings
Roads are busy at all times of the day and the increased traffic is not only from cars but also trucks, motorcycles, bicycles and pedestrians. When driving, be aware of what is going on all around you at all times. Louisville has a large bicycling community and the city has added bicycle lanes in the last several years to offer transportation alternatives and to encourage community fitness. People regularly use bike lanes so be aware of riders who have a right to share the road. Also beware of pedestrians on sidewalks, the sides of road and in crosswalks. Louisville has one of the highest pedestrian fatality rates in the country but it is the duty of pedestrians and drivers alike to pay attention to make Louisville a safer place to enjoy and live.
We hope you never need our services, but if you do, we are here to take your call and answer any questions you may have.
Louisville Office Location
Becker Law Office
9300 Shelbyville Rd Ste 215A
Louisville
KY
40222
(502) 333-3333






Tags: (louisville auto accident attorney, louisville auto accident lawyer, louisville car accident attorney, louisville car accident attorneys, louisville car accident lawyer, louisville car accident lawyers)