NHTSA Investigators Deflated Over Defective Airbag Maker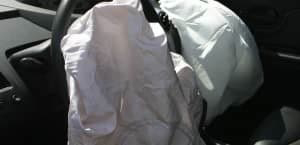 $14,000 a Day Fine for Defective Airbag Maker Non-Cooperation
Facing increased pressures from Congress and the public after a record-breaking 64 million vehicle recalls in 2014, the National Highway Traffic Safety Administration (NHTSA) signaled it is fed up with "business as usual" announcing it was fining Japanese air bag maker Takata Industries $14,000 a day for failing to cooperate with a federal investigator over airbag safety problems now blamed in six deaths and more than 100 injuries worldwide.
The NHTSA charges that Takata failed to fully cooperate with NHTSA on two orders (on October 30, 2014, and again on November 18, 2014) to produce documentation and safety information about defective air bag inflators that may explode rather than deploy during a crash, sending shrapnel flying through a vehicle's interior, and causing permanent and deadly injuries. The fine comes after the NHTSA accuses Takata of failing to comply with these two orders, instead dumping more than 2.4 million documents with little help or explanation, and failing to answer specific safety questions.
This is contrary to the provisions of the TREAD Act (Transportation Recall Enhancement, Accountability, and Documentation), whereby automakers are required regularly to report the number of deaths, injuries, vehicle complaints, and warranty and service claims as part of an early warning system to quickly identify vehicle safety problems, and issue timely recalls. Under the Act, automakers are subject to a $7,000 fine per day, with a cap of $35 million, for failing to report this critical safety information. Takata's fine is $14,000 a day since it stands accused of violating two separate orders. Fines started on February 20th.
Millions more vehicles need to be recalled and repaired
In December, Takata refused an NHTSA request to issue a nationwide airbag recall limiting its recalls only to vehicles in high-humidity states. Consumers should not accept this arbitrary geographic limitation since neither Takata nor federal investigators have been successful in pinpointing a cause, and there is no information to support Takata's contention that only vehicles in high-humidity states pose a risk.
And although 17 million vehicles have been recalled worldwide to repair the airbag, another 20 to 25 million more vehicles of various makes and models, may also have defective airbags, putting millions more at risk for gruesome or potentially fatal injuries from exploding airbags.
Eleven automakers whose vehicles contain the defective Takata airbags have hired Orbital ATK, a rocket science firm specializing in rocket propulsion, to evaluate the defective inflators in an effort to uncover the cause of the explosion problem. Led by Toyota, automakers including Chrysler, Ford, GM, Fiat, BMW, Honda, Mazda, Mitsubishi, Nissan, and Subaru, joined in hiring Orbital ATK and appointing David Kelly, former acting director of the NHTSA under George W. Bush, to lead the investigation. We commend the efforts of these automakers to take responsibility for their vehicles when Takata refuses to do so.
Check your VIN number to see if your vehicle affected
The NHTSA recommends checking your vehicle's 17-digit VIN number to see if your vehicle is the subject of a recall, and even if you previously had your airbags inspected, or have not received a recall notice. Your vehicle VIN # is located on a metal plate on the top left corner of the driver's side dashboard. Follow this link and input the 17-digit number to see if your vehicle is affected by the airbag or some other recall. https://www.nhtsa.gov/recalls
The failure by Takata Industries to adequately and timely address ongoing problems with its airbags is one reason we support proposed federal legislation to increase NHTSA authority over automakers and component parts manufacturers, but we believe that in order to impact manufacturer behavior and the Board of Directors' decision-making, monetary fines need to be significantly increased from $7,000 a day, and decision-makers and Boards of Directors must be held criminally liable when they fail to timely disclose and repair known vehicle defects that result in injuries and deaths. With the NHTSA stepping up enforcement of vehicle safety standards, hopefully, automakers have received the message that they can no longer sweep vehicle defects under the rug at the expense of consumer safety and will be held responsible for their products.