NHTSA Considers Recall of 561,000 Toyota Prius Hybrids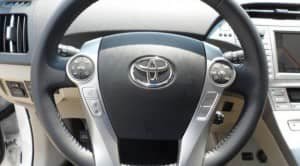 Toyota is in the news yet again after the NHTSA (National Highway Transportation Safety Administration) announced that it was opening an investigation to determine whether to issue another recall involving Toyota's Prius hybrid. 561,000 Prius vehicles from model years 2004 through 2009 could be affected in a recall involving possibly defective steering shafts.
Automotive Systems Analysis, a Virginia-based automotive testing laboratory, petitioned the NHTSA asking for an investigation following its analysis of a 2005 Prius where the upper steering shaft metal failed due to improper installation. When the metal fails, the steering fails creating the potential for a catastrophic accident.
The petition states, "[h]ad such a defect manifested itself under highway speed conditions, significant and severe injuries may have ensued to the driver and occupants of the Prius and quite possibly to other vehicles and occupants."
If a recall is issued, it will be the third recall involving the Prius steering shaft since 2006.
Toyota is cooperating with the investigation, and reports this is the only complaint it has received involving the upper steering shaft. Toyota did recall 670,000 Prius vehicles in November 2012 for problems involving the lower steering column. In that recall, the steering shaft extension assembly was replaced. The current investigation involves the upper part of the steering shaft.
At this point there is no recall, only an investigation. We will continue to update this blog with additional information and will report if a recall is issued. And if you own one of the potentially affected Prius models, please contact the NHTSA and Toyota if you have experienced any problems with steering your Prius.
Tags: (prius recall)