Millions of Defective Vehicles Recalled in April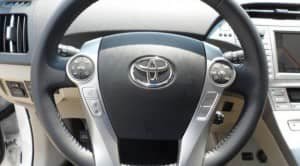 Millions of defective vehicles were recalled in April 2014 for safety problems that could increase your risk of being involved in an accident, or not being protected if you are involved in one. Check out these recalls to see if any of your vehicles, or those of your loved ones, may be affected.
Toyota announced the largest recall in April involving 6.4 million vehicles worldwide, including over 2 million vehicles in the United States, for 27 different model vehicles made between 2003-2014. There are actually five separate safety recalls affecting the 6.4 million vehicles covering problems affecting the air bag cables, engine starters, seat rails, steering brackets and windshield wiper motors.
Here is a list of the 27 models involved, and the different safety recalls for the different vehicles: https://money.cnn.com/2014/04/10/pf/autos/toyota-recalls/index.html?iid=EL
This is the second massive recall for Toyota this year that already recalled 2.1 million vehicles in February over a software glitch that could cause vehicles to stop without warning.
Mercedes-Benz USA is recalling over 250,000 of its 2008-2011 C-class vehicles because of faulty taillights. Bulbs and connectors may become corroded over time and cause taillights to dim or fail, increasing the risk of a crash.
Repairs will be made free of charge to owners, but parts will not be available until August or September.
Owners may call Mercedes Benz at 1-800-367-6372for more information.
BMW of North America is recalling 156,137 vehicles over possible engine stalls due to loosening camshaft-housing bolts. Sudden engine stalls increase the risk of a crash.
Affected vehicles include the 2010-2011 128i Coupe, 128i Convertible, 328i Sedan, 328i xDrive Sedan, 328i Coupe, 328i Convertible, 328i Sports Wagon and Z4 sDrive 30i, 2011-2012 135i Coupe, 135i Convertible, 335i Sedan, X5 xDrive 35i, and X6 xDrive 35i, 2011 335i xDrive Sedan, 335i Coupe, 335i Convertible, 528i Sedan, 535i Sedan, 535i xDrive Sedan, X3 xDrive 28i, and X3 xDrive 35i, 2010 X3 xDrive 30i, and X5 xDrive 30i, 2012 640i Coupe, and 640i Convertible and 2010-2012 535i Gran Turismo vehicles.
Bolts will be replaced free of charge once the recall starts later in May.
Call BMW at 1-800-525-7417 with any questions.
General Motors issued several recalls involving multiple GM models. GM has recalled nearly 7 million vehicles already this year including 2.6 million vehicles recalled in February 2014 over a deadly ignition switch defect that is responsible for at least 13 deaths and 31 accidents, and for which GM admits it first knew of problems in 2001.
In GM's most recent recall, 50,571 2013 Cadillac SRX vehicles with 3.6L engines are being recalled to address a three to four second acceleration lag that may increase the risk of a crash.
GM dealers will repair the transmission control module free of charge but GM does not know when repairs will begin.
Cadillac customers may call 1-800-458-8006. GM's recall number is 14132.
Recall number 14007 involves 51,640 additional GM vehicles. 2014 Buick Enclave, Chevy Traverse and GMC Acadia vehicles are recalled to correct software problems that may cause an incorrect fuel gauge reading. The vehicles may stop or stall without warning because of the incorrect fuel reading, thereby increasing the risk of crash.
Affected owners have different safety hotlines depending upon your make and model:
Buick owners call 1-800-521-7300
Chevrolet owners call 1-800-222-1020
GMC owners call 1-800-462-8782
At least GM seems to be making timelier recalls since the two most current involve 2013 and 2014 models. Let's hope this is a timely recall trend that continues for GM.
Mazda recalled 19,000 of its 2014 Mazda6 vehicles because a defective fuel gauge may cause the fuel tank to overflow, increasing the risk of fire.
Mazda will repair the recalled models by adding an adapter on the fuel tank shut-off valve to prevent overflow.
Contact Mazda at 1-800-222-5500 and reference recall 7414D for further details.
Honda announced it is recalling nearly 25,000 2014 Odyssey mini-vans because a manufacturing defect may cause passenger-side side curtain air bags not to deploy in a crash. Honda will make repairs free of charge beginning in early May 2014.
Honda's recall number is JE2. Affected Honda owners call 1-800-999-1009.
NHTSA Vehicle Safety Hotline is 1-888-372-4236 or www.safercar.gov.