Kitchens, Bathrooms & Bedrooms Common Areas for Slip & Fall Accidents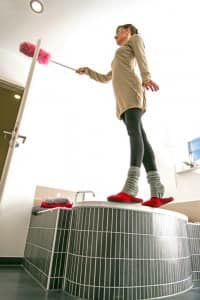 Millions of Americans are injured in slip and fall accidents every year that can result in serious injuries such as broken bones, traumatic brain injuries and spinal cord injuries. Three of the most common areas to suffer a slip and fall are kitchens, bathrooms and bedrooms – particularly for the elderly who may not be as steady on their feet or be able to properly brace themselves during a fall.
Tips to Avoid Slip & Fall Injuries
According to the Centers for Disease Control & Prevention's (CDC) National Center for Injury Prevention and Control, most sprains and fractures among the elderly are caused by slip and fall accidents. There are several things you can do to specifically avoid these types of injuries in the kitchen, bathroom and bedroom:
Kitchen:
Move any items you often use from higher shelves to lower ones in your cabinets and keep the things you use most often on the lower shelves about waist level.
If you need to use a step stool to reach items kept at higher levels, make sure it's steady and has a bar to hold onto.  Never use a chair as a step stool.
Remove scatter rugs that do not have rubberized, non-skid backing from in front of sinks.
Bathroom:
If your tub or shower has a slippery floor, put a non-slip rubber mat or self-stick strips on the floor for traction.
If you are unsteady on your feet and your shower or tub is large enough, consider purchasing a non-skid shower seat so that you can minimize the time you must stand.
If you need support when getting in and out of the tub or up from the toilet, have a carpenter install grab bars inside the tub and next to the toilet to assist you.
Bedroom:
If the light near your bed is difficult to reach, place a lamp closer to your bed or consider purchasing a light that can be turned off by remote.
If the path from your bed to your bathroom is dark, put in a night-light so that you can see where you're walking.  Some night lights have sensors that illuminate when you approach them and go off within a certain amount of time.
If you have difficulty getting in or out of bed, make sure to take it slowly and keep a cane or walker near the bed and keep that area free of clutter.
While these tips from the CDC can help prevent slip and fall accidents, it's always important to look at all the areas of your home, determine what might cause a slip and fall hazard and then address the problem – before an accident occurs.
Common Slip & Fall Injuries
Slip and fall accidents can result in serious injuries and even death. Some of the most common slip-and-fall injuries include:
Sprains and fractures of the forearm, leg, ankle, upper arm, wrist and hand.
Shoulder injuries resulting in breaks, dislocations and fractures.
Hip injuries resulting in breaks, dislocations and fractures.
Back and spinal cord injuries, which can result in varying degrees of paralysis.
Head injuries, including whiplash and traumatic brain injury (TBI).
While a slip and fall can often be just accidental, anyone who has been injured due to a slip and fall injury should contact an experienced premises liability lawyer to discuss their situation, as defective products or faulty installation of safety equipment can often lead to liability.