Kentucky Nursing Homes Improves Grade in National Nursing Home Report Card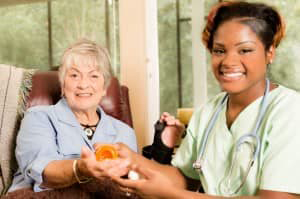 The recently-released 2014 Nursing Home Report Card found Kentucky nursing homes improved 10 spots from its 2013 evaluation, moving up from #40 to #30, and raising its grade from a "D" to a "C". This is good news for residents of Kentucky nursing homes and their families, but more work needs to be done!
Families for Better Care, a non-profit consumer and nursing home resident advocacy group, produces the annual Nursing Home Report Card for nursing homes in all 50 states plus the District of Columbia. Nursing Home Compare Data is evaluated from 3 different sources including the Kaiser Health foundation, the Center for Medicare and Medicaid Services (CMMS), and the Office of State Long-Term Care Ombudsman. The quality of nursing home care is rated on a state-by-state basis and state rankings are determined after review of the federal data in 8 areas:
State's average professional nurse hours per resident, per day (nurse is defined as a licensed nurse or registered nurse)
State's average certified nurse assistant hours per resident, per day
Percentage of facilities with above average professional nurse staffing
Percentage of facilities with above average direct care staffing
Percentage of facilities with above average health inspections
Percentage of facilities with deficiencies from 2013
Percentage of facilities with severe deficiencies in 2013
Percentage of verified ombudsman complaints
Kentucky was ranked #40 out of 51 in its 2013 report and improved its 2014 ranking to #30, one of the most significant jumps in this year's evaluation.
Of the eight aforementioned criteria that are examined to determine a state's rating, Kentucky showed improvement in five out of the eight areas examined. The most significant improvements were made in the number of nursing homes with above-average health inspections (10% increase), and the number of professional nursing hours per resident, per day which showed a 13% increase.
Although Kentucky showed overall improvement in its 2014 report card as compared to results from 2013, problems persist. The Kentucky Ombudsman was able to verify 87.74% of nursing home complaints, an almost 5% increase from 2013, and nearly 20% of Kentucky nursing homes were cited for at least one severe deficiency in 2014.
Families for Better Care congratulated Kentucky Governor Steve Beshear for his increased focused on improving nursing home staffing issues in response to Kentucky's dismal 2013 report card. Understaffing is frequently cited as one of the main reasons for ongoing problems of nursing home resident neglect and abuse.
The answer to improving resident safety and quality of care is hiring more qualified staff to increase individual time with each resident, Families with Better Care concluded. "The difference between quality nursing home care and subpar care boils down to an average of 22 extra minutes of direct care per resident daily. If states want better nursing home care for elderly and disabled residents, then the solution is simple: hire more qualified staff."
We applaud Governor Beshear for bringing more attention and greater resources to try to reduce abuse and neglect of some of Kentucky's most vulnerable citizens, but there is still much to do to improve the quality and safety of Kentucky nursing homes. We at the Becker Law Office want to congratulate the nursing home industry in taking positive strides toward accomplishing that goal. Greg Bubalo, Becker Law Office Managing Partner also offered cautious praise: "As a lawyer who represents the abused or neglected elderly, I am pleased with the overall progress of the industry. I certainly hope this is a trend that keeps moving in a positive direction."