It's still "Don't Fry Day"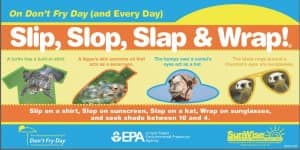 Becker Law Office encourages you and your family to call every day "Don't Fry Day" – because May 25 (the official day) was just the beginning of summer. We support this effort by the National Council on Skin Cancer Prevention to educate people on how to protect their skin in the sun and prevent skin cancer due to sun exposure.
The hottest temperatures of the year are expected for tomorrow through the weekend, June 28 through July 1. You may be cooling off in a community pool, enjoying outdoor events, or boating, OR you may be a NASCAR fan attending the Quaker State 400 and other races this weekend.
Whatever your choice of activity, Becker Law Office wants you to be safe in the sun this weekend and all summer long.
So, here's a fun phrase to help you and your family remember how to stay safe in the sun:
Slip! Slop! Slap! and Wrap!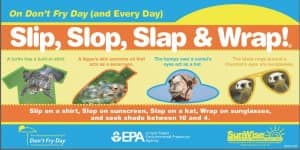 Slip on a shirt,
slop on sunscreen of SPF 15 or higher,
slap on a hat,
and wrap on sunglasses.
Becker Law Office wishes you a safe and enjoyable summer fun and NASCAR weekend!