Unspoken Dangers of Inflatables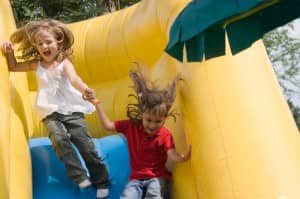 Cases of Dangerous Inflatables
Bounce houses, moonwalks, and other inflatables may seem like harmless child's play but they can actually be quite dangerous for your children. Even the safest and most fun toys have some degree of danger and thousands of children each year are treated in emergency rooms for injuries suffered on inflatables, and the numbers keep growing.
In the last 6 weeks, there have been 2 horrific accidents involving bounce houses, one in New York where 2 young boys aged 5 and 6 were seriously injured after being thrown 15 feet into the air then one onto concrete and the other onto a car, and 2 Colorado children injured when the slide and bounce house in which they were playing took flight.
Although these may seem like freak accidents that rarely occur, a 2012 study published in the journal Pediatrics showed a steady increase in bounce house injuries with more than 11,000 reported in 2010. Researchers with the Center for Injury Research and Policy examined emergency room records from 1995 – 2010 and found an average of 31 children being treated each day for broken bones and teeth, neck and back injuries, concussions, sprains, cuts, and abrasions from inflatables. Most injuries were caused by collisions between jumpers, rather than from falling inside of, into, or out of the inflatable.
And the newest threat of injury is coming from improperly secured inflatables or those being used in dangerous, windy conditions that take flight and throw children into the air and back to the ground with devastating consequences.
Why the dramatic increase in injuries? Inflatables are everywhere: at fairs, church picnics, used car lots, the zoo, your neighborhood party or maybe even your own backyard. Inflatables are fairly inexpensive and available at retail stores or can frequently be rented to everyday consumers so they are common fixtures at gatherings with children.
Follow these safety tips when using an inflatable:
Make sure that any inflatable, bounce house or toy intended as a ride is securely fastened to the ground according to manufacturer guidelines.
Read and follow all the manufacturer's safety guidelines including height and weight limits, age recommendations, and maximum capacity guidelines. Manufacturers and safety advocates recommend children under 6 should not use inflatables and bounce houses.
Make sure there are adults present and supervising at all times.
Ideally, have only one child jumping at a time but if that is not possible, limit the number of children at one time and have children of like size and weight jump together.
Place the inflatable on a flat surface, free from debris, and away from power lines, tree limbs, and water sources
Use your common sense. If it's windy outside, why take the chance with your child's safety? If the wind is blowing greater than 20 mph, find something else to do until the weather is calm and more suitable for inflatables.
If someone else is operating the inflatable, examine the ropes to be sure the inflatable is securely fastened to the ground before allowing your children on, and keep an eye on your children and other jumpers to help ensure their safety.
If your child is injured in an inflatable, who's responsible for damages? Responsibility rests on not only the manufacturer of the inflatable but the person who is charged with properly setting up and securing it, as well as the person who is supposed to be supervising its use. Property owners may be liable for injuries on their property under a premises liability theory, and would likely have liability insurance to cover any damages. If injuries stem from a product defect, the manufacturer would be liable.
Call us if you or a loved one was injured on an inflatable. Let us answer your questions and help you bounce back from your injury.