Hoverboards Deemed Unsafe by Government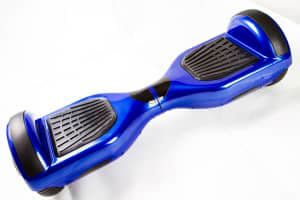 After numerous reports of exploding and burning hoverboards, the U. S. Consumer Product Safety Commission (CPSC) has determined hoverboards create an unreasonable risk of fire to consumers and consider those not meeting newly published safety standards to be defective.
The CPSC launched an investigation into the safety of hoverboards, also known as personal mobility devices or self-balancing scooters, after it received 52 complaints of hoverboard fires and explosions between December 1, 2015 and February 17, 2016, causing over $2 million in property damage, including the destruction of two homes and one vehicle. Fortunately, no human life has been lost although 2 dogs perished inside a California home consumed by fire from an exploding hoverboard.
On February 18, 2016, the CPSC put all manufacturers, importers and retailers on notice that all hoverboards are unsafe to consumers until they meet new voluntary safety standards enacted by Underwriters Laboratories (UL), an independent safety lab. Although the safety standards are voluntary, the CPSC further warned hoverboards may be detained, recalled or seized, and that makers and sellers may also be subject to civil and criminal penalties, if the new safety standards are not followed.
UL did not release specific safety certification protocol until February 2, 2016, which means currently there are no hoverboards on the market, nor ones sold during the holiday season, that are UL-certified. Because there is now an official UL safety certification protocol in place, CPSC "considers self-balancing scooters that do not meet the safety standards…to be defective, and that they may present a substantial product hazard." https://www.scribd.com/fullscreen/299770960?access_key=key-jA6sMxZtU9aSrO5acoi7&allow_share=true&escape=false&view_mode=scroll
The CPSC believes the lithium-ion batteries that charge hoverboards are responsible for the fires and explosions. Because of their explosive nature, many major airlines and numerous college campuses around the country have banned hoverboards altogether.
Some consumers believe that more expensive hoverboards are immune from fire and explosion hazards, but the CPSC cautions that manufacturer and price point are irrelevant and do not render one more safe than another.
The CPSC has not ordered a recall but rather is asking manufacturers and sellers to voluntarily take hoverboards off the market until their products can undergo new safety testing and receive UL certification.
One manufacturer, Swagway, falsely claimed its hoverboards are UL certified but they are not.
So what should you do now if you already own a hoverboard? The safest approach is to stop using it and try to return it for a refund since it is now deemed unsafe and defective by the CPSC. There is also hope for a recall although one has not yet been issued. You could also dispose of it although you should contact your local waste disposal provider about how to properly dispose of it so as not to create an additional risk of fire and explosion injury. If you choose to continue using your hoverboard as is, please do not leave it plugged in unattended, and use a helmet and other safety equipment to prevent injury from falling off.
To report an unsafe hoverboard, or any unsafe product, please fill out a report at www.saferproducts.gov or call the CPSC at 800-638-2772.