Parents' Guide to a Safe Halloween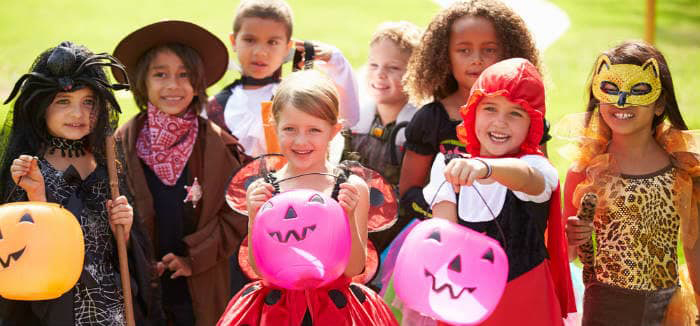 Get More Treats than Tricks this Halloween
Halloween is quickly approaching, which means that parents of young children are in the process of picking the scariest of costumes, stocking up on the candy and planning the best routes for trick-or-treating and other Halloween activities. Parents should consider Halloween safety precautions as well. While trick-or-treating is usually a safe affair, it is important to remember that a number of hazards exist, from flammable costumes, to tainted candy, pedestrian accidents and slip and fall hazards. To improve your little goblin's chances of a safe Halloween this year, here are some Halloween safety tips for parents.
Parents' Guide to a Safe Halloween
Parents should focus on Halloween safety so their trick-or-treater can have a fun time. Consider these important Safe Halloween tips:
Choose Safe Halloween Costumes
If your child is old enough to select their own costume, you certainly want to allow them to participate in the costume-picking process. However, make sure you think about more than which costume looks the cutest or is the best value. There are safety considerations as well. First of all, make sure you choose a costume that is appropriate for your child's age. Some costumes may have loose parts and choking hazards that are not safe for young children.
Remember that while masks are fun, they can limit a child's field of vision, increasing the risk of a fall. A costume that is too long can become entangled around your child's ankles and create a trip hazard, as well.Rather than a mask, consider a hat and some makeup; be sure to use non-toxic makeup and test a small patch of skin for allergies, first. Because of the prevalence of candles and open flames at Halloween, selecting a costume made of flame-resistant material is also a good idea.
Supervise Pumpkin Carving
Pumpkin carving is one of the most enjoyable Halloween activities, and yet it can be dangerous for young children. Little ones should never be allowed to handle sharp knives on their own. Parents should be responsible for all carving. If you don't want to go to the trouble, consider other fun pumpkin crafts, like painting, pumpkin-pie making, or decorating pumpkins with objects using a hot glue gun.
Ensure Trick-or-Treating Visibility
Most trick-or-treating occurs at dusk or after dark. Make sure that your children can be seen by others easily. You should attach reflective tape to your child's costume, and be sure that they carry a flashlight. If the area where your child is trick-or-treating is particularly dark – for example, if there are no streetlights – consider attaching flashing lights to your child's costume.
Making sure that your child can be seen is an important part of protecting them. Making sure that they carry a flashlight reduces their risk of tripping in the darkness. Make sure to visit only homes that have their porch light on.
Review Safe Walking Techniques
Do not assume that because it is a holiday, drivers will automatically yield the right of way. Talk about pedestrian safety and practice safe walking with your youngsters. Remind your youngsters never to run from house to house, and certainly not to dart across the street without stopping and looking both ways for oncoming cars before crossing.
Trick-or-treaters should stick to sidewalks and cross at crosswalks whenever possible. The National Safety Council reminds parents that children are poor at judging traffic threats, and are therefore at a greater risk of accident than adults. In fact, children are four times more likely to be in a fatal pedestrian accident.
Plan a Route and Accompany Children While Trick-or-Treating
Parents should always accompany children under the age of 12 while they are trick-or-treating. In addition to walking alongside children, parents should plan a route in advance and plan a meet-up place that parents and children can connect in the event that they are separated. Further, never allow a child to approach a house on their own – either go with them, or make sure that children go in pairs or groups. There is safety in numbers.
Examine Candy Prior to Consumption
Your child will likely be eager to dig into their candy bag, but you should set some rules. One rule should be that you are going to inspect every piece of candy before your child consumes it. While it rarely happens, there have been instances of tainted candy and other dangerous items placed in children's jack-o-lanterns. Children who gobble too much candy may be at risk of a serious stomachache.
Halloween Safety for Parents and Kids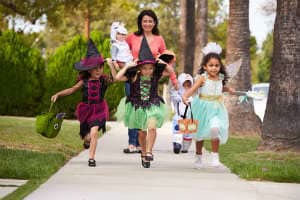 Halloween is almost here! Are you ready for the holiday? If you have young children, plan carefully so that your family enjoys a safe Halloween.
At the Becker Law Office, we hope that you have a Halloween that is as safe as it is fun. If you do encounter any dangers this Halloween season, our attorneys may be able to assist you in pursuing a product liability claim or a premises liability claim. To learn more about both of these types of civil actions in Kentucky, and how our law firm can advocate for you, contact us today. Our experienced Lexington personal injury lawyers are ready to talk with you at no cost. Just call our offices directly or fill out our online contact form and we will get back to you shortly.