Friends Don't Let Friends Take Selfies While Driving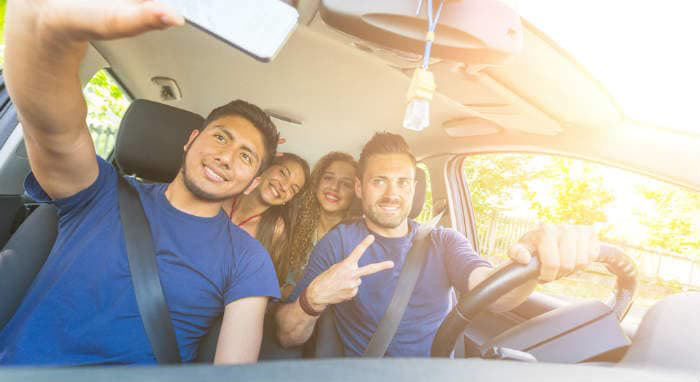 Smart phones have plenty of apps to divert our attention, and taking 'selfies' is just one of the many diversions that have become a part of always living online. We share photos of ourselves at home, at work, and at play on social media sites. There is a certain fascination in viewing the images that friends post of themselves engaged in ordinary activities. But there are certain times that cell phones pose a serious distraction and should be tucked away. While taking selfies is popular, the dangers of snapping selfies behind the wheel are significant. Drivers who take selfies are putting themselves and their passengers at risk of serious and life-threatening car accidents and injuries.
April is distracted driving awareness month, and taking a selfie while driving is one of many of behaviors that take a driver's focus off the road. Being aware of the forms of distracted driving and sharing this information to your friends could save your life or the life of someone you love.
Driving Is Serious Business
While taking a road trip with friends can be fun, driving a car is a serious responsibility. It requires skill, knowledge and attention to be a safe driver. Research has shown that taking your attention off the road for even a few seconds is long enough to cause a potentially serious accident.
According to the Centers for Disease Control and Prevention (CDC), more than 1,000 people are injured each day in the United States as the result of distracted driving. Any activity or behavior that diverts your attention from the task of driving is distracting.
Drivers may be distracted in three different ways, according to the CDC:
Visual distractions, which cause you to divert your eyes from the road and look elsewhere while driving;
Manual distractions, which cause you to remove one or both hands from the steering wheel;
Cognitive distractions, which take your mind off the task of driving and increase the amount of time required to respond to changes in traffic condition surrounding your vehicle.
Taking selfies with your cell phone and posting them to social media involves all three forms of distraction.
A 2015 study by Liberty Mutual Insurance and Students Against Destructive Decisions found that two popular photo and video sharing sites —Snapchat and Instagram — headed the list of apps that most distract teen drivers.
The Growing Trend of Selfies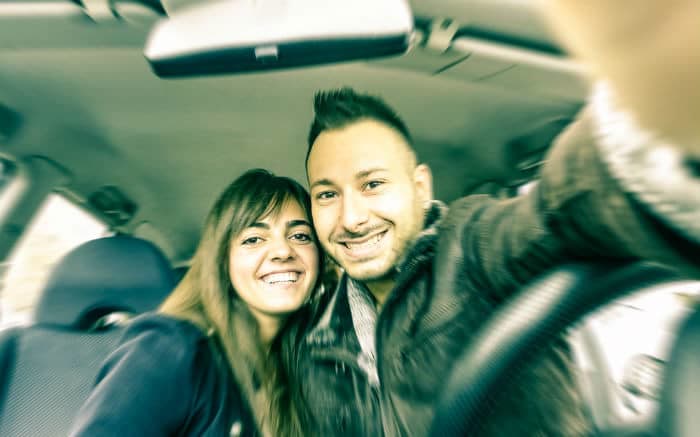 According to the CDC, cell phone usage is a major source of distraction for today's drivers. A 2015 study on Smartphone use while driving from AT&T reports that seven out of every ten drivers continue to use their cell phones behind the wheel, despite increased public awareness about the dangers of distracted driving. The study said that drivers engage in behavior such as making calls, checking email, and texting while driving an identified a trend toward taking pictures and videos as well. The AT&T study reported that roughly one out of every five drivers admit to snapping selfies behind the wheel, while one in ten admit to taking videos, using Snapchat, and posting pictures to Instagram. An Instagram search revealed an alarming number of posts related to the following hashtags:
#drivingselfies: over 6,500 posts
#drivingtowork: over 20,000 posts
#drivinghome: over 96,000 posts
The single, one-word hashtag #driving reveals a shocking 4.4 million posts from people who endangered themselves, their passengers, and others on the road by taking selfies while driving.
You Can't Do Both At The Same Time – The Numbers Prove It
Despite photos of smiling people engaged in snapping selfies behind the wheel, the numbers show that you cannot drive and operate a phone camera at the same time w without putting yourself and others at risk. The latest statistics on distracted driving from the U.S. government website Distraction.gov show that more than 3,000 people were killed and roughly 431,000 people were injured as the result of distracted driving accidents in the U.S. in 2014.
Drivers of all ages are affected, but young drivers have been shown to face even greater risks. For drivers in their 20s, distracted driving accidents make up nearly 40 percent of all fatal accidents. Unfortunately, these numbers are not likely to decrease anytime soon. Smartphone ownership continues to increase, and Distraction.gov reports that at any given moment on the nation's roads, highways, and interstates, 660,000 drivers are using cellphones or other electronic devices behind the wheel.
How Can You Be Part Of The Solution?
When it comes to distracted driving, you are either part of the solution or you are part of the problem. According to the Distraction.gov website, taking your attention away from the road for even five seconds can equal the entire length of a football field when traveling in a car going 55 miles per hour. Help prevent injuries and save lives caused by distracted driving by doing the following:
Share information concerning the dangers of Smartphone use, texting, and taking selfies behind the wheel with your family and friends;
Educate yourself on other types of distracted driving behaviors, such as checking email, setting GPS systems, switching radio stations, and eating or drinking while driving;
Take the pledge at Distraction.gov to drive safely yourself and to speak out when you are a passenger in a vehicle in which a driver is engaging in distracted driving.
Involved in An Accident With A Distracted Driver? Contact Us Today
If you or someone you care about is injured as the result of a distracted driver, contact our experienced car accident attorney today. At Becker Law Office, we provide passionate, professional legal representation to people injured in car accidents caused by the negligence of other drivers. We can advise you on how to hold at-fault drivers accountable, and can assist you in getting the compensation you are entitled to for the injuries and other losses that you sustained. We serve Lexington, Louisville, and Florence, Kentucky. Call or contact our office online today for a free and confidential case review today.