Ford Recalls 441,000 Vehicles Over 3 Separate Safety Issues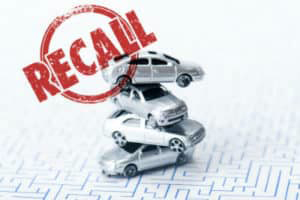 Ford Motor Company has announced three separate safety issue recalls involving more than 441,000 vehicles. The first involves lack of coolant circulation that increases the risk of engine fire, the second is an expanded recall over defective side door latches that may cause doors to open while the vehicle is in operation, and the third affects a small number of vehicles that may lose power without warning while driving, or roll away while in park.
Coolant Circulation Problems
Ford recall reference # 17S09
230,000 vehicles are being recalled because engines may overheat due to lack of coolant circulation. Affected vehicles include:
2014 Ford Escape SUV
2014-15 Ford Fiesta ST
2013-14 Ford Fusion
2013-15 Ford Transit Connect
All affected vehicles have 1.6-liter GTDI engines.
Problems arise when a lack of coolant circulation may cause the engine to overheat. This in turn may cause the cylinder head to crack, which can then cause an oil leak, possibly on the hot engine thereby increasing the risk of engine fire.
There are 29 reports of fires although there are luckily no reports of injury from the engine fires.
Repair kits are not yet available so Ford will mail instructions from the owner's manual detailing how to check and refill coolant. In the meantime, vehicle owners may still drive the affected vehicles but should immediately see their Ford dealer if their engine experiences overheating, there is a coolant leak, or the coolant needs to be added frequently to the vehicle.
Once repair kits are available, Ford will notify affected vehicle owners and updated hardware and software will be installed, along with a coolant level sensor, at no cost to the customer.
Defective Door Latches
Ford recall reference # 15S16
The second safety recall expands a previously announced recall for defective door latches to include an additional 211,000 vehicles including:
2014 Ford Fiesta
2013-14 Ford Fusion
2013-14 Lincoln MKZ
A defective side door latch on the affected vehicles may cause the door not to close, or to open while the vehicle is in operation, greatly increasing the risk of injury to vehicle occupants.
Ford dealers will replace all four door latches free of charge to affected customers.
Powertrain System Vibration
Ford recall reference # 17S08
The final recall, affecting 548 model 2017 Ford F-450 and F-550 vehicles, concerns a powertrain system vibration at speeds greater than 75 mph that may result in fracturing of the transmission and/or driveline components in the vehicle. If this occurs, there is an increased risk of loss of vehicle power without warning while driving, or the vehicle may roll away while in park if the parking brake is not applied, both of which increase the risk of injury or crash.
Ford dealers will replace the defective two-piece driveshaft with a three-piece driveshaft and two center bearing brackets at no charge to Ford customers whose vehicles are affected by this safety recall.