Five Steps to Recognizing Nursing Home Abuse in a Loved One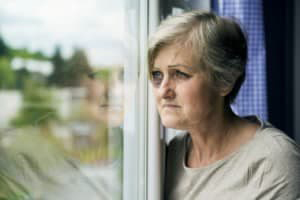 Families seeking a long-term care facility for an aging relative face a difficult task. The initial contact with the nursing home may be very inviting. By all appearances, the facility seems to be professional and to provide all the services your relative will need. Sadly, some nursing homes deteriorate in quality of care over time, and many have a high staff turnover.
Keeping your relative safe and well cared for is your chief concern. Even highly regarded nursing homes with excellent ratings may inadvertently hire a staff member who takes advantage of the elderly and infirm under their care.
It is important that you visit your loved one regularly and carefully observe the care being provided by the nursing home so you can spot the warning signs of abuse or neglect. Your observations will go a long way toward identifying the signs of abuse. Here are five of the most common signs that your loved one may be a victim of nursing home abuse:
1. Significant Changes in Appearance: Bruising, Cuts, Broken Bones, Signs of Restraints
Physical Abuse: Lacerations, bruises and broken bones are strong indicators that a patient may be a victim of abuse. If you notice any significant deterioration in your loved one's appearance or see cuts, scrapes, reddened skin or bruising around the wrists or ankles from restraints, this could indicate that your loved one is a victim of physical abuse. One minor bruise could be an accident, but multiple injuries, bruises, cuts or other physical damage are signs of physical abuse.
2. Poor Hygiene: Unkempt, Dirty, Unpleasant Odors, Bed Sores, Torn or Dirty Clothing
Neglect: Residents who are not cared for adequately can suffer damage to health and wellbeing as serious as the damage from physical abuse. Unkempt hair, dirty clothes, unsanitary living conditions, improper attire for the weather and an unpleasant odor are all signs your loved one has not been cared for properly. Malnutrition and dehydration can be identified with a loss of weight or a gaunt appearance.
3. Depression, Fear or Apprehension, Isolation from Others, Uncommunicative
Emotional and Verbal Abuse: Not all abuse leaves physical signs. If your loved one seems to be apprehensive around certain people or exhibits a high level of inexplicable fear, he or she may have been the victim of verbal abuse. Signs such as blaming oneself for minor issues, showing signs of serious depression or displays of excessive anger such as using profanity when it is completely out of character are all signs that the person has been a victim of emotional abuse.
4. Bruising on Thighs, Genital Diseases or Injuries, Fear of Certain Person, Depression, Upset when Changed or Bathed, Loss of Bladder or Bowel Control
Sexual Abuse: Nobody wants to believe his or her elderly loved one is being sexually abused, but unfortunately this horrible criminal act does occur. Research shows that elderly residents with dementia are far more likely to be the target of a predator due to their inability to report the incident. The individual may be suffering terrible shame and will not report an attack. If you notice signs of bleeding or bruising in the thighs or genital areas, torn undergarments or sensitivity to physical affection, fear when a certain staff member is in the area, or severe depression, it may be a sign of a very serious situation. Contraction of a sexually transmitted disease would of course be a clear indication that your loved one is being abused.
5. Unexplained Bank Withdrawals, Changes in Beneficiaries, Disappearing Valuables
Financial abuse: If you notice unexplained withdrawals from a bank account, charges he or she does not remember making or expenses you are unfamiliar with, it is likely that someone is trying to take advantage of your loved one. Sudden loss of personal property such as jewelry or other valuable items, changes to a will, to deeds or trusts without your approval are all signs of financial abuse.
What to Do If You Suspect Your Loved One is a Victim of Nursing Home Abuse
If you suspect your loved one is a victim of nursing home abuse, it is imperative that you take action immediately. Report your concerns in writing to the facility administrator. You are required under state law to alert the authorities if you suspect elder abuse.
For your loved one's safety and your peace of mind, get him or her moved to a different facility as soon as possible. It is a priority that you retain legal representation so that the case is managed by a legal professional familiar with state law and personal injury claims. A legal action must be filed against the nursing home. The health and safety of many people can be impacted by the actions you and your attorney take now.
For more information on recognizing abuse and to see a government report on a particular nursing home, go to: https://beckerlaw.com/legal-services/kentucky-nursing-home-abuse-lawyer/nhreport/
Legal Representation for Nursing Home Abuse Victims and Their Families
Neglect, carelessness and general incompetence can all result in abuse. Do not let nursing home administrators "explain away" a serious problem such as bruising, dehydration, malnutrition, poor hygiene, bedsores or other threats to your loved one's health. You may have grounds to file a personal injury lawsuit on behalf of your loved one for the pain and suffering endured. Contact Becker Law Office and schedule a meeting with a nursing home abuse attorney.
Source: Kentucky Cabinet for Health and Family Services