Filing a Car Accident Report in Kentucky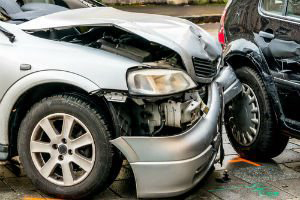 How to File Kentucky Car Accident Reports
If you have been in a motor vehicle accident in Kentucky that caused an injury or $500 worth of property damage, you must ensure it is reported to Kentucky State Police to satisfy state law and to obtain insurance compensation for your losses.
In most cases, police will investigate and file a report after a car accident. But sometimes Kentucky puts the responsibility on drivers involved in car accidents. This means you should understand the law and/or rely on a Kentucky car accident lawyer to make sure you do what's required to protect your rights.
How Long Do You Have to File a Report in KY?
Kentucky law (KRS 189.635(4)) requires drivers to file a written accident report with the Kentucky State Police within 10 days of an accident if:
Police did not already investigate the scene.
You think damage to the vehicle will exceed a value of $500.
The car accident caused injury to or death of any person.
State or local police will respond to the most serious accidents. If police investigate the accident, you do not need to file a report. If police respond to your accident, ask whether they will file a report or if you need to. If an officer does not investigate, he or she should hand you a form, the Civilian Traffic Collision Report form, to complete and submit to the state. If you do not receive a form at the scene of an accident that was not investigated, it is still your responsibility to obtain it, complete it and return it within 10 days.
Once you complete the form, make two copies. Save one for your records and one for your insurance company. Mail the original to:
Kentucky State Police Records
Attn: Crash
1266 Louisville Road
Frankfort, KY 40601
Send only the form. Anything else (i.e. photos, insurance cards, etc.) will be shredded.
How to Prove Your Car Accident Case in Kentucky
You must file the report, but you will not hear anything back from State Police. There is no further investigation. The state simply maintains the report for three years so you may obtain a copy if you need one.
A copy of an accident report costs $10, and you will need to provide the report number, report date, and the last name of the driver or owner of one of the vehicles involved. The state has contracted a private vendor you must go through ' see its portal here.
Why File a Kentucky Car Accident Report?
Primarily, the state of Kentucky uses its database of car accident reports to track trends and improve traffic safety, and to meet federal requirements. As a driver in an accident, you must file a report if the police don't because the law requires it. Failure to file a written accident report when required is punishable by a fine of $20 to $100.
But there's more to it than that. You must have an accident report on file to make an insurance claim after a car accident.
Auto insurance in Kentucky operates on a 'no fault' system. After an accident, you file a claim with your own insurer under your Personal Injury Protection (PIP) coverage, which every motorist is required to maintain.
The required minimum PIP coverage in Kentucky provides up to $10,000 per person per accident for medical expenses, lost wages, and similar out-of-pocket costs due to an injury. The insurer is to pay benefits up to coverage limits, regardless of fault. Coverage with benefits exceeding $10,000 per person is optional.
However, if an accident causes you $1,000 in medical expenses, a broken bone, permanent disfigurement, permanent injury, or death, you (or a surviving family member) may also seek compensation from the at-fault driver through a lawsuit. Such a claim may seek compensation for medical expenses, lost wages, and other expenses related to the accident and injuries, and for your pain and suffering.
What Is the Purpose of a Car Accident Report?
The accident report is the starting point for gathering evidence to substantiate a car accident personal injury or wrongful death lawsuit. A car accident attorney developing a claim on your behalf, such as ours at Becker Law Office, would proceed from there to gather additional evidence to prove you are entitled to compensation (or 'damages').
The goal of a personal injury lawsuit is to make sure you are made financially whole after an accident that someone else caused. Such a lawsuit can ensure you do not bear the monetary costs and losses of a car accident that was not your fault. As indicated, Kentucky law says you also have the right to be compensated for non-economic losses, e.g., pain and suffering.
The stronger your claim, the more likely it is that the insurance company will agree to a proper settlement or that you will prevail in court. Therefore, it is best to begin gathering evidence for a car accident lawsuit as soon as possible after the accident. This begins with ensuring a car accident report is on the record.
If you have been seriously injured in an accident, promptly contacting an experienced Kentucky car accident lawyer is the best way to make sure the required report is filed within 10 days of the accident, and that further investigation of the accident begins.
Let Our Car Accidents Attorneys Help You
Kentucky law requires prompt action if those injured in car accidents are to obtain justice in the form of compensation for their losses. In addition to filing a car accident report within 10 days, Kentucky allows only one year from the date of the accident to file a 'personal injury' lawsuit and two years to seek compensation for 'property damage.' This may seem like plenty of time, but it passes quickly if you are working with an insurance company that is really just dragging out your claim.
The Becker Law Office can respond to your car accident promptly to make sure a report is on file, collect additional evidence, and build a solid claim for the compensation you are due. Our top negotiators will fight the insurance company to protect your right to full compensation. If your case must go to trial, you'll be represented by a trial attorney who'll make a strong and persuasive case to the judge and jury.
Call or contact us online today to set up a free evaluation of your case, and to learn more about the unique legal representation the Becker Law Office can offer you.