Explosive Air Bags Prompt Historic Recall Affecting Millions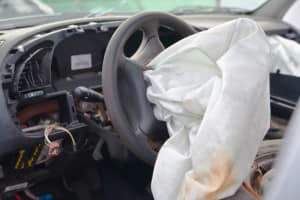 In what is being called "the most complex consumer safety recall in U.S. history", Takata Industries, a Japanese automotive supplier, is finally admitting its automotive air bags are defective, and issued a massive nationwide recall of 33.8 million vehicles to replace defective air bags that can explode without warning. These exploding air bags are responsible for at least 6 deaths and over 100 injuries worldwide, and officials fear millions more defective air bags are potentially deadly time bombs waiting to go off and claim other innocent victims.
How many automakers and air bags are involved?
One out of every four vehicles on American roads is affected by this recall and includes both driver's and passenger side air bags.11 automakers including Toyota, Honda, Nissan, Mitsubishi, Dodge, Chrysler, Ford, BMW, General Motors and Subaru have vehicles with the defective Takata air bags. Individual automakers are in the process of determining which of their vehicles are affected and 7 out of 11 automakers have provided the National Highway Transportation Safety Administration (NHTSA) with a list of affected vehicles. Regulators hope all affected vehicles will be identified within the next two weeks.
An explosive history unveiled
Officials claim Honda and Takata have known about the defective air bags since 2008 when these air bags were first recalled, but the U. S. Department of Transportation and the NHTSA did not start pushing for a nationwide recall of the air bags until the fall of 2014. Takata refused to issue a recall and the NHTSA issued an urgent warning in November 2014 advising more than 7.8 million vehicle owners to have their vehicles checked for the potentially defective air bags.
Takata finally agreed to a limited geographical recall only in high humidity areas of the country including Florida, Hawaii, the Gulf Coast states, and Puerto Rico, Guam, American Samoa and the
U. S. Virgin Islands, but after an air bag explosion in North Carolina in December, the NHTSA pressed Takata even harder to order a nationwide recall.
NHTSA began assessing a $14,000 a day penalty against Takata February 20th for failing to cooperate with a federal investigation related to the defective air bags, and for failing to provide requested information and answer specific questions instead dumping millions of documents without explanation. Takata has been fined over $1 million for non-cooperation. The daily fine is now on hold since Takata finally issued the massive recall.
What's wrong with the Takata air bag?
The problem lies with a faulty air bag inflator, although neither Takata nor investigators know the cause of the problem. Its believed that when moisture gets inside the inflator, it changes the chemical properties of the propellant, ammonium nitrate, thereby causing the air bag to ignite more quickly than it should, tearing apart the metal inflator which then becomes flying shrapnel inside the vehicle.
How do I find out if my vehicle is affected?
To find out if your vehicle is affected, go to https://vinrcl.safercar.gov/vin/ and input your VIN number, a unique 17-digit vehicle identification that is located on the driver's side dashboard, on the driver's side doorpost, or on your vehicle registration documents. The NHTSA recommends checking your vehicle immediately and regularly to see if it is part of this recall and cautions that since automakers are still updating their recall lists does not mean your vehicle is not affected just because it does not appear on the list now.
You can find the most current information regarding the Takata air bag recall at /www.nhtsa.gov/equipment/takata-recall-spotlight.
The NHTSA can answer questions at their Vehicle Safety Hotline at 1-888-327-4236.
If your vehicle IS affected, what should you do next?
If your vehicle contains defective air bags, contact your dealership to make arrangements for an air bag replacement. Automakers caution owners you may have to wait months or even years for repairs because the demand for repair far exceeds the supply of replacement air bags at many dealerships. Takata hopes to have 1 million air bags by September, a far cry from the nearly 34 million needed.
How long will it take for all defective air bags to be replaced?
It could take years and cost Takata billions to complete all the recalls. NHTSA Administrator Mark Rosekind explained, "The number of impacted vehicles and manufacturers in combination with the supply issues related to these air bag recalls adds a previously unprecedented level of complexity to this recall."
To expedite repairs, and centralize the recall effort, the NHTSA has filed a legal action exercising for the first time authority granted to it under the TREAD Act (Transportation Recall Enhancement, Accountability, and Documentation Act,) to overtake and control production and delivery of replacement air bags, and work with the affected automakers, Takata and other parts suppliers to coordinate and prioritize which vehicles are repaired first. Older vehicles and those in high-humidity areas will be repaired first.
What if I've already had my air bags replaced?
Takata warns that some replacement air bags may also be defective and need to be replaced again because Takata is phasing out the first replacement air bags, so even if your air bags have already been replaced, you will also need to check https://vinrcl.safercar.gov/vin/ to see if your replacement air bags have been recalled.
So much confusion and too few answers
While owners of affected vehicles wait to have the defective air bags replaced, Mark Rosekind, head of the NHTSA, cautioned vehicle owners not to attempt to remove or disable their own air bags. His reasoning is that no air bag is worse than a defective air bag, but is it?
Takata officials and Mr. Rosekind testified before a House subcommittee this week where Takata officials admitted they still do not know the root cause of the air bag explosions and continue to use the same propellant in replacement air bags even though they admit it is probably related to the explosions. Takata officials also admitted they do not know if the replacement air bags will be safer than the defective ones they replace.
We applaud the direction of the NHTSA under the new leadership of Mr. Rosekind. While he has been more assertive in enforcing vehicle safety regulations, Congress must give him and the NHTSA greater authority to prevent automakers from ignoring defective vehicles and parts for years, and issuing massive recalls only after innocent consumers are injured and killed.