Exploding Takata Air Bag Recall Adds 40 Million Vehicles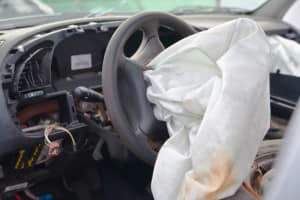 Exploding Takata Air Bag Recall Snares An Additional 40 Million Vehicles
It's being called the "just-in-time" recall as the National Highway Traffic Safety Administration (NHTSA) last week ordered Takata to recall up to an additional 40 million Takata airbag inflators, more than doubling the already largest automotive recall in U. S. history, after determining over time they will create an unreasonable safety risk to consumers. More than 1 in 5 vehicles on the road in the United States, totaling more than 69 million vehicles, are now affected by this recall.
28.8 million defective Takata airbag inflators in more than 24 million vehicles have already been recalled. Defective airbag inflators can explode without warning sending shrapnel flying and causing death and disfiguring injuries. They are responsible for 13 known deaths worldwide, most recently a 17-year-old Texas girl who died after a minor collision, and two victims in Malaysia, as well as over a hundred injuries.
The expanded recall now includes all airbag inflators containing the propellant, ammonium nitrate, which does not also contain a desiccant, a moisture-drying agent. Chemical researchers from three independent laboratories found the defect occurs in inflators containing the volatile propellant ammonium nitrate, coupled with prolonged exposure to moisture without the moisture-drying desiccant, and fluctuating hot and cold temperatures, which all serve to accelerate the degrading process of the propellant, beginning from 6 years to 25 years after the date of manufacture.
No airbag inflators with a desiccant have exploded, so they have not yet been recalled, as federal regulators have not found them to present an unreasonable safety risk at this time.
Recall Takata Airbag Priority Repair List
In order to safely and efficiently replace the millions of defective inflators, regulators have announced a rolling recall in 5 phases from May 2016 through December 2019, with the most dangerous vehicles recalled first, those in areas of high heat and humidity like Florida and the Gulf Coast states, and airbag inflators 6 years old and older.
The NHTSA and Takata have learned the big problem with the recall is the speedy manufacture and delivery of millions of replacement airbags. NHTSA Head Administrator Mark Rosekind referred to this as an industry-wide problem for which the entire industry shares responsibility, and other airbag manufacturers have stepped up and been supplying replacement parts to affected automakers; unfortunately, only 8.1 million airbags have been replaced so far, less than one-third of the original number of recalled vehicles.
NHTSA Head Administrator Rosekind is balancing the need for Takata to speed up its recall efforts with the fear that if regulators force the recall too quickly, it could create new safety issues.
The expanded recall now includes vehicle models dating back to 2001, when Takata began using ammonium nitrate as a cost-savings measure. Takata admits it manipulated test data for years and failed to notify federal regulators of the defective airbag inflators as required by law. Takata also admits it failed to notify its customers, both the driving public and other automakers, of the safety risks. The New York Times reports Takata and Honda have known about the defect since 2004.
Current List of Vehicles Recalled
3 more automakers are named in the expanded recall—Tesla, Jaguar Land Rover, and Fisker—in addition to the previously affected automakers including Acura, Audi, BMW, Chevrolet, Daimler Trucks, Dodge/Ram, Fiat-Chrysler, Ford/GMC, Honda, Infiniti, Mazda, Mercedes-Benz, Mitsubishi, Nissan, Pontiac, Saab, Saturn, Subaru, Toyota, and Volkswagen (VW). Honda and Toyota, the automakers most affected, have already recalled 62.5 million of their own vehicles.
How do you find out if your airbags have been recalled?
NHTSA urges affected vehicle owners to be proactive in learning if their vehicle contains defective airbag inflators, and encourages vehicle owners to act immediately once they receive notice a replacement airbag is available. It is critical to replace the defective airbags within 6 years of the date of manufacture after which the risk of explosion starts to increase. There are two ways you can check to see if your vehicle is part of this massive recall:
Input your 17-dig vehicle identification number (VIN) to learn if your vehicle is affected by the Takata defective airbag recall at https://vinrcl.safercar.gov/vin/ To view your VIN, stand outside the car on the driver's side and look at the corner of the dashboard where it meets the windshield. If not there, then open the drivers' side door and look on the door post near the latch; or
Use the NHTSA online portal at www.nhtsa.gov/equipment/takata-recall-spotlight
You can also add your name and pertinent vehicle information to the vehicle recall list at www-odi.nhtsa.dot.gov/nhtsa/subscriptions.
Previous blogs discussing exploding Takata airbags: