Enjoy the Holidays with Your Family — Not at the Hospital
The holiday season is a time for family and friends in Kentucky to gather and to enjoy one another's company. Yet many activities that occur throughout the holiday season can  pose risks of personal injury to you, your children, and to other loved ones.
How often do holiday activities within your house cause personal injuries? The Kentucky Cabinet for Health and Family Services notes that nearly 13,000 people require medical care in emergency departments each year for holiday injuries such as falls from ladders, while about 13,000 candle-related fires cause millions of dollars in property damage and hundreds of fatalities.
Each holiday season, many Kentucky residents travel by automobile to visit relatives and friends, as a recent report from KFVS CBS News 12 reminded us. It is important to take steps to avoid a dangerous car accident when travelling during the holidays.
Underscoring the need for auto accident prevention during the holidays, the Kentucky Office of Highway Safety has joined with national agencies to ensure that safe driving remains a priority during the holiday season. The simplest way to protect yourself and your loved ones is to be sure that everyone wears a seat belt.
Here's a special reminder to pickup truck drivers of the importance of wearing seat belts. Many Kentuckians love their pickup trucks. We understand!  A seat belt survey conducted by the Kentucky Transportation Center in 2014, however, found that seat belt usage was lower among pickup truck drivers than occupants of passenger cars and sport utility vehicles. About 8 of every 10 pickup truck drivers in Kentucky wore a seat belt compared to 9 out of 10 drivers of other passenger vehicles, according to the survey. The best way to survive a crash is to buckle up.
Cooking, Christmas trees, holiday lights, and children's toys also can pose serious risks of injury during the holidays.
Home Safety Tips for the Holidays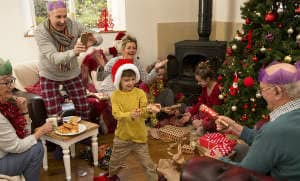 Practicing holiday safety at home is extremely important, whether you are in the kitchen cooking a Thanksgiving dinner or placing new toys under the Christmas tree. A fact sheet from the Kentucky Cabinet for Health and Family Services recommends paying attention to the following Christmas holiday safety tips to ensure that your house remains a safe place:
Practice toy safety: While no parents like to think about the potential risks of injury that certain toys can pose, it is extremely important to read the labels affixed to toys and to follow the recommendations for appropriate age groups. Many toys contain small parts that can pose a choking risk to children. In addition, it is important for parents to recognize that wrapping materials—including ribbons and bows—can pose a choking or suffocation risk. Some toys can be inherently dangerous. A recent report from org noted that World Against Toys Causing Harm (WATCH) released a list of the "10 Worst Toys" for this year's holiday season. Parents should remember that some toys, such as go-karts, motorized scooters, or other vehicles require careful monitoring to prevent child injuries.
Christmas tree safety: If your family puts up a Christmas tree, whether it an artificial tree or a live one, it is extremely important to practice fire safety. If you purchase an artificial tree, you should buy one that is labeled as fire resistant. If you buy a live tree, you should ensure that it is still fresh and green and water it regularly. If the needles pull off easily or feel brittle, the tree could be dried out and pose a fire hazard. In addition, if you notice needles falling off the tree, the tree may not be safe for lights. In addition to choosing a tree that is less likely to catch fire, it is important to keep trees away from any source of heat—from fireplaces to radiators to space heaters.
Holiday Light Safety: Lights and other decorations can be a fire hazard. Before you put up any lights, ensure that they have been safety tested, and make certain as well that there are no broken or cracked sockets. As you test your lights, inspect them for any broken or exposed wire or other hazards. Do not overload an extension cord or socket, and always purchase an extension cord that is rated for the intended use. Before you go to bed each night, always unplug any lights or other electric decorations that could pose a risk of fire. In addition to lights, a fact sheet from the S. Fire Administration emphasizes the need to monitor holiday candles whenever they are lit and to keep them out of the reach of young children.
Cooking and staying safe in the kitchen: Holiday cooking often results in preventable fires and burn injuries. A fact sheet from the National Fire Protection Association (NFPA) reports that Thanksgiving, Christmas Day, and Christmas Eve are the peak days for home cooking fires, resulting in nearly 3,000 house fires collectively. To prevent a cooking fire during the holiday season, always stay in the kitchen when you have anything on the stove, and be sure to keep all pots out of the reach of children.
More Holiday Safety Tips for Staying Healthy and Safe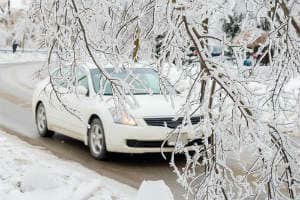 In addition to the safety tips we mentioned above, it is important to consider holiday safety practices when you are outside your home. One of the most dangerous holiday activities is driving in inclement weather. A safety tip sheet from the AAA Foundation for Traffic Safety provides significant advice for avoiding highway accidents if you are traveling over Christmas, or the New Year.
As an article in Health Magazine emphasizes, it is also important to avoid germs and to stay in good physical health over the holidays. Ensure that your children are up-to-date on vaccinations, and encourage family members to wash their hands frequently with soap and warm water.
Contact a Kentucky Personal Injury Lawyer
If you or someone you love has sustained a serious injury during the holiday season, an experienced Kentucky personal injury attorney can assist with your case. Contact Becker Law Office today to speak with a dedicated advocate and to learn more about filing a claim for compensation.