Don't Let Halloween Trip You Up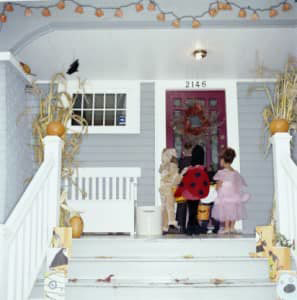 Trick-or-treating, ghoulish costumes and plenty of treats make Halloween one of the most exciting nights of the year. But be sure to take safety precautions to avoid a serious accident.
Any time you invite trick-or-treaters to the door to receive candy, you have a responsibility to keep your yard and house safe. If someone slips or trips and falls on your property, you are likely to be responsible for any injuries they sustain. That includes children and adults.
Injuries from Falls Lead to Premises Liability
Property owners have a legal responsibility for incidents and injuries that take place in their home, yard or driveway. For instance, if a hazardous condition on your sidewalk causes a trick-or-treater to trip and fall, then you could be responsible.
Power cords used to run Halloween displays could trip someone as they approach the front porch.
Decorations in the front yard might cause someone to fall.
Burned out porch lights that limit visibility could make a trick-or-treater miss a step or fall off the porch.
Uneven walkways or holes in sidewalks could cause an injury.
Holes or divots in the yard may cause someone to twist an ankle or sprain a knee.
Premises Liability Conditions
To be held liable for injuries sustained on your property, an injured person must be able to show one of three things happened.
The property owner caused or created the conditions that led to the injury.
The property owner knew about the danger but didn't repair or remove it.
As the property owner, the person should have known the dangerous condition existed.
If one of these conditions can be met, an injured trick-or-treater may have a claim against the property owner's homeowner's insurance. The insurance policy has a liability provision to cover injuries that take place unintentionally on a property.
Are you renting?
Typically, a landlord or property management company holds the responsibility for ensuring property is safe. But the renter of a single-family home may hold liability. Make sure you check your lease before Halloween so you know who would be responsible if someone is hurt in an accident.
Halloween safety tips
By taking precautions, property owners can protect the safety of trick-or-treaters and avoid premises liability claims:
Remember that keeping your lights on is a sign that children are welcome to trick-or-treat at your house.
Sidewalks and steps that are damaged should be repaired. If not, block them with barriers or clearly mark them as dangerous.
Power cords and decorations that could trip people should be removed from lawns, sidewalks, driveways and steps.
If you put Halloween decorations in the yard, make sure they're easy to see and don't block stairs or sidewalks.
Make sure you have plenty of light in walking areas and on porches.
Scary costumes and ringing doorbells startle dogs and other pets, so make sure you keep them confined and away from trick-or-treating children.
Turn off lights if you're not handing out candy or if you plan to be gone.
If You or Your Child is Involved in a Slip and Fall Accident
Seek medical attention quickly and have a doctor document your injury in case you file a premises liability claim.
Take photos and notes of the location and conditions such as holes or electrical cords that might have caused you to trip and fall. This is essential to determining who's at fault.
Make note of details such as whether lights were on, if the incident took place at night, and whether decorations or other obstructions blocked sidewalks. These are likely to be cleaned up immediately, so a record of their presence must be made.
Notify the property owner if you or your child slip and get hurt on their property, but limit talking and avoid getting emotional.
Make sure you obtain contact information from any witnesses, including names, addresses and phone numbers.
Speak with a slip-and-fall accident attorney before contacting an insurance company or signing documents because you could forfeit any rights to a fair amount of compensation. Some insurers may offer to pay for your initial medical bills if you promise not to file a claim. But you need an attorney to ensure you receive the right protections.
Find a safe place to store the shoes and clothes you or your child had on when the accident occurred.
Falls that take place on rental property should be reported to the landlord or property manager so they can file an incident report. Get a copy of that report, if possible, before you leave that night.
Protect yourself
Nobody wakes up on Halloween morning thinking they'll sustain an injury or cause others to suffer one. Take the necessary precautions and enjoy the evening. But if an accident occurs, contact Becker Law Office at (888) 517-2321.