Distracted Driving Poses Major Safety Threat for Teenage Motorists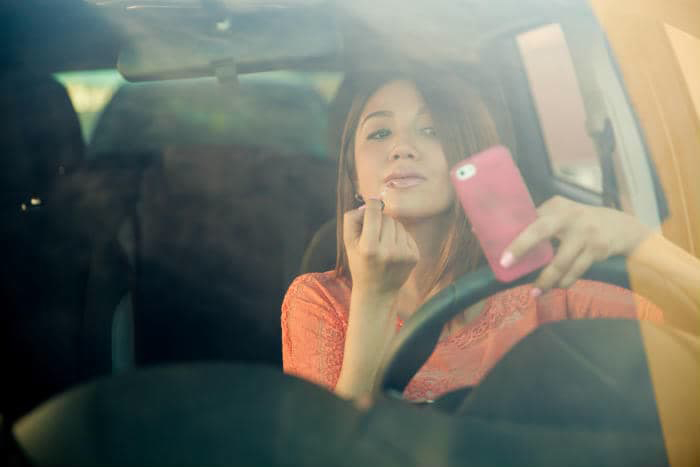 Given the prevalence of today's mobile forms of technology, it is no surprise that distracted driving has dramatically increased throughout the United States, often resulting in accidents causing serious injuries or even death.
According to the National Highway Traffic Safety Administration (NHTSA),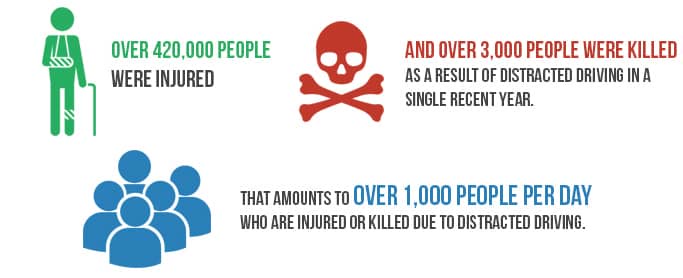 Teenagers, in particular, are one of the groups of individuals who most often use technological devices, and, as a result, often engage in dangerous distracted driving behaviors. In fact, NHTSA's study showed that teenagers made up the largest percentage of distracted drivers, and that 10 percent of the drivers ages 20 and younger were distracted at the time that the crash occurred.
Study Shows That Teens Often Text Parents While Driving
A recent study by Liberty Mutual Insurance and Students Against Destructive Decisions found that 48 percent of teenagers are more likely to text while driving if they are alone in their vehicles. Furthermore, the most common reason that teenagers cited for texting while driving was to respond to a parent's text, under the belief that the parent would expect an immediate or quick response.
A quarter of teenagers believed that their parents expected a reply from them within five minutes, while another 19 percent of teenagers believed that their parents expected a reply from them within one minute. This was the case despite the fact that most parents who were polled did not expect a response within a set timeframe.
Previous studies on this issue show similar results. For instance, a study by the American Psychological Association found that more than half of the 400 teenagers surveyed admitted to talking with a parent on a cell phone while driving. Likewise, an earlier study by Liberty Mutual Insurance and Students Against Destructive Decisions showed that half of the teenagers polled had spoken with a parent on a cell phone while driving, although that study found that teenagers were more likely to text their friends than their parents while driving.
App and Other Technological Aids Designed to Curb Distracted Driving

Several companies have developed apps for Android smartphones and iPhones that are designed to keep your teen safe while driving and even prevent him or her from using a cell phone altogether while driving.
For instance, State Farm has created an iPhone app called "Steer Clear," which tracks a teen's driving behaviors, such as speeding. By using this app, you can actually decrease (or increase) insurance premiums based on driving habits. On the other end of the spectrum is "Safe Driver," an app that uses GPS and Google Maps to send a text or email to a teen's parent whenever he or she exceeds the speed limit. It also enables the parent to physically locate the teenager at any point on a map.
Depending on the exact app you should choose, however, it may not be compatible with some smartphones and it may quickly drain the smartphone battery, particularly if it uses GPS technology.
There are other technological aids designed to keep driving teenagers safe, as well. One popular solution involves the use of hands-free devices, which use a Bluetooth system installed in the vehicle in order to allow you to connect your phone wirelessly to the car's audio system. The biggest downside to this alternative may be a lack of compatibility between the phone and the Bluetooth device. Additionally, initiating outgoing calls can be more difficult and distracting than simply answering an incoming call.
There also are monitoring systems available that can track a driver's behavior whenever the vehicle is in motion. One such type of device plugs into a connector under the vehicle's dashboard and requires a parent's code in order to be disabled. One disadvantage to this type of device, however, is that it can be costly and require the purchase of additional equipment.
Researchers Weigh in on the Dangers of Distracted Driving to Teenagers

NHTSA estimates that any given moment during the day in the United States, more than 660,000 drivers are using a cell phone or other electronic device while driving. While the rate of distracted driving fatalities decreased slightly, distracted driving accidents resulting in injuries increased by about 3,000 incidents during the same time period, resulting in almost half a million injuries.
The same researchers also found that 10 percent of all teen drivers involved in fatal crashes were reported to be distracted in some way at the time of the crash. Likewise, drivers in their 20s make up 27 percent of those drivers who were distracted when they were involved in a fatal crash.
Texting appears to be the most dangerous type of distracted driving habit. Reading or sending a text takes a person's eyes away from the road for an average of five seconds, which is long enough to travel the entire length of a football field at 55 mph without looking at the road. Text messaging requires visual, manual and cognitive attention from the driver. As a result, distracted driving accidents resulting in injuries and fatalities continue to increase.
Tips for Parents and Teens
In light of increased awareness about the dangers of distracted driving, many agencies have made recommendations about how to protect teenage drivers and teach them appropriate driving behaviors.
For instance, the National Parent-Teacher Association recommends that parents set a good example for their teenagers by avoiding distracting behaviors while they are driving, and to avoid calling or texting their children at any time that they might be driving. Consumer Reports News also offers the following tips for parents and their teenage drivers:

Slow down – Teenage drivers tend to speed due to their inexperienced driving skills and impulsive nature. Speeding often contributes to fatal wrecks involving teens. Plus, distraction combined with speeding is a recipe for disaster.

Limit the number of people in the vehicle – Teens with two or more people in the car have a much higher rate of fatal crashes. They tend to be more easily distracted, more apt to take risks and there are likely to be more technological devices present in the vehicle.

Monitor your teen's cell phone usage during driving times – If your cell phone account shows texts being sent by your teen when he or she is supposed to be driving, then the teen is likely engaging in risky distracted driving behaviors.

Create your own rules and follow through with them – Talk to your teenager about the dangers of distracted driving, set out your expectations and rules, and follow through with punishment if your teenager violates those rules.
Contact an Experienced Personal Injury Lawyer Today
If you or a family member has been injured in a crash caused by a distracted driver, you may have a valid claim for compensation against the driver. Contact the Kentucky and Ohio personal injury lawyers at the Becker Law Office at (502) 333-3333 or online as soon as possible to discuss your case.