Defective Seat Bolts Prompt Two Ford Recalls Involving More Than 200,000 Vehicles Worldwide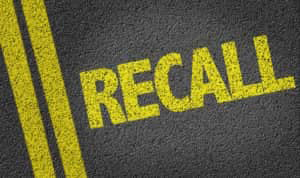 Ford Motor Company is recalling over 202,000 pickup trucks and SUVs worldwide over problems with bolts in the power seat adjusters that can come loose or fall out causing seats to move too much during a crash thereby increasing the risk of injury.
2016 F-150 pick-ups and 2016 Explorer SUVs
Ford recall #17S40 involves over 177,000 2016 F-150 pickup trucks and Explorer SUVs with power seats. A defectively placed bolt in the sliding track that holds the front-row power seats in place may allow seats to move more than they should during a crash, increasing the risk of injury to any front-seat passengers.
Ford dealers will inspect and clean potentially defective bolts on the affected vehicles, and reinstall the bolt with adhesive if it was originally installed properly. Dealers will replace the entire link assembly if the bolt was not placed correctly during the manufacturing process.
Recall repairs are free of charge, and will begin January 8, 2018.
2018 Expedition SUV
The newly released 2018 Ford Expedition is the subject of a second recall, Ford recall #17C20. Although it affects a much smaller number of vehicles, only 566 in total, the recall also involves a seat bolt problem that could cause seats to detach, increasing the risk of injury in the event of a crash. Second-row seatbacks are not correctly bolted to seat bottoms, are improperly placed too far forward in the vehicle, and may move during a crash.
Ford will repair and replace the seat bolts free of charge, but doesn't know when this recall will begin as it awaits parts to make repairs.
Fortunately, there are no reported accidents related to either bolt problem.
Who can you talk to if you have further questions?
Ford advises owners to contact their local dealer for more details. You can also contact Ford directly at 866-436-7332, or get more information on your recall at www.owner.ford.com.
You can also call the Vehicle Safety Hotline at NHTSA (National Highway Traffic Safety Administration) with questions about this or any other vehicle recalls at 888-327-4236 (800-424-9153 for the hearing impaired).
Curious if you have an open recall on any of your vehicles?
It's easy to see if you have an open vehicle recall: type your 17-digit VIN (Vehicle Identification Number) into https://www.nhtsa.gov/recalls to find out. Your VIN number is located on a metal plate in the upper left corner of your vehicle, on your vehicle title and registration papers, and on your vehicles' insurance cards.