End of Daylight Saving Time Is Great Time to Check Smoke & Co Detectors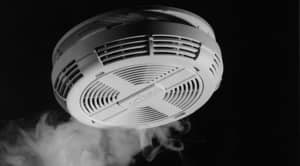 The end of Daylight Saving Time is a great reminder to check the batteries in your smoke and carbon monoxide detectors. And if you don't have these detectors in your home, the Consumer Product Safety Commission (CPSC) urges you to install them as an important part of making your home a safe place for you and your family.
Smoke detectors need to be working to detect smoke & fire
CPSC Residential Fire Loss Estimates report there are approximately 366,000 home fires each year resulting in over 2,300 fire-related deaths. To improve your odds of surviving a fire, the Centers for Disease Control (CDC) recommends having a working smoke detector on each level of your home, in each bedroom and outside sleeping areas. Although this may seem like overkill, doesn't the old adage "better safe than sorry" come into play?
95% of households report having smoke alarms but many of these alarms do not work either because the batteries are dead or the alarms need to be replaced. Don't be lulled into a false sense of security simply because a smoke detector exists in your home—if it doesn't work, you have no protection or warning at all.
CO detectors not common but essential!
Although most home have smoke detectors, CDC records show only about 42% of households have carbon monoxide (CO) detectors. Carbon monoxide is known as the "silent killer" because you cannot see it or smell it. It can overcome and quickly kill its victims.  CO detectors should also be placed on each level of your home, and outside all sleeping areas.
Don't forget to check the batteries
Batteries in smoke and CO detectors should be changed every six months so it's great to get into the routine of changing the batteries in these detectors when Daylight Saving Time begins and ends when you are already going around your home changing the time on all your clocks anyway.
Test your smoke and CO detectors every month to make sure they are in proper working order.
For more information, go to www.cpsc.gov, or on Twitter @OnSafety.