The Best State to File a Workers' Compensation Claims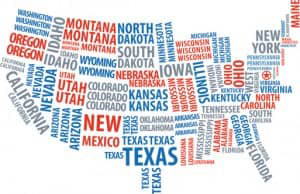 What is the Best State for Workers' Compensation Claims?
The benefits available to injured workers vary widely from state to state. Indiana, for example, is among the least generous states in providing assistance to injured workers. Kentucky has low weekly wage payments for injured workers but does provide lifetime medical benefits to workers that have a permanent injuries. Tennessee has more generous workers' comp benefits than either Kentucky or Indiana.
The best state to file a workers' compensation claim will depend on a number of factors, including the specific circumstances of your injury and the laws and regulations of each state.
In general, states have different laws and regulations regarding workers' compensation, and some states may provide more favorable benefits or have a more streamlined claims process than others.
However, it is important to note that the best state to file a workers' compensation claim is the one where the accident occurred. You will generally file your claim in the state where you were employed at the time of your injury, and you are entitled to the benefits and rights provided by that state's workers' compensation system.
Some states may have more favorable laws or regulations for certain types of injuries or industries, such as higher benefits for permanent or partial disabilities, or have more specific requirements that employers have to follow. In some cases, certain states have stricter laws and regulations regarding the time frame to file the claim, the types of medical treatments covered, the percentage of lost wages covered, etc.
Workers' Compensation is Too Expensive- Even for ProAthletes!
Even professional athletes are subject to the whims of state lawmakers when it comes to workers' compensation benefits. A bill recently passed by the California legislature and sent for the governor's signature seeks to limit workers' compensation benefits available to professional sports team players from out of state.
According to the Los Angeles Times, many professional sports team players injured on the field were filing workers' compensation claims in California – which lawmakers say has become the "de facto forum" for claims filed against football, baseball, basketball, hockey, and soccer franchises and their insurance companies.
Professional athletes have filed more than 4,400 claims involving head and brain injuries in California since 2006 – many by players who only participated in a handful of games in the state throughout their careers.
The legislation, AB 1309, introduced by Assemblyman Henry T. Perea (D-Fresno), would limit workers' compensation claims by out-of-state professional athletes. The bill would close a loophole in California's workers' compensation law that allowed players from out of state to file claims for "cumulative trauma" – which includes head injuries that generally don't manifest themselves for years. The bill has passed both the house and senate and is awaiting for Governor Jerry Brown's signature.
Filing Workers' Compensation Claims is Never Easy
Workers' compensation claims can be frustrating for anyone who has been injured on the job. You will likely have to deal with issues, such as the state workers' compensation division denying your claim, your employer disputing your claim, appealing a denied claim, and in some instances choosing the best state in which to present a claim. These issues are never simple, so it's a good idea to consult a workers' compensation lawyer.
According to Greg Bubalo, Managing Partner and Head Attorney of the Becker Law Office, "The decision on whether to hire a workers' compensation attorney is a personal one. If the claim is simple, it may be approved without more appeals.  Unfortunately, many claims are not approved for a variety of reasons including missing paperwork, discrepancies about dates or circumstances surrounding the injury or illness, or administrative issues that aren't under your control."
The reason this is important is that workers who reside in one state and are injured in another state may be able to choose the best state in which to file a claim. That is why seeking the advice of a lawyer who is experienced in workers' compensation law is a good idea.
Most workers' compensation attorneys provide free consultations so that you can have all the information you need to make an informed decision about how to proceed. If you or a loved one were severely injured due to an on-the-job accident, a seasoned personal injury attorney could help you seek compensation.