Bill to Restrict Cell Phone Use in Schools and Construction Zones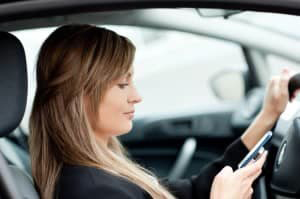 A bill just passed by the House would further restrict cell phone use while driving in Kentucky. The bill moves onto the Kentucky Senate after passage in the House by a 62-32 margin.
Kentucky House Bill 33 would create "no phone" zones in school zones when caution lights are on, and in construction zones on the roadway, making it illegal for a driver to dial a hand-held phone in these zones.
Exemptions to Cell Phone Use
Drivers who use Bluetooth or another hands-free phone device, and those who drive emergency vehicles, would be exempted from the law, and not subject to any fines.
The bill also doubles fines for texting while driving, increasing from $25 to $50 for the first offense, and from $50 to $100 for each subsequent offense.
Kentucky law already makes it illegal for drivers to text and drive, and drivers under 18 are prohibited from ever using a cell phone while driving, hands-free or not.
The bill's author, Rep. Terry Mills, D-Lebanon, explained this bill is a matter of life and death. "The evidence is clear: distracted driving kills and injures too many people on our roadways," lamented Rep. Mills who also noted that more people are now killed on Kentucky roadways due to distracted driving than fatalities caused by DUIs.
At the Becker Law Office, we see too many instances of innocent people injured due to distracted driving, and we support the passage of this bill in order to make roadways in Kentucky safer for everyone.