Be Safe When Using Space Heaters This Winter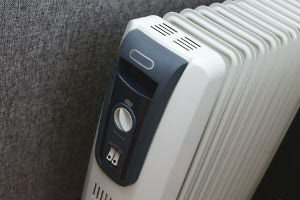 Space Heater Safety
You may remember the tragedy of a Kentucky mother and her eight children being killed in a house fire a few years ago that was caused by a space heater. Unfortunately, space heaters cause about one-third of all winter house fires and 80 percent of all winter heating fire deaths, according to the National Fire Protection Association (NFPA).
In a 2018 news release, the NFPA said heating equipment is the second-leading cause of U.S. home fires and the third-leading cause of home fire deaths. Between 2011 and 2015, space heaters accounted for more than two of every five U.S. home heating fires and five out of six home heating fire deaths.
The winter months of December, January, and February are the leading months for home heating fires. As we approach the cold weather months, it is important to review proper safety precautions to prevent Kentucky space heater fires.
Why Are Space Heaters Dangerous?
Small space heaters are typically used to supplement the main heating system. They may be used to heat one room and avoid the expense of operating a central heating system to heat an entire house. In some homes, a space heater is used to raise the temperature of specific rooms, such as those used by people sensitive to cold, like elderly individuals.
Most space heaters work by convection, which means they circulate warm air throughout a space. Some rely on radiant heating, which requires emitting infrared radiation that directly heats objects and people near the heater.
Radiant Heaters
Radiant heaters are more efficient because they directly heat people and surroundings near the heater instead of heating the whole room. They work well in a single room that needs to be heated for only a few hours.
But, because radiant heaters heat nearby objects, they can ignite a fire if flammable materials are close to the heating element. The NFPA says more than half of all home heating fire deaths resulted from fires that began when a heater was positioned too close to things that burn, such as upholstered furniture, clothing, mattresses, or bedding.
Like any electrical device, electric heaters also pose a shock hazard. Whether radiant or convection heaters, electric heaters can cause a shock if components such as the cord, plug, or housing are damaged and allow exposure to electrical current. This could ignite a fire or cause an electrical burn. Electric heaters use a lot of energy and can easily overload circuits, causing a power failure or fire.
Heaters that use natural gas, propane, or kerosene can be dangerous if their fuel leaks and ignites. Propane and kerosene can cause asphyxiation if carbon monoxide (CO) emissions from the heaters are not properly vented.
Safety should be a top consideration if you choose to use a space heater this winter. The U.S. Consumer Product Safety Commission estimates that portable electric heaters are involved in about 1,100 fires per year, resulting in about 50 deaths, dozens of injuries, and millions of dollars in property loss.
Space Heater Safety Tips
Tips for buying a space heater 
Make sure the space heater has the seal of a nationally recognized testing laboratory, such as UL (Underwriters Laboratories), CSA (Canadian Standards Association), or ETL (Intertek).
Buy a unit with a tip-over safety switch, which automatically shuts off the heater if the unit gets knocked over. Keep in mind that taller heaters are more easily tipped over.
Buy a space heater that has a guard around the heating element. This will help keep kids and pets safe from burns.
Select a heater properly sized for the room you plan to heat. Do not buy oversized heaters. Most heaters come with a general sizing table.
Consider a heater with thermostat control to avoid overheating a room, which is a waste of energy.
Buy and install smoke alarms for every floor of your home, outside all sleeping areas, and inside each bedroom. Test them once a month.
If you buy a fuel-burning heater, install and maintain carbon monoxide alarms to avoid the risk of CO poisoning. Elevated levels of carbon monoxide can cause headaches, sickness, and death.
Tips for setting up a space heater
Read and follow all manufacturer's instructions and cautions that come with a space heater. If you have lost them, search online under the maker and model name.
If using an older heater, look for scorch marks along its exterior and check the cord for signs of fraying, cracking, or other damage. Inspect fuel lines and tanks for possible damage, corrosion, or leaks. Replace damaged space heaters.
Put the heater on a level surface away from foot traffic.
Establish a 3-foot safety zone around a space heater. Put it 3 feet away from walls, and make sure all combustible materials, such as upholstered furniture, bedding, curtains, and clothes, are at least 3 feet away from the heater.
Don't use an electric heater in areas where moisture creates a shock hazard, such as in a bathroom, kitchen, or near a glass window or door subject to heavy condensation.
Always plug an electric heater directly into the wall outlet and make sure the power cord does not cross a walkway. Never run the heater's cord under rugs or carpets where it can be damaged. Never use extension cords or power strips.
Be sure the heater's plug fits tightly into the wall outlet. If not, do not use that outlet.
For liquid-fueled heaters, use only the approved fuel and never fill a heater that is hot. Do not overfill the heater. Allow for expansion of the liquid and its fumes.
Keep doors between rooms open for ventilation when using a propane, oil, or kerosene heater, and make sure the heater's exhaust duct(s) and flow are unobstructed.
Tips for running a space heater
Never leave a running space heater unattended. Do not leave the house or go to sleep with a space heater running. Turn a heater off and unplug it when you leave the room or go to sleep.
Never leave pets and young children alone in a room with a space heater. Teach children that parts of the heater can become very hot and that they are to stay away from the heater.
Limit the number of appliances running at the same time as a space heater to avoid a circuit overload.
Check frequently to determine whether the heater plug, cord, wall outlet, or faceplate is hot. If so, turn the heater off and have a qualified electrician inspect it.
Check your heaters regularly during the season. When the heater is not in use, remove dust accumulating on grates, grills, coils, and other elements of the heater to reduce fire hazards.
Operate a kerosene heater only at the recommended flame height.
Check for space heater recalls at the Consumer Product Safety Commission website' CPSC.gov to make sure you are not using a recalled unit. If your heater has been recalled, stop using it and follow CPSC and/or the manufacturer's instructions.
Investigate a Space Heater Fire or Accident
Sometimes a space heater causes a fire, electrical shock, or carbon monoxide poisoning even though the user took all proper safety precautions. Every year, thousands of Americans are injured by defective products, including space heaters.
If a manufacturer produces products that are unsafe when used as instructed, or fails to adequately warn consumers about the possible dangers of using its products, the manufacturer can be held responsible for any personal injury or property damage its products cause. The victim of an unsafe product may be awarded compensation for medical expenses, property damage, and other losses to be paid by the manufacturer, designer, or seller of the faulty product.
The Becker Law Office can investigate a potential product liability case, and aggressively pursue compensation for anyone harmed by unsafe products.' We take personal injury and product liability cases from across Kentucky and in Ohio, Indiana and Tennessee.
Contact us today for your confidential, 'FREE' case evaluation. Take the first step toward obtaining justice.