Are Ratings Helpful When Selecting a Nursing Home?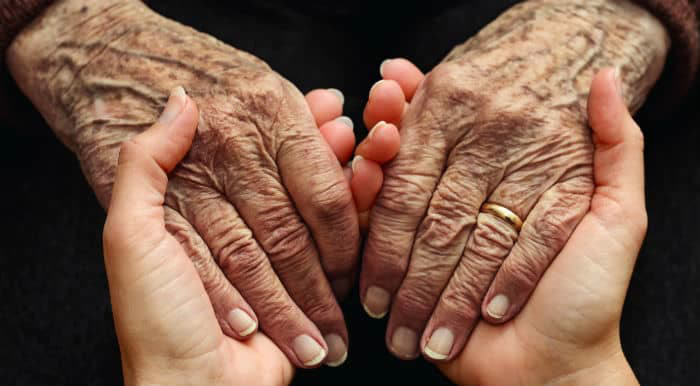 Avoiding Senior Living abuse is a goal we all have. This is an informative article about the process of choosing the right nursing home for elderly loved ones who require long-term care. It discusses the challenges of providing proper care for aging family members and the decision-making process of placing them in a nursing home.
Are Ratings Helpful When Avoiding Senior Living Abuse?
Many of us tend to aging family members as a part of our family responsibilities. Providing the proper level of care to our elderly loved ones can be a real challenge, particularly if your loved one has limited mobility or has begun to develop chronic health conditions.
Families often struggle with the decision to place a parent or loved one in a nursing home, even when it is clear the senior no longer should be living on his or her own. Choosing the right type of home can cause a great deal of anxiety. Screening a facility thoroughly is important to making the right choice.
There are a variety of resources for checking nursing home ratings, though there is no substitute for in-person visits to a nursing home. Here are some practical steps that you can take to research the long-term care facility best suited for your family member's needs. We also have prepared a free guide, How To Choose The Right Nursing Home, to help families who are confronting this decision.
Nursing Home Quality Scores and Senior Living Abuse
More than 16,000 long-term care facilities house nearly 2 million residents, according to the Centers for Disease Control and Prevention (CDC). These facilities vary in terms of the types of care and services they provide. They range from assisted living communities, which allow residents to maintain their own space while offering assistance with meal preparation and transportation to doctor appointments, to more comprehensive establishments that offer full nursing support and care for patients with Alzheimer's disease.
To aid families in their search, there are resources that rank nursing homes based on inspection reports and reviews. Some of the top sources for nursing home quality scores include the following:
Centers for Medicare and Medicaid Services (CMS): CMS operates Nursing Home Compare, a quality rating system in which facilities can earn up to five stars based on information gleaned from health inspections, staffing ratios, and quality measure assessments.
Nursing Home Finder: A service provided by U.S. News and World Report, Nursing Home Finder allows users to search for facilities in their area, and ranks them based on CMS ratings and the types of services provided.
Nursing Home Inspect: A service of Propublica, Nursing Home Inspect is a tool for sorting out which nursing homes to avoid. Based on state inspection reports, it ranks facilities within each state based on the number of disciplinary fines and provider deficiencies that are reported.
In addition, the American Association of Retired People (AARP) offers the Nursing Home Scorecard, which ranks the overall care provided by facilities in each state based on 26 different indicators under areas such as affordability and access, setting, quality of care, and support for family caregivers.
Can You Trust Nursing Home Ratings?
While nursing home quality scores can be a valuable source of information, there is a good deal of debate about how much families should rely on these scores in the decision-making process. According to the Association of Health Care Journalists, nursing home ratings can be misleading when comparing overall scores against actual quality measures, giving an inaccurate view of the level of care provided to residents.
In a five-star system, for example, an excellent rating in one unimportant area can balance out a low rating in an area of greater concern. A high-quality facility can drop significantly due to one bad inspection or temporary fluctuations in staffing. Problems arise when consumers are unaware of the different factors that go into the rating systems, or simply take the rating at face value without investing the time in visiting.
Choosing The Right Nursing Home For Your Loved One
When looking for a nursing home for your loved one, there really is no substitute for visiting the facility before making a decision. In our free guide, How To Choose The Right Nursing Home, we outline some questions you may want to ask and considerations you will likely want to take into account in your decision- making process. We also discuss what to look for during your visit. This includes:
Location: Choose a location that allows your loved one to receive frequent visits from family members and friends;
Atmosphere: Pay attention to your first impressions, and choose a place where residents seem happy and well cared for;
Staff: Speak with staff members yourself, and observe their interactions with residents;
Dining: Have a meal at the facility, and pay attention to where and how it is served and whether the food is healthy and appetizing.
While you are visiting a facility, inspect the comfort and cleanliness of the facility. Try to get a peek behind the scenes, and ask to meet with the facility administrators, supervisors, and medical staff. Make visits at different times of day to get a sense of how the facility operates overall, and make at least one visit during a busy time of day, such as after breakfast or before dinner.
We hope our guide will give you some peace of mind that you have made a carefully considered choice for your loved.
Download Our Free Nursing Home E-Book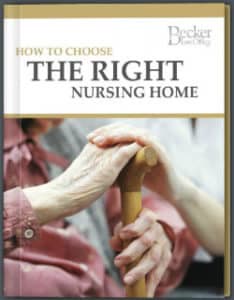 Choosing the right nursing home for your loved one is one of the most important decisions you will make. At Becker Law Office, our experienced Kentucky nursing home lawyers work with families throughout the Lexington, Louisville, and Florence areas to help ensure their loved ones get the care they deserve.
We invite you to download our free e-book for more information about How to Choose the Right Nursing Home, and to contact our office by phone or email with any questions or concerns you may have. We act as a strong legal advocate on your side, helping to ensure that your loved one's rights and safety are protected.