7 Tips on Celebrating the Holidays in a Nursing Home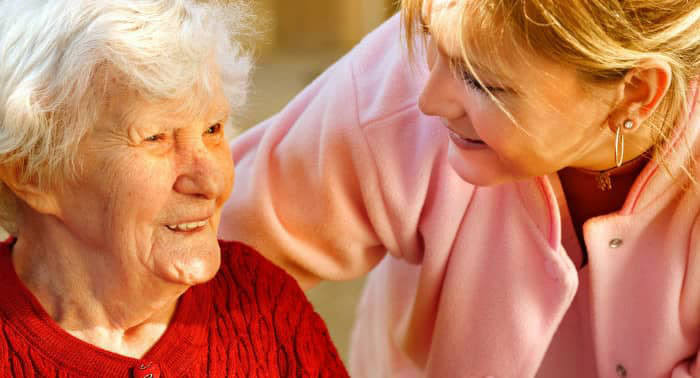 For many, the holidays mean traveling back to their hometowns and spending the holiday season with friends and family. If a parent, grandparent, or loved one is currently living in a nursing home, you may have questions about how to make the holiday feel as festive as ever for him or her. Observing the holidays in a nursing home does not have to be sterile or uneventful. With the right approach, you can bring the holiday cheer to your loved one. Here are some tips for celebrating the holidays in a nursing home:
1. Do Not Ignore the Holiday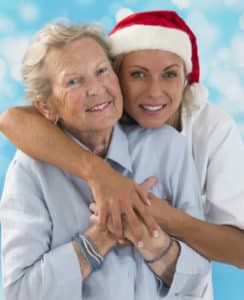 If your parent or other family member has recently relocated to a nursing home, do not ignore the fact that this will be his or her first holiday away from the home. Talk about it, and acknowledge the situation openly and honestly. Your loved one will probably be grateful to you for not ignoring it and for showing that you understand your loved one is making a big transition in their life. Your relative will likely enjoy hearing your plans for making the holidays within the nursing home just as eventful.
For some, acknowledging the fact that they will not be able to spend the holidays in their own home can be difficult to do. If your loved one does not want to talk about the situation, you should respect their decision. That being said, do not completely ignore the situation or pretend as though the holidays are not coming.
2. Plan Right
Many nursing home facilities are open to the idea of—and even grateful for—holiday parties for the residents, as long as they are planned in advance. In fact, ElderCarelink states that "assisted living centers and nursing homes generally go all out for the holidays." Discuss the possibility of a nursing home party and nursing home holiday ideas with nursing home staff members. Speak with your loved one and other residents to find out if there is anything they are really hoping to have at the party. Plan games, hang up decorations, and do not forget about food!
3. Bring Your Loved One Some Holiday Food
Make sure you ask permission from the nursing home staff before doing this, but if possible, bring your loved one some holiday food that you made at home. This can make your loved one feel as though he or she still gets to take part in some of the holiday traditions, such as Christmas cookies or fruitcake made from a special recipe. The food will remind your loved one that you are thinking of him or her. Do not forget to make sure that the food meets your loved one's dietary restrictions if he or she is on certain medications, has certain health conditions, or is unable to eat certain food for other reasons.
4. Give the Right Gift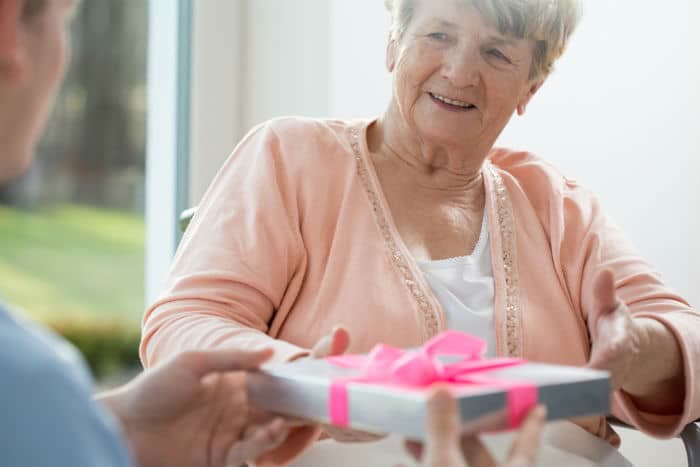 Knowing what to get a loved one who is a permanent resident in a nursing home can be difficult. Some great gift ideas, some of which are recommended by NursingHome.org, a website maintained by the Illinois Council on Long-Term Care, include:
Stationery or note cards;
A new calendar with important family dates marked on it;
An address book that is filled with friend's and family's contact information;
Comfortable and warm clothing;
Framed photos of loved ones;
Books or magazines;
Movies or TV shows;
A subscription to a newspaper or magazine; and
A new warm robe and slippers.
5. Bring the Whole Family
If you have a large family, there is no doubt that your elderly loved one would love to see each and every smiling face. If there are new babies in the family or young children who the resident hasn't seen recently, bring them to visit. The more people that you can get together, the more holiday-like and festive it will feel. Just make sure you get permission from the nursing home staff first if there is traditionally a limit on the number of people who can visit at one time.
6. Collect Holiday Cards
Displaying holidays cards at home from friends, neighbors, and family is a common tradition. Why not bring that same tradition to your loved one who is in a nursing home? Collect holiday cards that are addressed to the nursing home resident that are from family and friends, and then surprise your elderly loved one by arranging them in his or her room. He or she will be shocked and grateful to see how many people are thinking of him or her this holiday season.
7. Do the Shopping for Them
Most people living in a nursing home are not able to leave the nursing home facility, especially on their own. However, this does not mean that grandma or grandpa does not want to purchase gifts for the family. Do your elderly loved one a favor and ask if you can purchase and wrap gifts on his or her behalf. When the family visits in the nursing home, have the gifts ready to present. This will make your elderly loved one feel as though he or she is still able to participate in the holidays despite being in a nursing home.
Visiting Nursing Home Residents
Before celebrating the holidays in a nursing home or pursuing any of the nursing home holiday ideas above, make sure you check with the nursing home staff. Some nursing homes have strict rules regarding celebrations and even having Christmas trees in rooms, especially if the facility has a lot of patients who require intensive medical care.
While you are visiting your nursing home resident, both over the holidays and at other times, be sure to pay attention to the facility and the caregivers. If you notice anything that seems off—like caregiver neglect or a sudden change in your loved one's behavior or withdrawal—it may be a sign of nursing home abuse.
If you think that your loved one may be at risk in the nursing home, make sure to contact the Louisville, Kentucky nursing home attorneys at Becker Law Office. If you are considering a nursing home for your elderly loved one, we also recommend downloading our free ebook How to Choose the Right Nursing Home.