2013 Dodge Challenger Recalled for Wiring Problem, Fire Hazard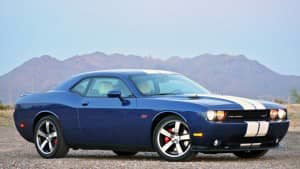 Dodge Challenger Recalled for Short-Circuiting Engines
If you are one of the 2,500 people in the United States who recently bought a 2013 Dodge Challenger, your new vehicle may already be subject to a recall.
Chrysler just voluntarily recalled 2013 Challengers equipped with V6 engines to correct a possible short-circuit in the engine wire harness that can cause overheating, leading to an engine fire. Seven engine fires have been reported so far but thankfully no one has been injured.
Chrysler warns owners to stop driving their Challengers immediately, and to contact their dealers. Chrysler also advises owners not to park their vehicles in or around structures due to potential fire hazards.
Chrysler is contacting affected owners directly, by phone, and by mail. If you are unsure as to whether your Challenger is included in the recall, the manufacturing date of the vehicle is located on a label inside the driver's side doorjamb. The recalled vehicles were built between November 2012 and January 2013.
Free loaner cars will be provided while dealers correct the problem. Read the official Chrysler press release here: https://aol.it/ZdLksX